March 01, 2015: First Road Trip
Is that an old-fashioned gas station that we just passed by ... again?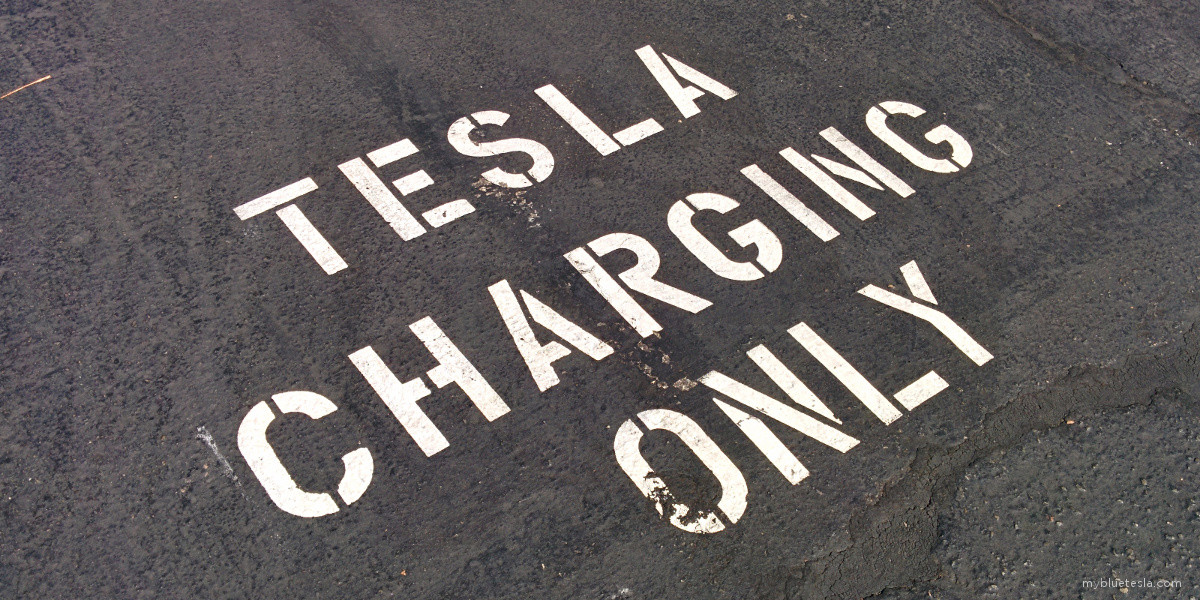 A major selling point of the Model S for me was the Supercharger network. Not only is it free for life, but this means long-distance driving is both realistic and practical. While it has some minor downsides (such as charging times which take longer than filling up a gas tank), in theory it shouldn't matter because I'd need to eat, use the restroom, and recharge myself (as a human being) anyway which takes half an hour or more, all the while the car's getting its battery loaded.
I'm always skeptical about claims businesses make in their marketing but Tesla's notion that Supercharging your way through road trips seemed plausible. If it didn't work or had major issues, surely there would be tons of complaints by now. No one enjoys being stranded in the middle of nowhere or having to end up stringing together a bunch of low-capability charging stops to make it to the next major city.
So it was finally time to test this "Supercharging" thing. Since my new fuel tank only takes electrons, Chevron, Shell, 76, and other petrol brands can't really provide much assistance here (unless I'm willing to ask for the use of their wall socket for hours on end, an awkward scenario). I decided to take the plunge and venture out beyond the San Francisco Bay Area in the new car for the first time.
I planned for a week-long drive from Fremont, California to Monterey, California, then to Las Vegas, Nevada, then to San Diego, California, and then all the way back to Fremont. And what if I didn't calculate my charging stops correctly and ran out of juice in the middle of the desert? There's that Roadside Assistance number (which hopefully I'll have signal enough to reach wherever I'd be). YOLO.
I used both EV Trip Planner as well as the built-in navigation system. I tend to have a sense of pessimism which encourages worst-case scenario thoughts but took a leap of faith here and not go overboard on over-calculating unlikely risk situations.
Fremont to Monterey
In addition to Supercharging, Tesla promotes the concept of "destination charging" which means your out-of-town destination (hotels, restaurants, etc.) provide a free means for electric cars to charge while you're sound asleep.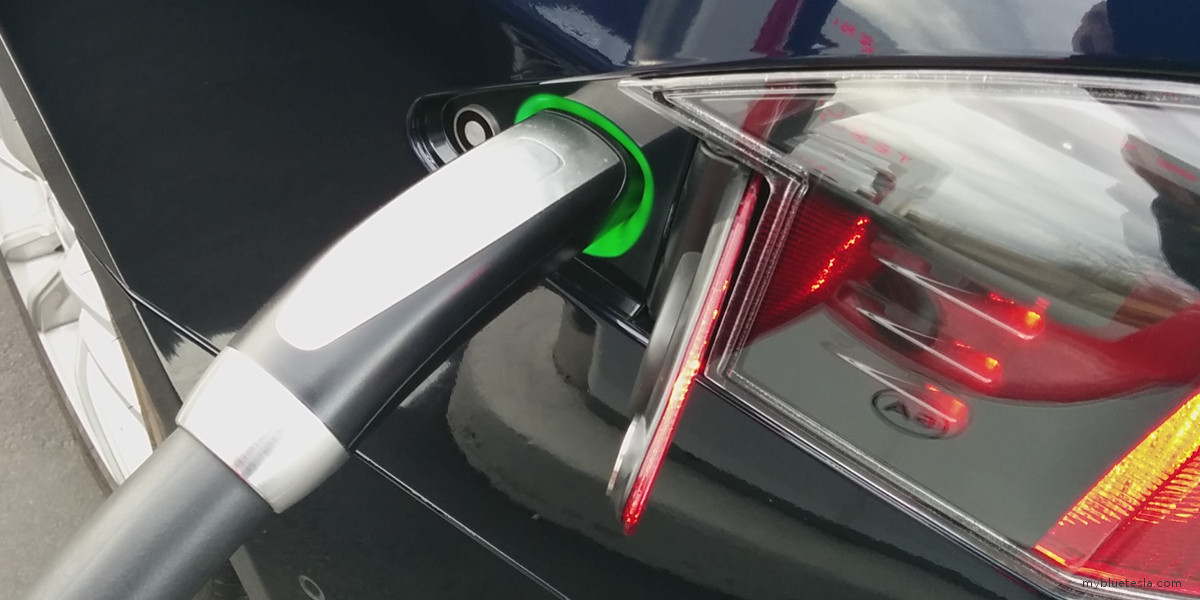 After Supercharging in Gilroy (my first Supercharging event ever outside of the Bay Area), my stop in Monterey was the Hyatt Regency Monterey Hotel and Spa and I chose this location specifically because they had a Tesla Connector available (as noted on Tesla's website). The charging here is available via valet service with the charging spots right out in the open near the entrance. I'm not a huge fan of valets, but it is what it is. I saw one other Model S there when I arrived. Seems the patrons of this establishment has good taste.
Monterey to Las Vegas
After a couple of nights in Monterey, it was time to take the longest leg of the trip. With my battery charged to 90 percent, I was off to the Gilroy Supercharger. Or so I thought.
Instead, the navigation system routed me down towards 101 S and across the 198 through Coalinga. Going through the Gilroy Supercharger would've been my natural inclination since my new experience with long-distance EV driving would have led me to believe I need to maximize energy buffer between stops, but apparently going from Monterey to the Harris Ranch Supercharger would take practically the same time (between routing through Gilroy or going down 101 S and 198 E). The latter is actually a shorter distance to cover and also had a very nice scenery to boot, an unexpected bonus. Lots of curvy roads along the 198 and I really got to experience the handling ability of the car on a nice sunny day with barely any other cars in sight. Having never seen this part of California, it was a welcome surprise to the trip.
So far, Model S navigation isn't so shabby.
The Harris Ranch Supercharger is one of the original Superchargers that got built that I'm aware of. Of course, the procedure here was as simple as advertised - drive up, plug in, go eat at the restaurant (tri-tip is quite good), unplug, drive off.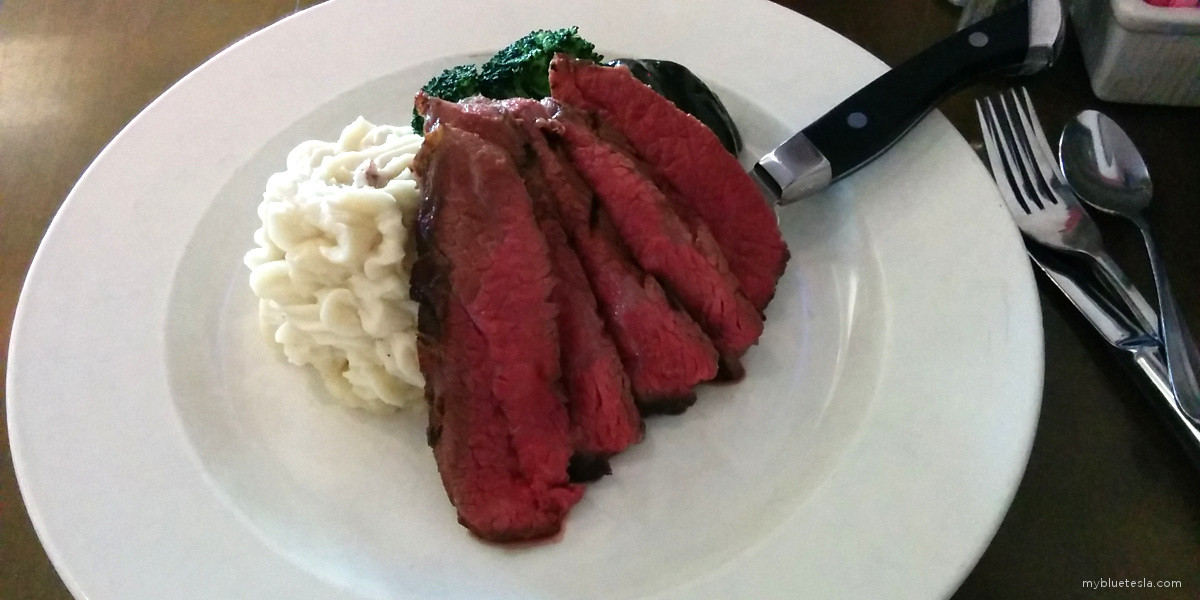 I charged at the Tejon Ranch, Barstow, and Primm Superchargers on the rest of my way to Vegas. The leg between Barstow and Primm was my first real instance of range anxiety. The long hill climb around the Nevada border had me wondering if the range calculation was actually factoring in the steep grade (and whether regen braking on the way down would sufficiently recover enough range to get me back into civilization).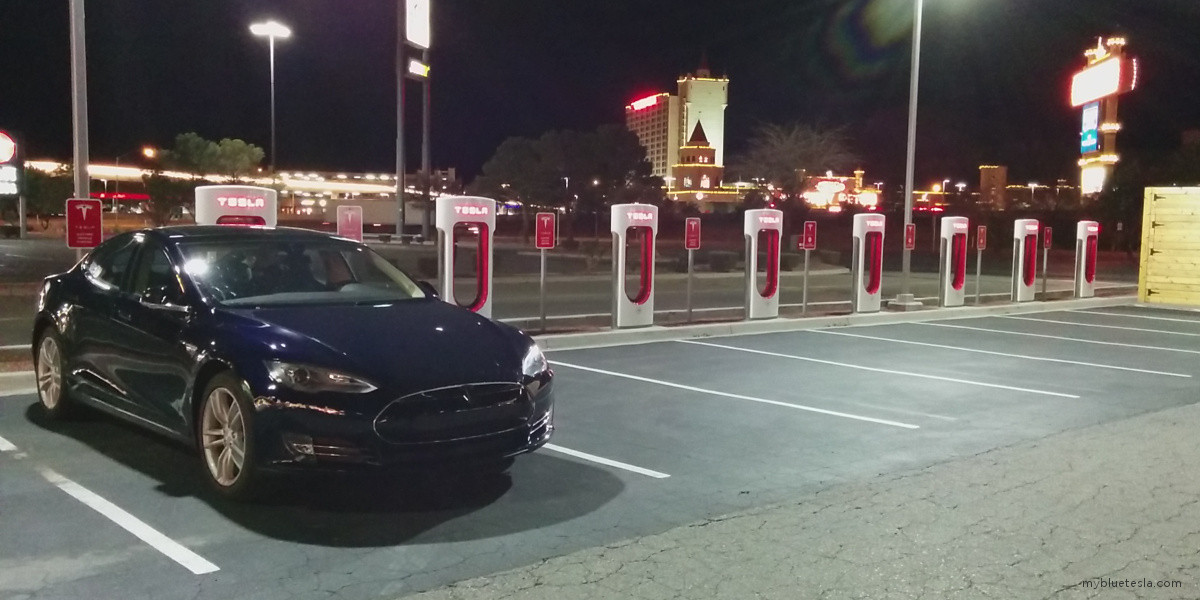 Suffice to say, I made it. No problem. However, the drive from Monterey turned out to be 13 hours, likely because I over-estimated the amount of charging needed to ensure enough buffer between stops. I'm sure this is a tendency most new Model S owners make "just to be on the safe side." It's a fear that turned out to be unwarranted.
I pulled into the Aria garage around midnight. Instead of opting for the valet this time to get access to the NEMA 14-50 outlet, I parked on the second floor of the garage where a couple of ChargePoints spots were available. Use of these were free ... probably because the slot machines were one minute away.
Interestingly, my reservation for a basic room was upgraded to an Executive Hospitality Suite. I expected this "upgrade" to be a slightly bigger room. This suite turned out to be much bigger at 2000 sq. ft., complete with a 12-person conference room, a panoramic view of the city since the suites reside at the corner end of the building, and a large living room space meant to host a small party.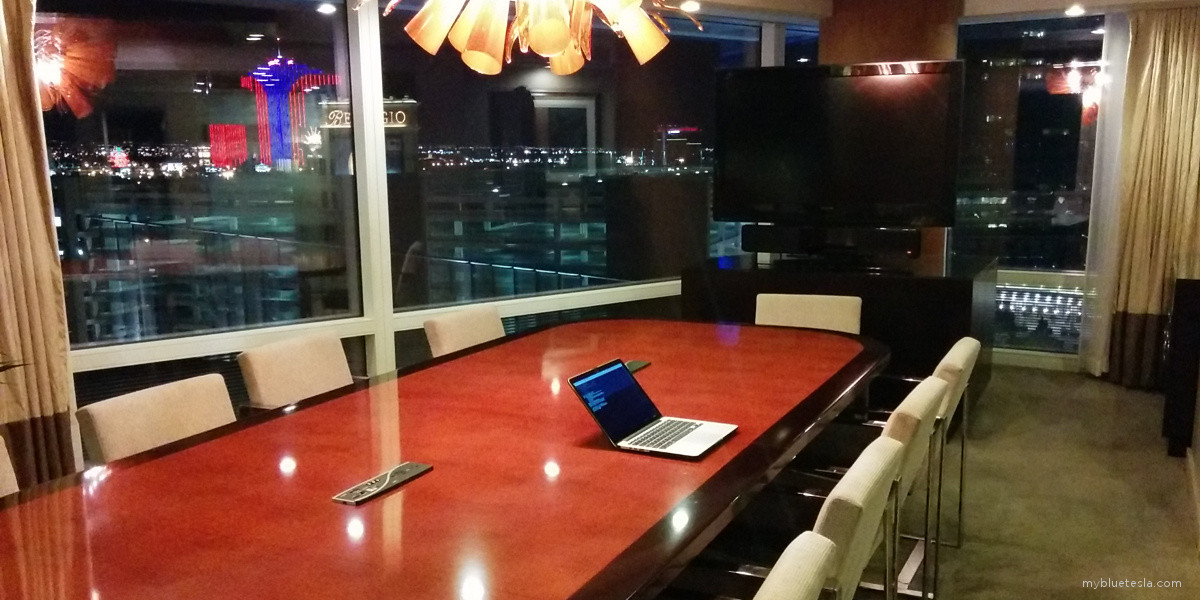 Lesson learned: if you drive an EV, they treat you like royalty here.
(Or it was just a slow day and as a returning customer, they decided to throw me in a nicer room hoping I'd spend some time at the poker tables. Or maybe driving a Tesla automatically puts you into high roller status. Who knows. I'll let your imagination roam here.)
During my stay in Vegas, I never made use of the new Las Vegas Supercharger. The ChargePoint station was sufficient to charge the battery on my last night of stay.
Las Vegas to San Diego
It's about half an hour from Vegas to Primm, but I decided to "be on the safe side" again to alleviate my fear of running out of juice and stopped by for a quick electrical fill-up. Then it was on towards Barstow, then pivoting southbound towards San Juan Capistrano, going through unenviable Los Angeles traffic.
The San Juan Capistrano Supercharger stop was the first time in my trip when I had to get in line to charge. Quite a few other Model S owners here. It was also a bit difficult to find at first and I wish Tesla's navigation system would be a bit more specific (as in, "Please look behind the bank building."). It's also a set of charging spots that's crammed into a general plaza parking lot.
My final destination was Embassy Suites in La Jolla. This particular location was somewhat near the San Diego Safari Park where I would ultimately spend my time in town, but unfortunately they didn't offer much in charging options. Given the little distance I'd need to drive while in the area, it didn't matter much to me.
However, I happened to discover that there was a Tesla store in the mall right across the way and decided to see if I could get a few free electrons from a NEMA 14-50. I've never actually plugged my car into a NEMA 14-50 and it'd be nice to use the Mobile Connector which I brought along with me. Unfortunately, the 14-50 outlet in the parking garage area reserved for the Tesla store happened to be out-of-order when I arrived.
San Diego to Fremont
My final drive on this trip was to back home. Once again I'd route through Los Angeles, but this time straight up I-5, then maneuver through Gilroy, then to Fremont.
While on I-5, I encountered some microclimate rain pours. Although a convenient on-the-road car wash, it also raised fears of range reduction due to additional environment resistance against my direction of travel. However, again this concern was more of my imagination fearing the worst than what was practically happening. Sooner or later, I'll trust this car to be more than capable of delivering me to point B without issues.
On my way to the Gilroy Supercharger, I crossed the 10,000 mile threshold on the odometer. I realize I'm racking up way more miles than I had anticipated this far into ownership as it's only been 5 months so far.
Conclusion: the Supercharger network works. Not exactly a surprise, but as a relative new owner I had to try it for myself. If my travel stops were far off the Supercharger path, then likely some planning issues might have come up, but otherwise the growing network of convenient (and free!) eGas fill-up locations meant that I lost relative little time in the grand scheme of things when comparing the costs associated with driving a gas-powered car the same distance. Unless you're the type to extremely minimize the number of fill-up stops between places and eat/drink as quickly as possible in order to save every minute of your life, then driving a Model S is quite practical indeed.
In addition, driving longer-distances in this manner makes you realize that having no engine noise or vibrations means you're less fatigued during the ride. While a larger reduction in road noise from the tires would be more welcome, all in all I felt less stressed driving over these distances within a week's time. I've driven less with a ICE car and still ended up more tired by the time I arrived at my destination.
I've also decided that going forward, any time I have to make a business trip either within California or to an adjacent state, I'll likely opt to drive the Model S there rather than dealing with airports, lengthy (and intrusive) security screening, waiting for the flight to be delayed again, being stuck in a crowded plane, having to wait for luggage after landing, then renting a mediocre car. No thanks, I'll just take mine and have less travel expenses to boot.
The Model S is becoming a common sight in the San Francisco Bay Area, but once I ventured out I quickly realized how rare they are except at Superchargers. I don't think I saw a single Model S while in Vegas. I suspect in time this will change.
Reference: these are two of the many YouTube videos which gave me enough confidence to put my money on buying a Model S: