Another visit to the doctor's office at the Tesla wellness center.
It's hard to believe that I've been driving a Model S for over three years. I have no plans to trade-up or otherwise replace it. While the newer ones off the factory line seem to be a bit nicer in certain respects, I love what I have and I'm sticking with it.
I've prepaid for the first four years of routine maintenance and it was time. The odometer was at 72,260 when I turned into the new (and apparently temporary, according to the associate there) Fremont Service Center and there was a row of Model S, X, and even 3s in line waiting for their turn to be moved indoors. I'm adding almost 24k miles each year. Much more than I expected to.
As a loaner vehicle, I was handed the keys to a Cadillac XTS. I'd never imagined myself sitting in a Cadillac, but there I was watching the Cadillac CUE infotainment system startup logo do its song and dance. The fuel tank was near empty, the interior wasn't vacuumed, and I knew later on I'd have to do some minor interior cleaning to remove the grime left by other customers.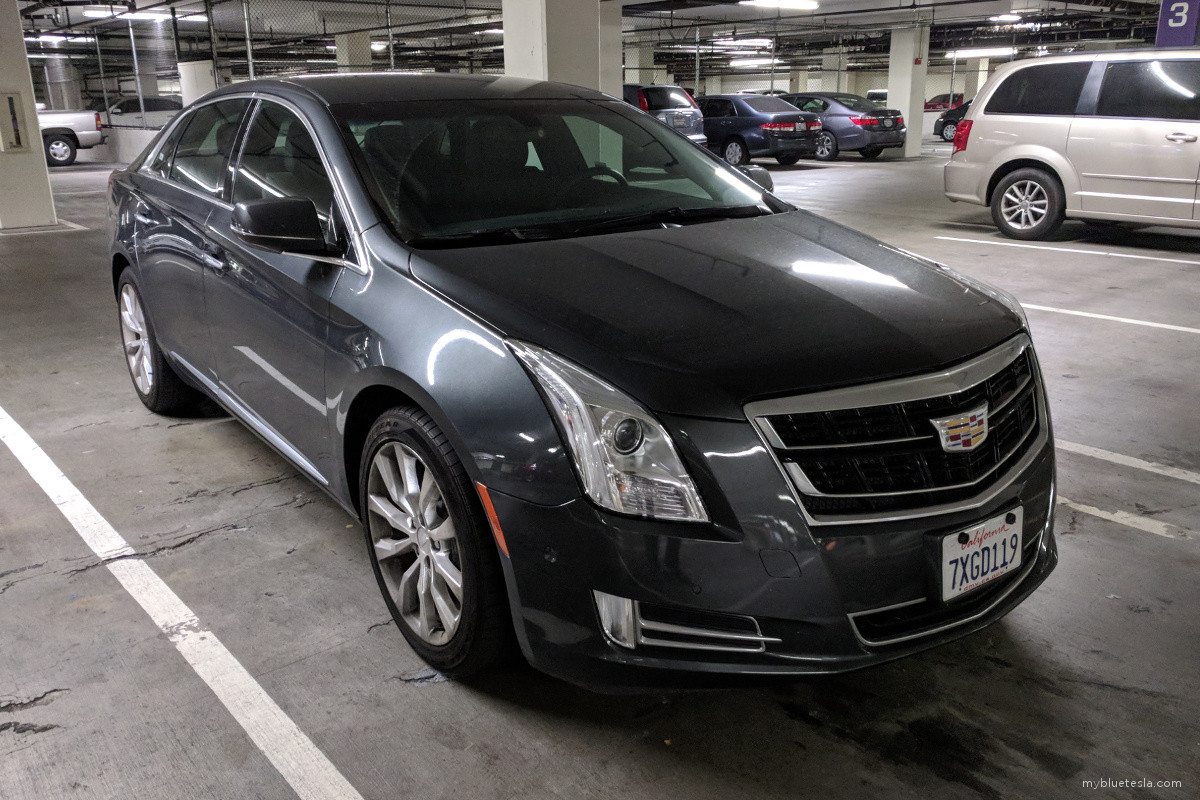 If Tesla wanted to leave the impression that the Cadillac is a lesser car, they're certainly doing a good job.
There was also this cheap, Windows 95-esque chime that seemed cut-off at the tail end when the internal Wi-Fi hotspot was engaged. You'd think GM would have a more polished sound experience in a Cadillac. A hotspot function would be appreciated in a Model S though.
That said, this was an opportunity to experience what an old behemoth like General Motors considers luxurious vs. new-school Tesla. I'm not handing a lot of points to GM. The only immediate upside was the noticeable solid interior build quality feel. Otherwise it's a lot of clutter, a terrible infotainment user interface that looks like it was pulled from a beta-testing parts shelf from 2003, and a cluttered dash layout. I appreciated the heated steering wheel though which my particular Model S doesn't have.
For the first time in a while, I had to fill up a gas tank while using the loaner. The XTS is not what one calls fuel-efficient. The readout on the gauge cluster indicated an 20 mpg average. No wonder why I spent $40 in fuel over several days (I probably used $30 worth).
The annual maintenance work was done in a day but Tesla kept the car over the weekend to do a windshield replacement. Beyond that, there isn't too much to report. At least I got to see a couple of Model 3s in person up-close. Perhaps one day I might order one of those ... when Tesla has the production side of things nailed down and reliability is consistently above their past performance.
Here's the invoice: