Getting high on that brand-new rubber smell.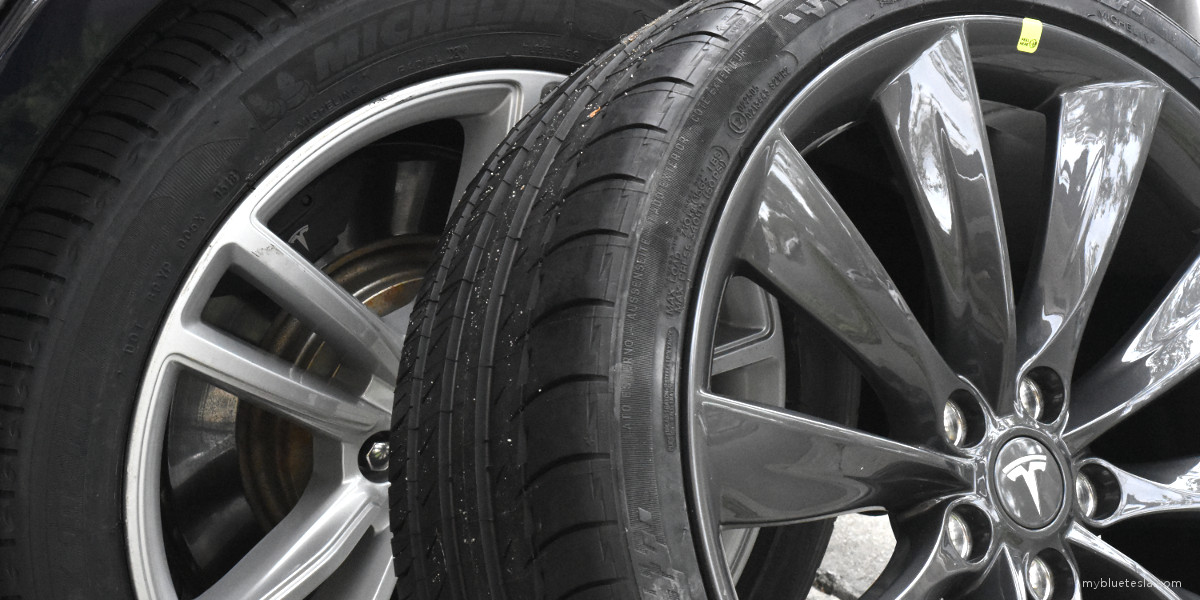 During my last annual service check-up, it was noted that I should replace the tires soon. When I did the penny check a month ago, you could almost see the top of Lincoln's head. I scheduled a Service Center appointment a couple of weeks ago and it was finally time to drop $1200 on four new tires (including parts and labor). During the last change almost 2 years ago, the cost per tire was $300 whereas this time around it was $230. The previous set lasted me 40,368 miles. I'm now on my third at nearly 83k on the odometer.
A day before my scheduled appointment, Tesla called and emailed me about their Mobile Service option where I could have the tire swap done at my home or work instead of at the Service Center. Since I got the message a bit late in the day, I decided to just roll up to the SC as originally planned. When I checked in, they again mentioned the Mobile Service option so it sounds like they're really trying to push basic tasks like tire changes to their roaming service army (which I assume is to keep the SC freed up for more significant jobs). I think next time I'll take them up on it.
The swap took less than an hour and I was on my way. A benefit of being at the SC is seeing all the other Teslas in various colors and configurations. Some Model 3s, and practically every color of Model S and X.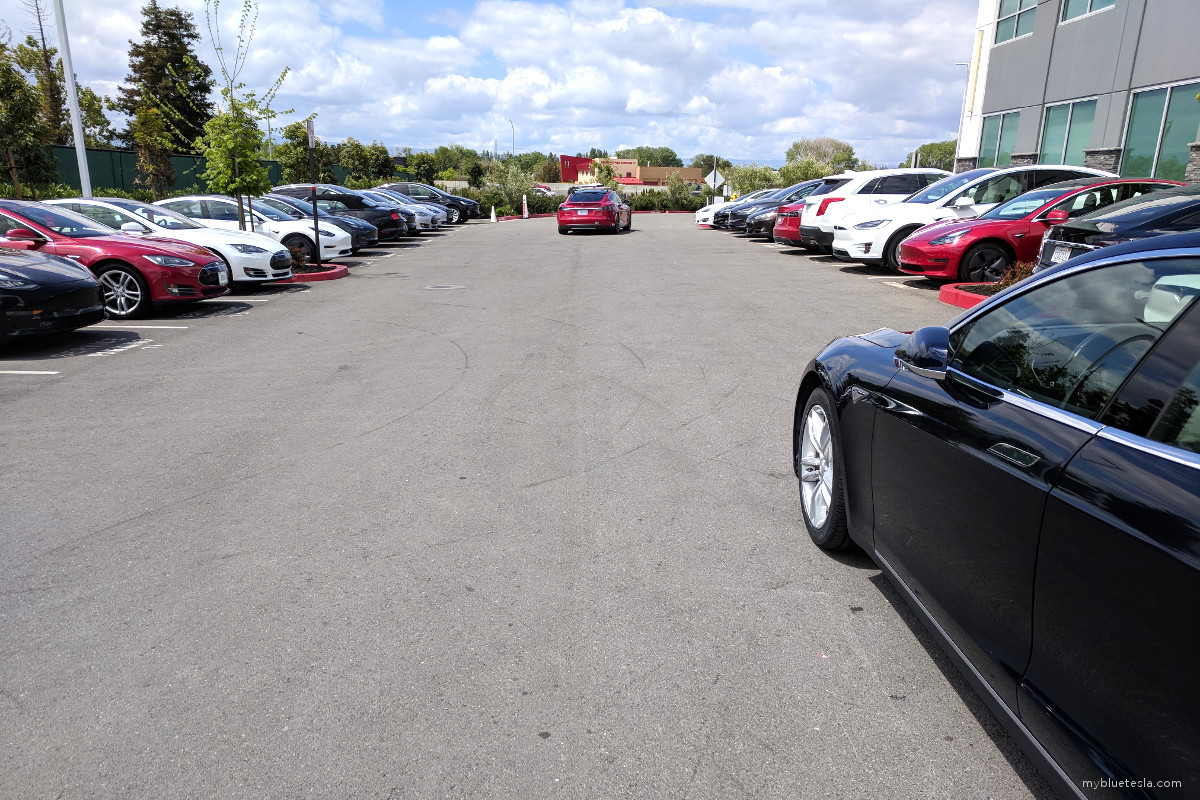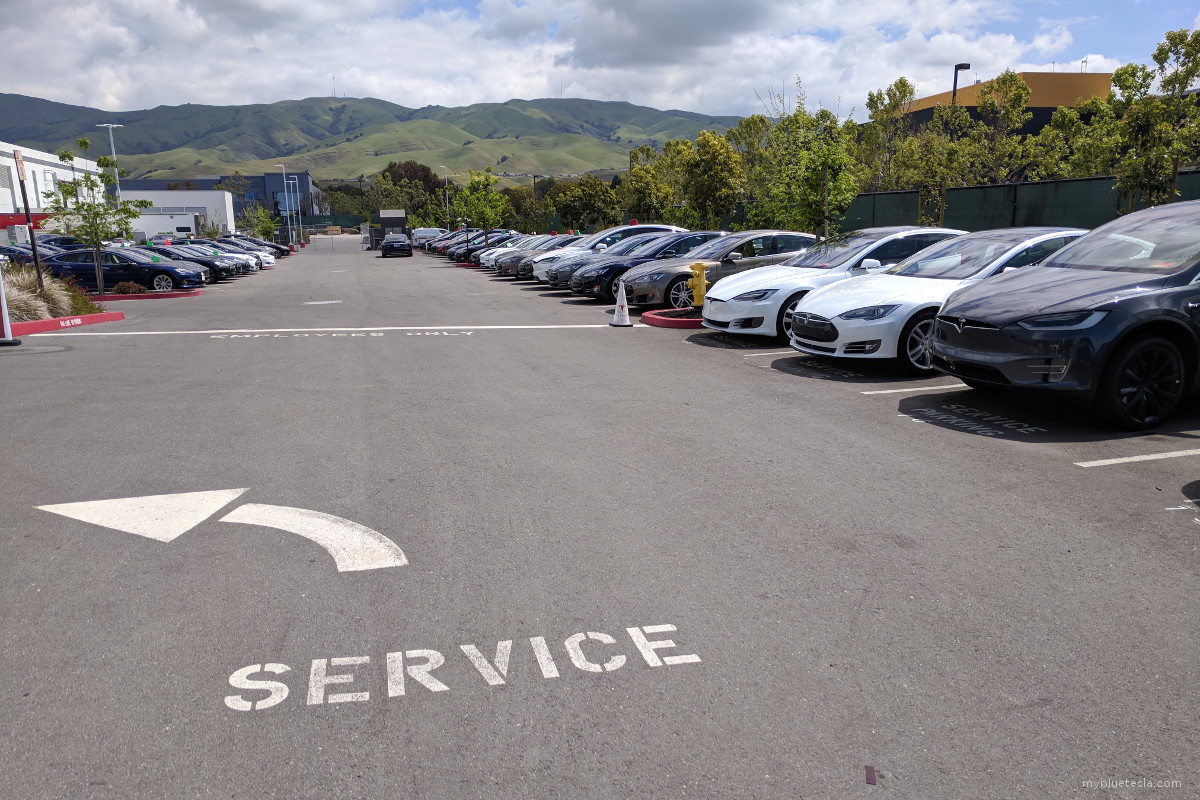 So this was the invoice for the change of rubber that was needed.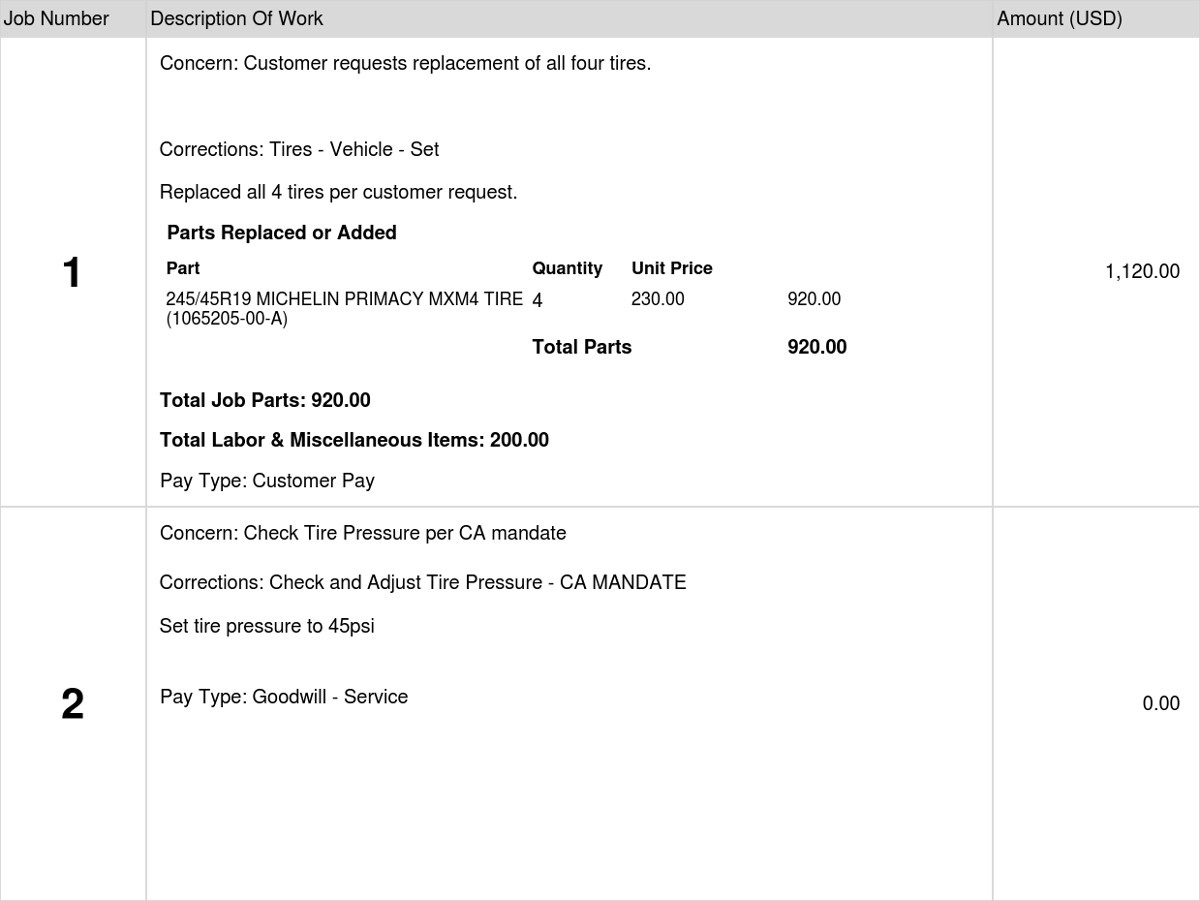 And now for the change of rubber that I've always wanted...
I didn't intend for the timing to work out this way, but I also ended up buying a used set of 21" Turbines (non-staggered, 21x8.5 all around, with Michelin Pilot Sports) today from a local Tesla Motors Club forum member. And by "used" I mean that the owner originally purchased them for his Model S but they were practically never used so they've been sitting unmounted in his garage. The yellow stickers are still on the wheels. Since he's moving onto a Model 3, I essentially scored a new set at over half off from the $6000 plus tax Tesla would charge if I bought directly from them. There's a minor scar on one of the spokes, but it's small enough for me to not really care. They are perfect enough. And I guarantee that I'll eventually curb rash them at some point anyway. Perhaps I need to consider those wheel bands. I also need to be much more mindful about potholes since I've read the stories about how susceptible to damage these Turbines are.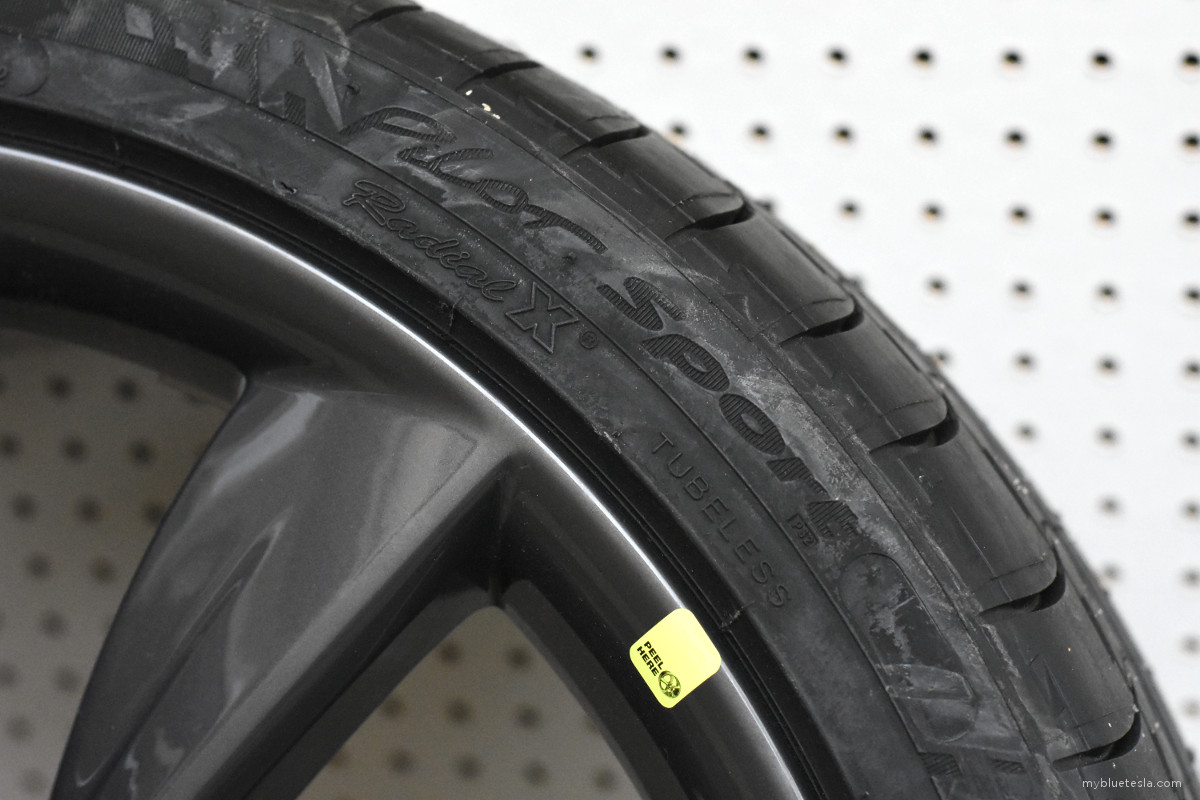 I plan to Gloss Coat them before using them for summer to ease washing. I'm not looking forward to replacing these Michelins after only 15k miles (the reported average tread life), but I'm hoping to beat that average since I generally drive softly.
Previously I was debating between going with staggered vs. square for the wheel setup. Staggered would mean 245s on the front (21x8.5) and 265s on the rear (21x9), with the drawback of not being able to rotate tires front-to-back. Non-staggered allows for rotation, but in theory I'd lose a minor degree of performance for my rear-wheel drive Model S. Plus there's a slight cosmetic edge on the staggered. If it really bothers me enough, I can always find someone selling a pair of 21x9 Turbines and add to the collection.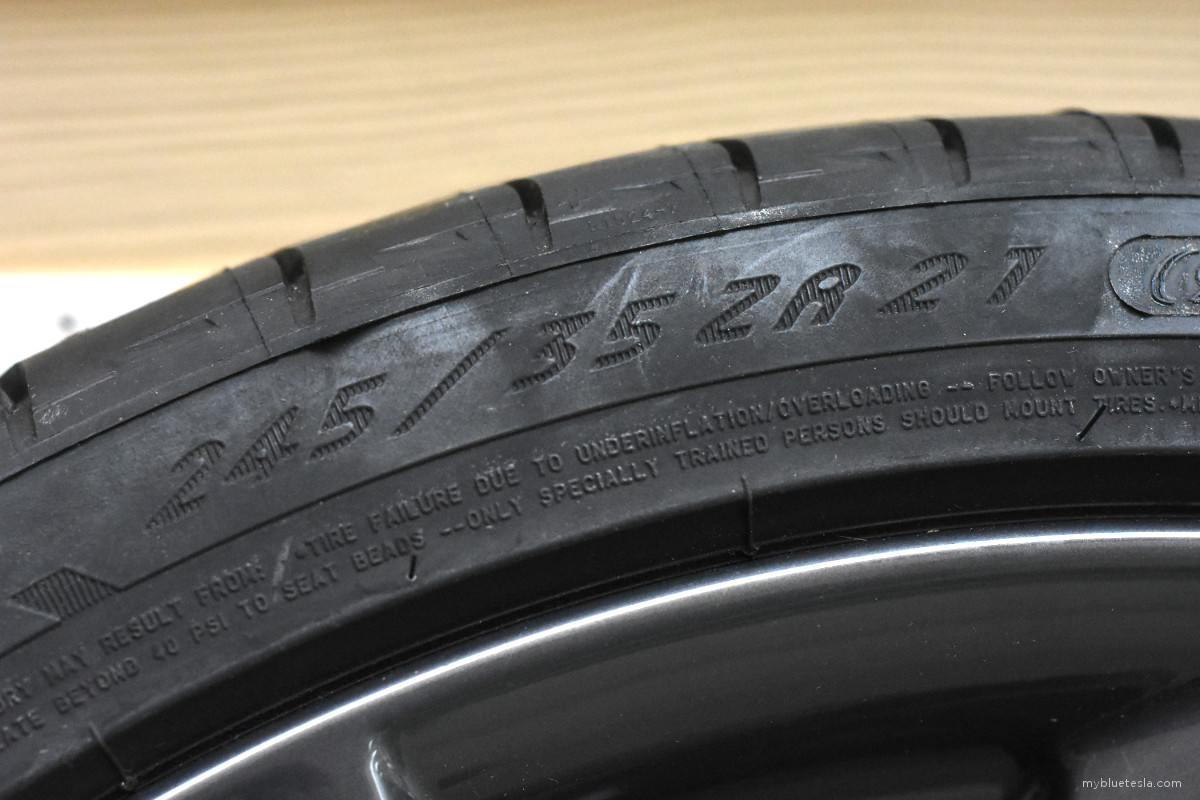 In the end, these wheels serve only as an aesthetic embellishment. Since I'm not a performance driver, I suspect what I have will suit me just fine. Neither the Arachnid nor the newer Twin Turbine designs really do it for me. I think the original Turbines look the best and I love them in both gray and silver.
Long before I ordered my Model S, the look of the car in this 2013 video really caught my eye. I can finally achieve this with my new purchase:
So it was an expensive day at almost $4000 for 8 new tires and 4 new wheels. My garage is starting to smell like a tire shop. Oh yeah, and I need to get some gray or black lug nut covers to complete the look.