Driving a modern IoT in the middle of a zero-technology landscape of silence.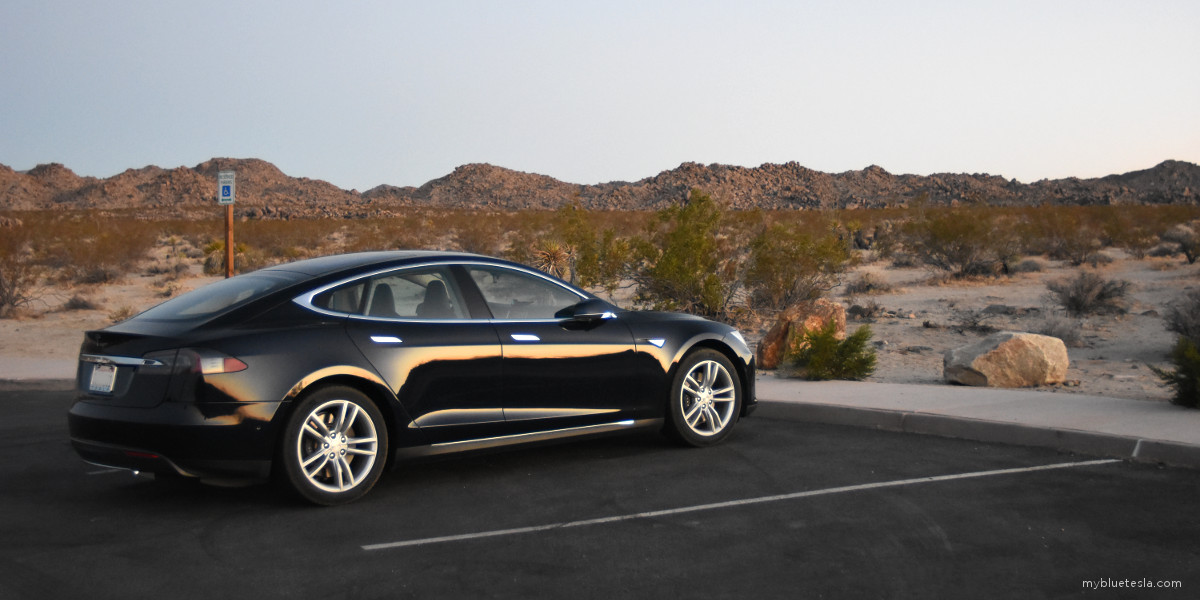 Instead of the usual trip that ends up next to the ocean, I opted to try something much different - the desert landscape of the Joshua Tree National Park in the southern end of California, east of Los Angeles. The last time I've made such an effort was a drive to the Grand Canyon over 15 years ago.
One the many benefits Joshua Tree offers is distance away from city lights and thus the opportunity to look up at the night sky relatively unimpeded. It was this feature that caught my attention as it's been over a decade since I last observed a sky where the stars clearly glistened without modern industrial interruption.
The Supercharger map brought up Alcazar Palm Springs as a hotel in the destination charger program. This provides a convenient base of operations as a jump point to Joshua Tree as well as other potential sight-seeing opportunities like the Salton Sea.
Getting to Palm Springs was a bit longer than the usual trip to Los Angeles. I made a stop at one of the original Superchargers at Tejon Ranch where they've expanded the number of stalls.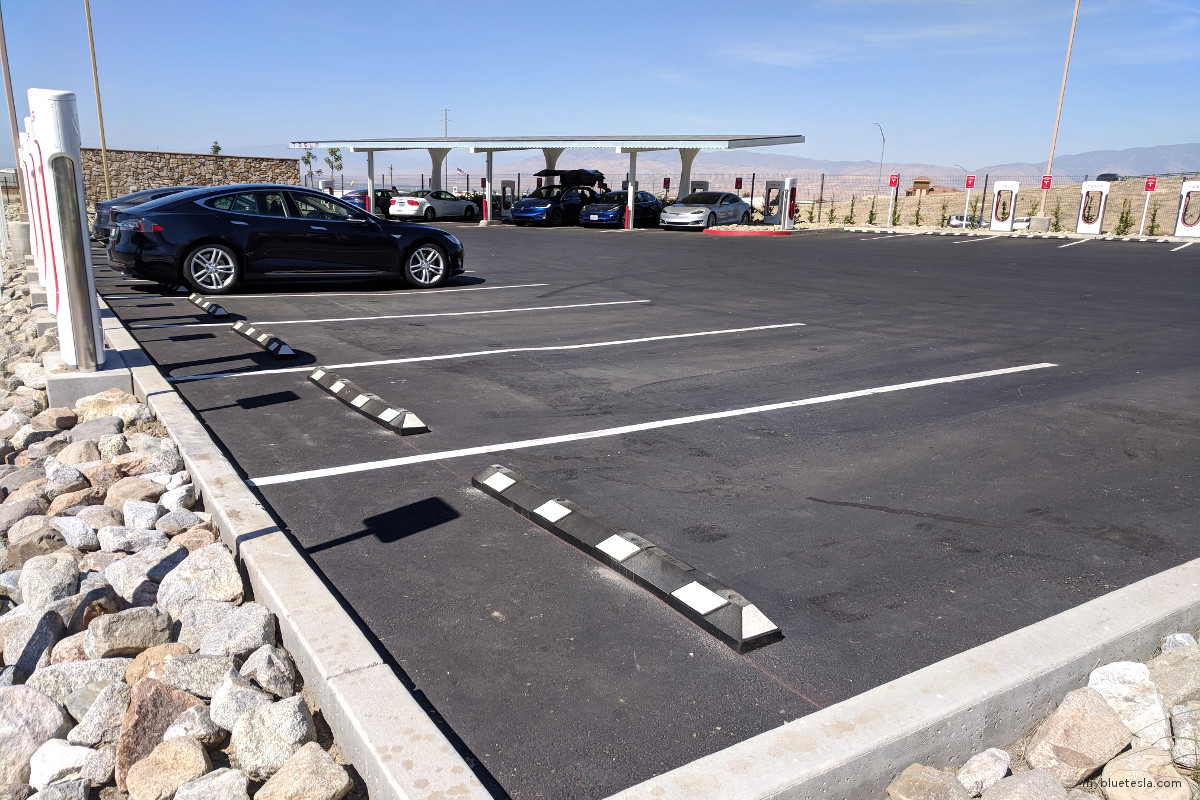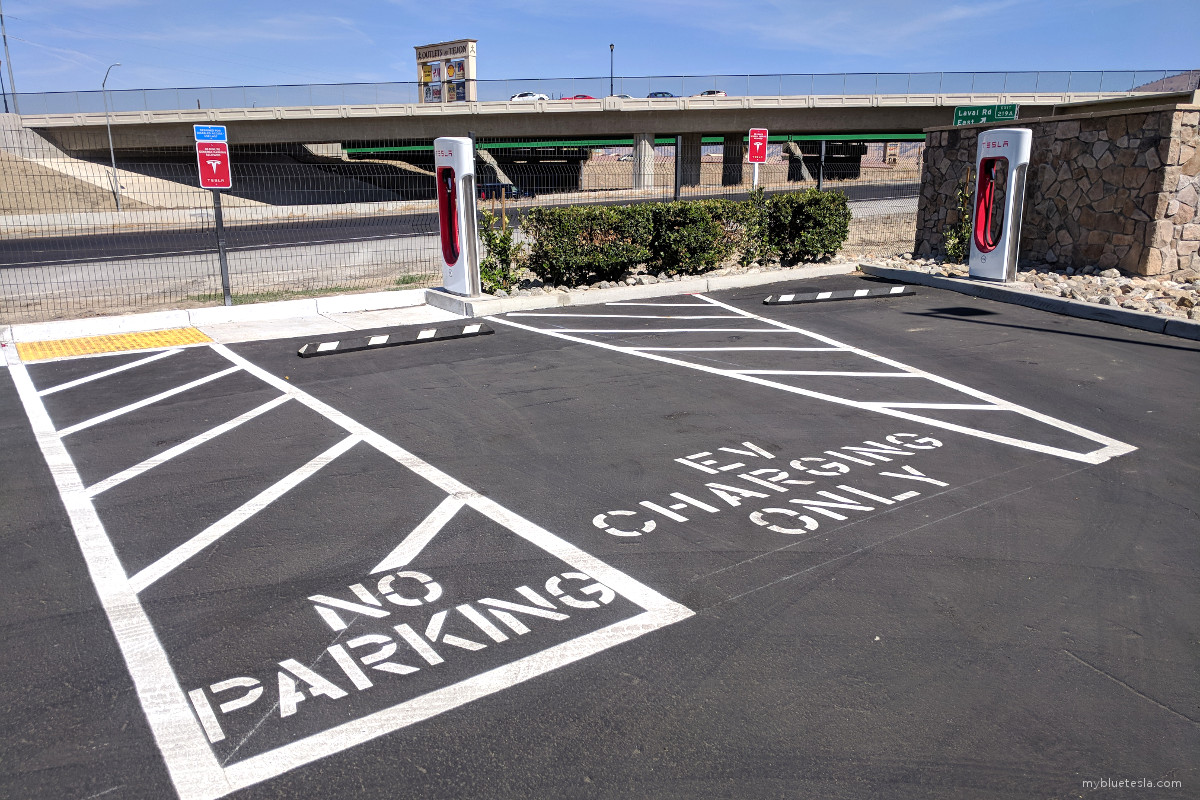 I also stopped at the San Bernardino Supercharger which is populated with the new urban charging posts. It's the first time I've seen them in person. Although limited to 72 kW, my battery wasn't so depleted that I was missing out on anything. It's located at the parking garage of the Inland Center mall. The navigation system was guiding me in a rather confusing way when I got to the area and I wish it was better about the turn-by-turn directions in the last quarter-mile when you're trying to find the charging stalls.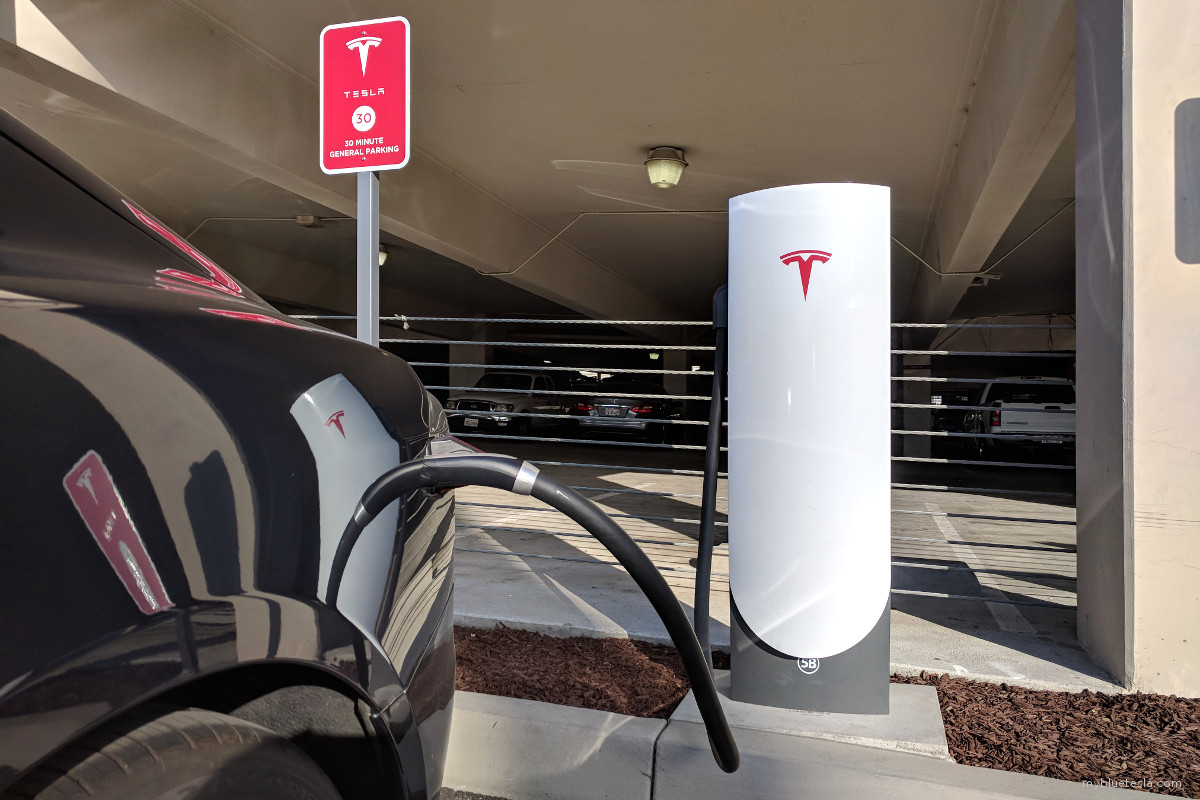 As I was driving into Palm Springs, I passed by the San Gorgonio Pass Wind Farm, a rather incredible sight with rows after rows of wind turbines spinning at different rates like a large class of ballet dancers warming up for a choreography.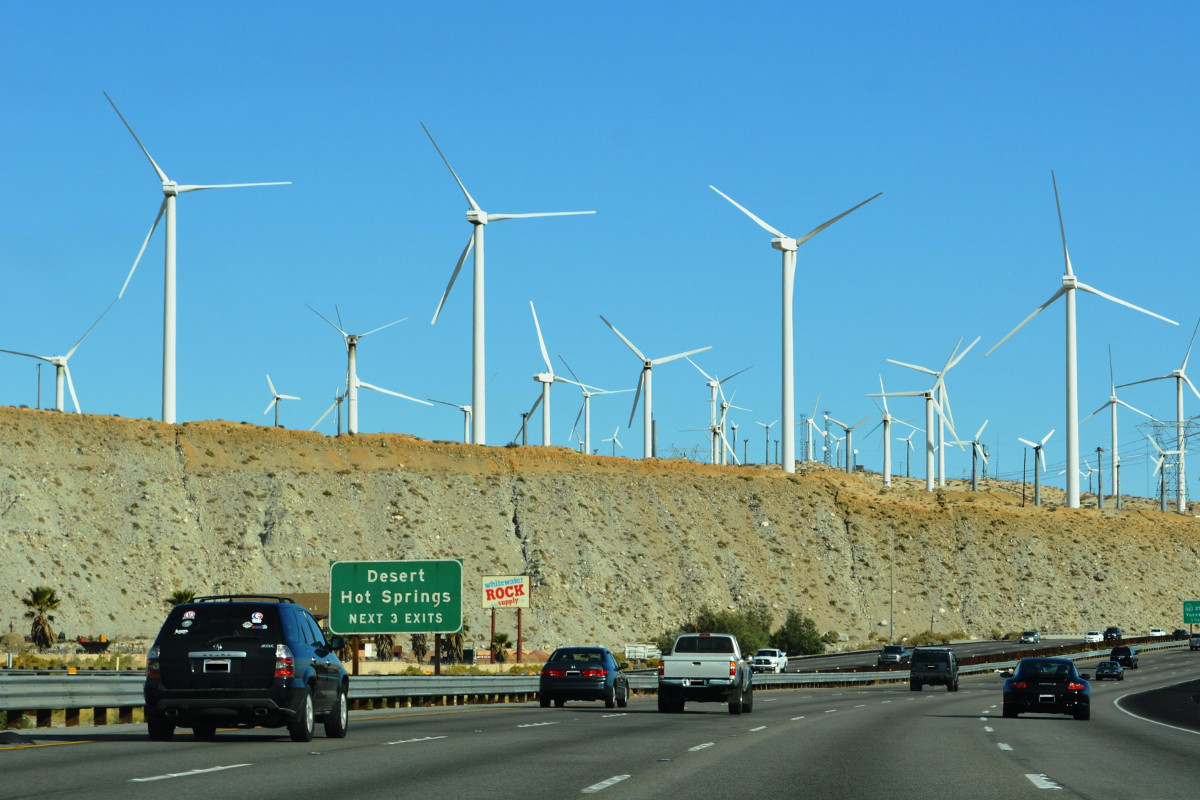 Alcazar Palm Springs is a quiet boutique hotel with a simple, clean design and a single Tesla HPWC (and a Clipper Creek electric charging station next to it). This makes quite a difference since the nearest Supercharger is half an hour away.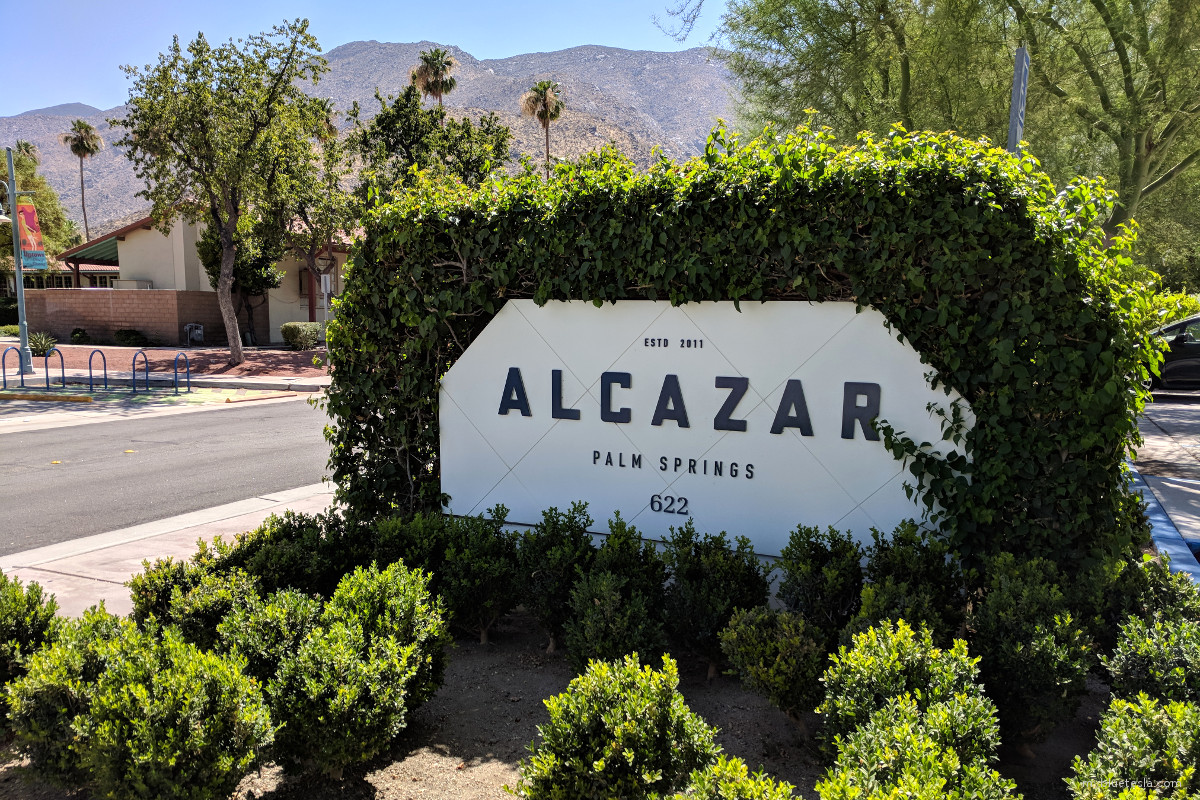 The next day I headed out to the Indio Supercharger on the way to the southern entrance of Joshua Tree. The 8-stall setup is located right across from the corner of Subway in the Indio Towne Center shopping area. Given that there's some elevation getting into Joshua Tree, I decided not to chance it and charged up close to 100%. Joshua Tree does not have any convenience facilities like charging stops, restaurants, or lodging. If you run out of juice while driving in the park, you're out of luck ... in the dry desert heat.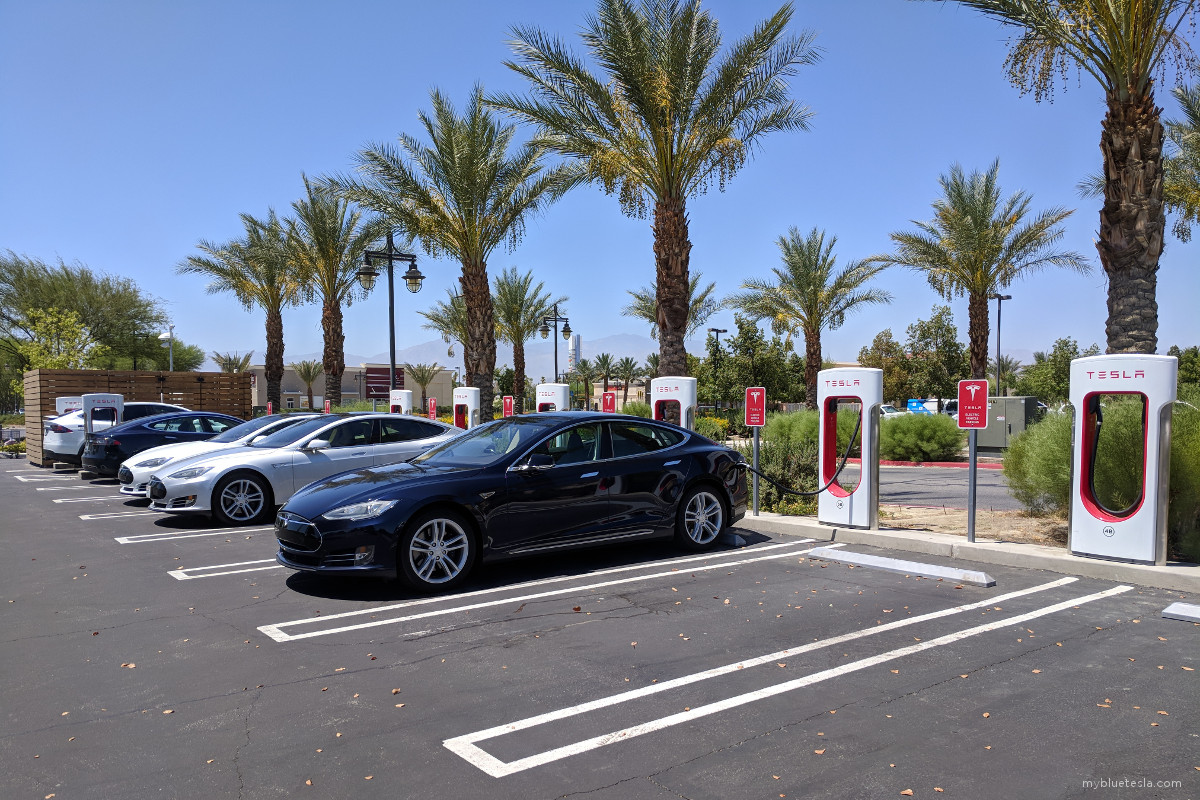 While I was charging in Indio, there was a black Model 3 right next to me with New York plates. Turns out the owner was moving from New York to Los Angeles and he seemed quite happy with his Model 3. I'm hearing more stories about new Model 3 owners and their cross-country trips. A good sign for things to come.
Entering on the south side of the park is essentially free. Apparently you pay the entrance fee when passing through the north entrance. My first stop was at the Cottonwood Visitor Center. At this time of year the temperatures climb beyond 100° F. Even though blasting the AC works, this is where ventilated seats would ease the sweaty backs a bit. The heat warning is a clue of things to come.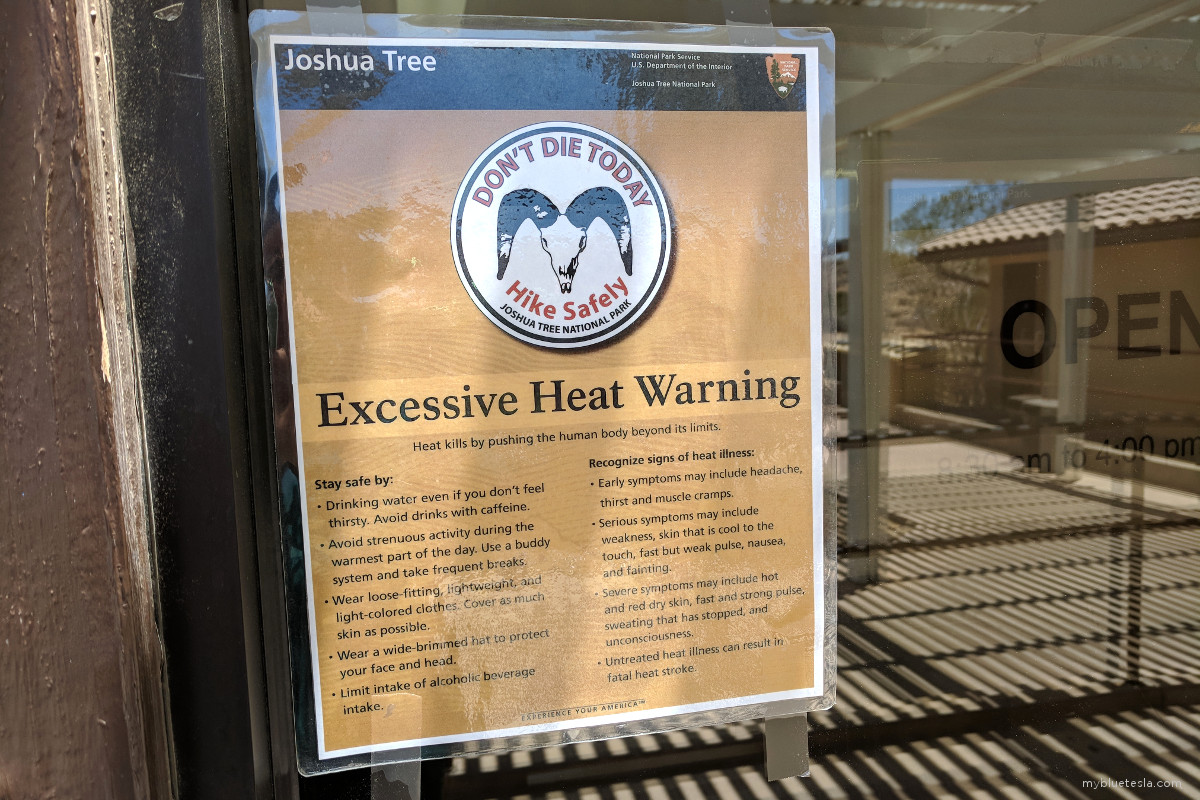 You'll soon notice that the navigation system's map will lack live updates and become reliant on cached data. There is zero cell signal in the park.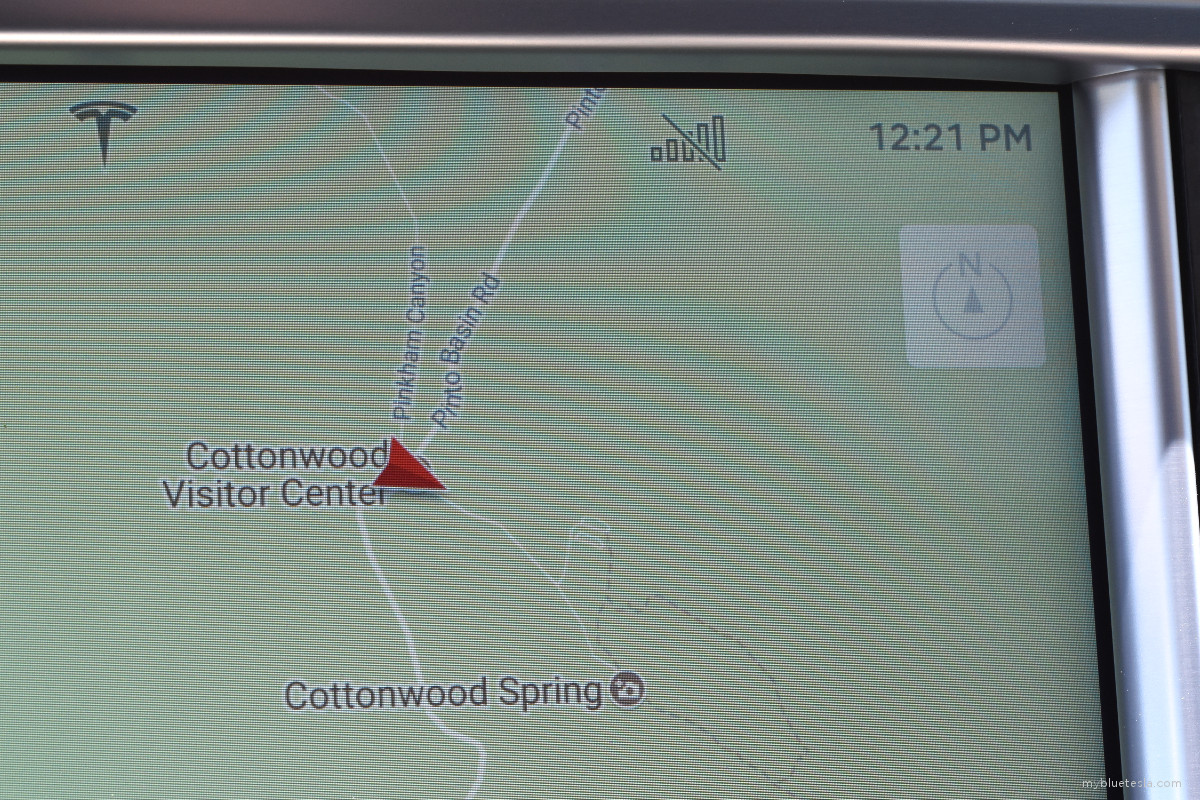 Interestingly, a silver Model S drove up as I was leaving the first visitor center. Good to see I wasn't the only electric car owner making the journey into the Joshua Tree heartland. I spent the next hour or two driving up Pinto Basin Road and stopping by various exhibit points. When I got nearly halfway into the park, I decided to turn back to the city for lunch. I had about 70% charge left and a good bulk of the drive back to Palm Springs would be just downhill driving. Earlier I was unsure how far a full charge could get me through the park, but it seems I could likely drive through to the north side and then recharge at the Twentynine Palms Supercharger.
Pinto Basin Road's speed limit averages about 40mph and I tested Autopilot's ability to handle the occasionally-twisty roads. The lane markings are very clear and for the most part Autosteer worked fine (even in pitch dark at night), although on some sharp corners I had to take control of the wheel. Version 1 of Autopilot isn't as graceful in these situations or downright fails. It'd be nice if Tesla could improve this system for these situations, but I somewhat doubt they will since development effort seems to be concentrated on version 2 at this point.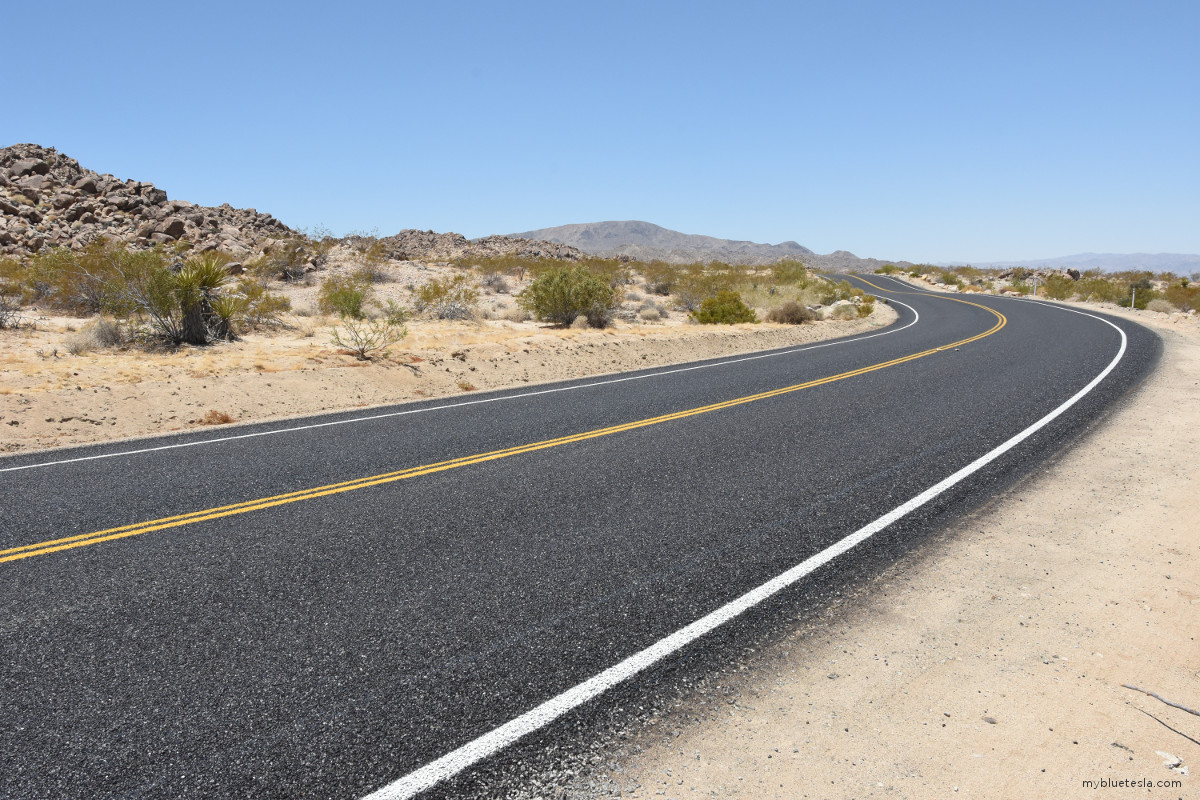 Pinto Basin Road's asphalt is quite black but rather coarse. It's not designed for quiet luxurious travel.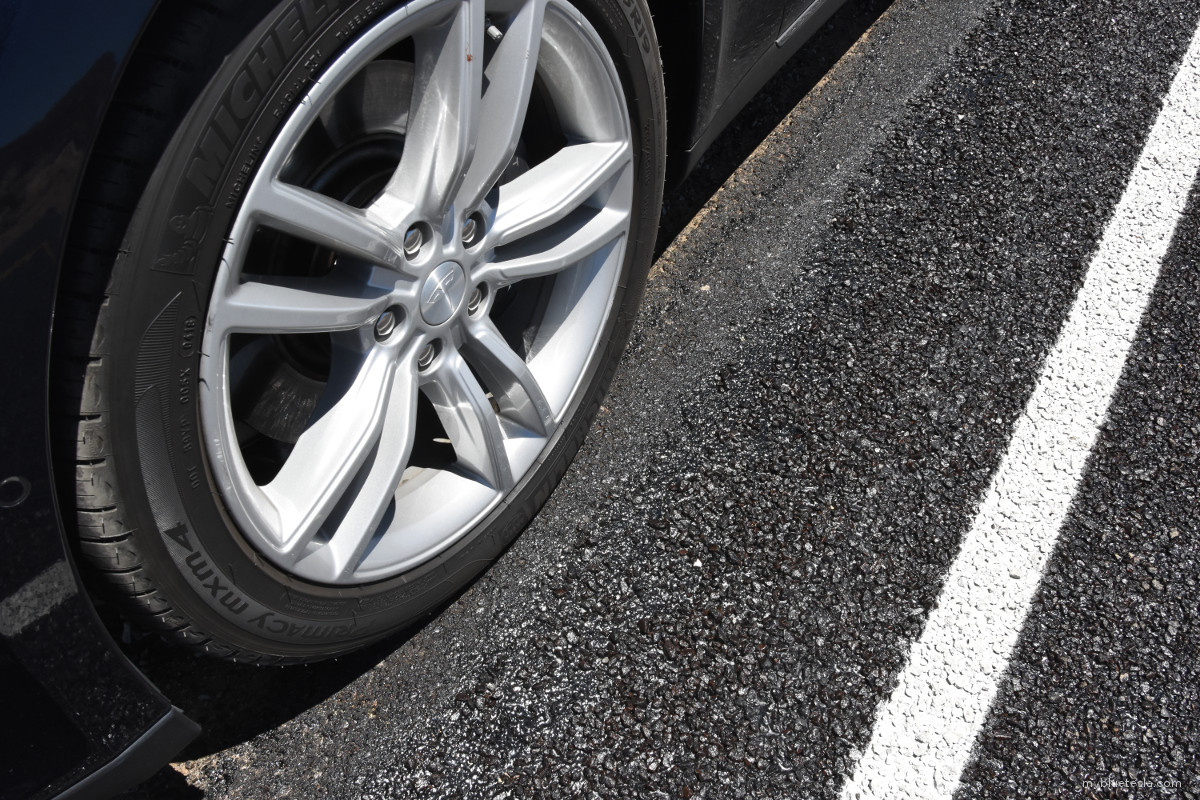 I spent several hours at Porcupine Wash as the sunset went down and the stars slowly revealed themselves while the light haze hovering above the rocky ridges slowly pulled back. As an all-natural planetarium, I highly recommend looking up at the stars here as there is almost no wind or background sounds. It's a place where your inner thoughts will be louder than anything else around and the eerie silence makes you realize how loud a Tesla motor can be in comparison. It's in places like these where you can contemplate your place in the universe. Every careful step in the sand or gravel feels amplified by an order of magnitude. Not even a ninja could move around stealthily.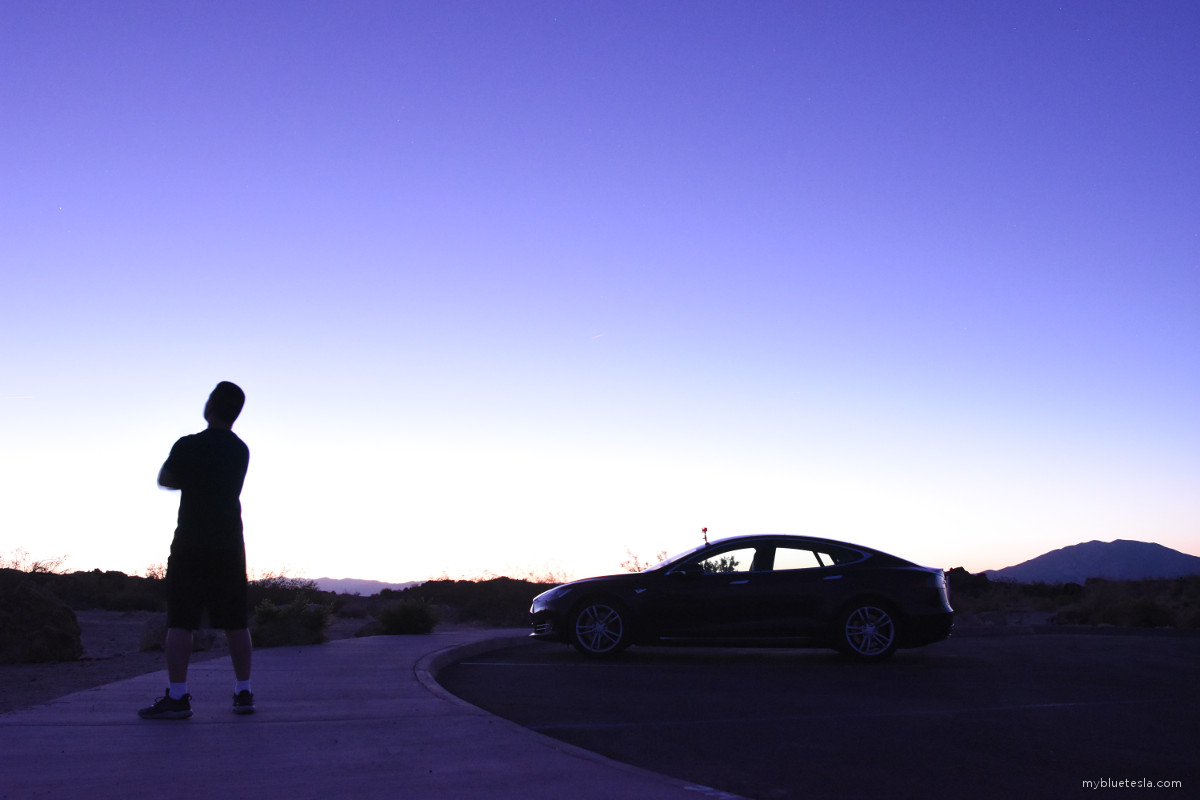 If you have a camera that provides a bulb mode for long exposures, I suggest bringing a tripod for some constellation shots. You'll end up picking up more stars in the pictures than your eyes can discern by themselves.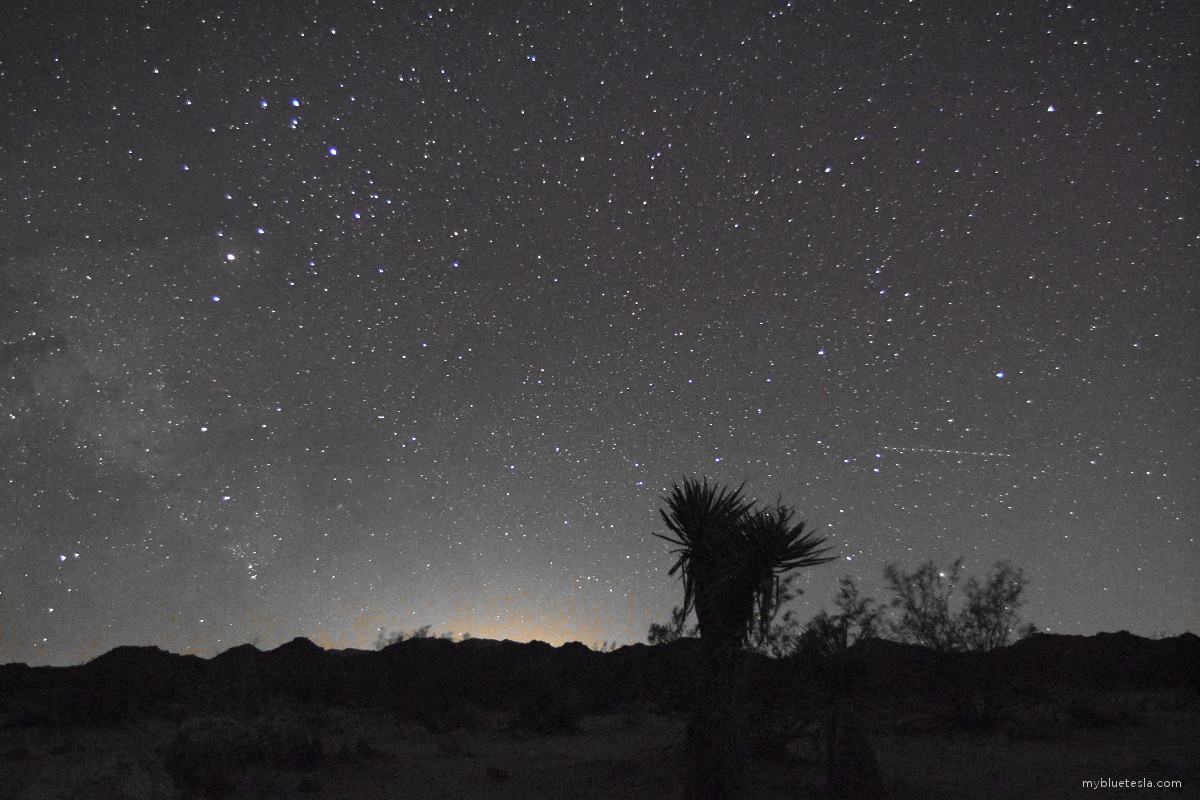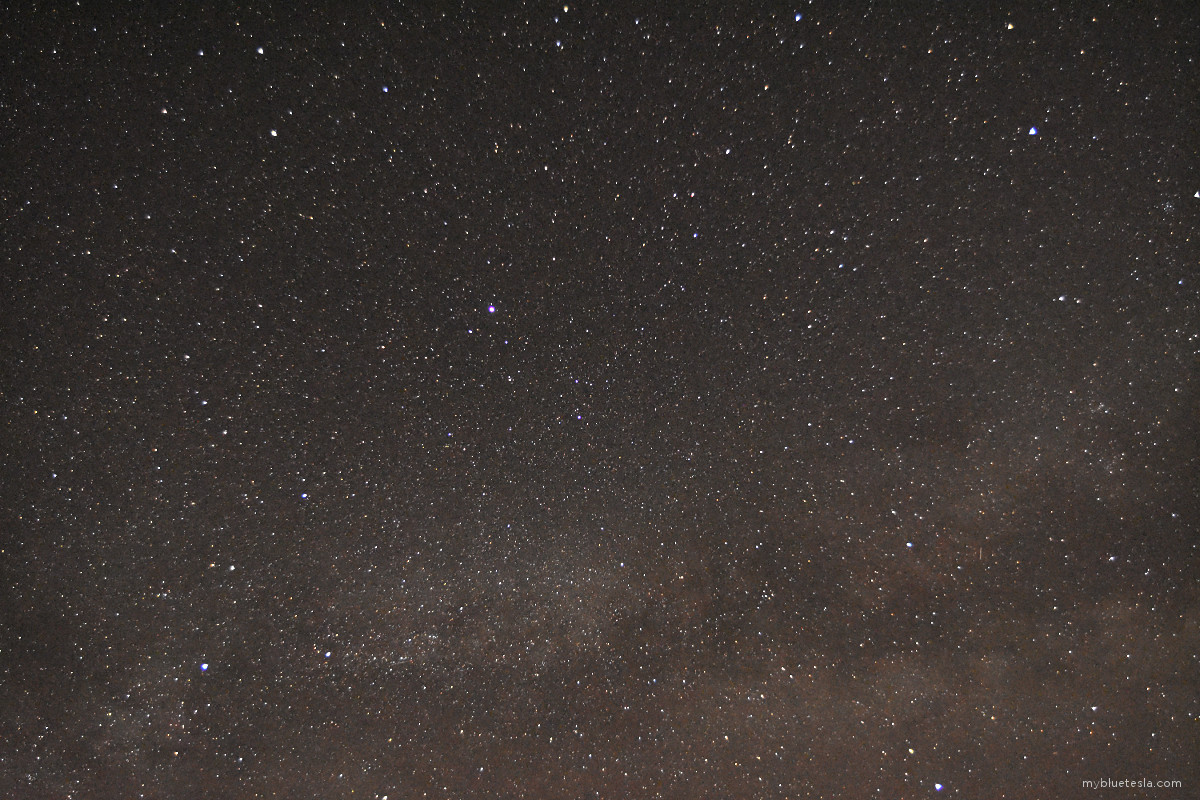 I was also lucky enough to see a few shooting stars. They last for a fraction of a second.
On the second day in the area I decided to drive around the Salton Sea. On the map it doesn't look like a long stretch, but this turns out to be at least 2 hours or more worth of road time. I started from Palm Springs with a 90% charge and went straight there. By the time I circled all the way around and got to the Indio Supercharger, I was down to 10%, and that was with driving relatively conservatively either at or slightly below the speed limit.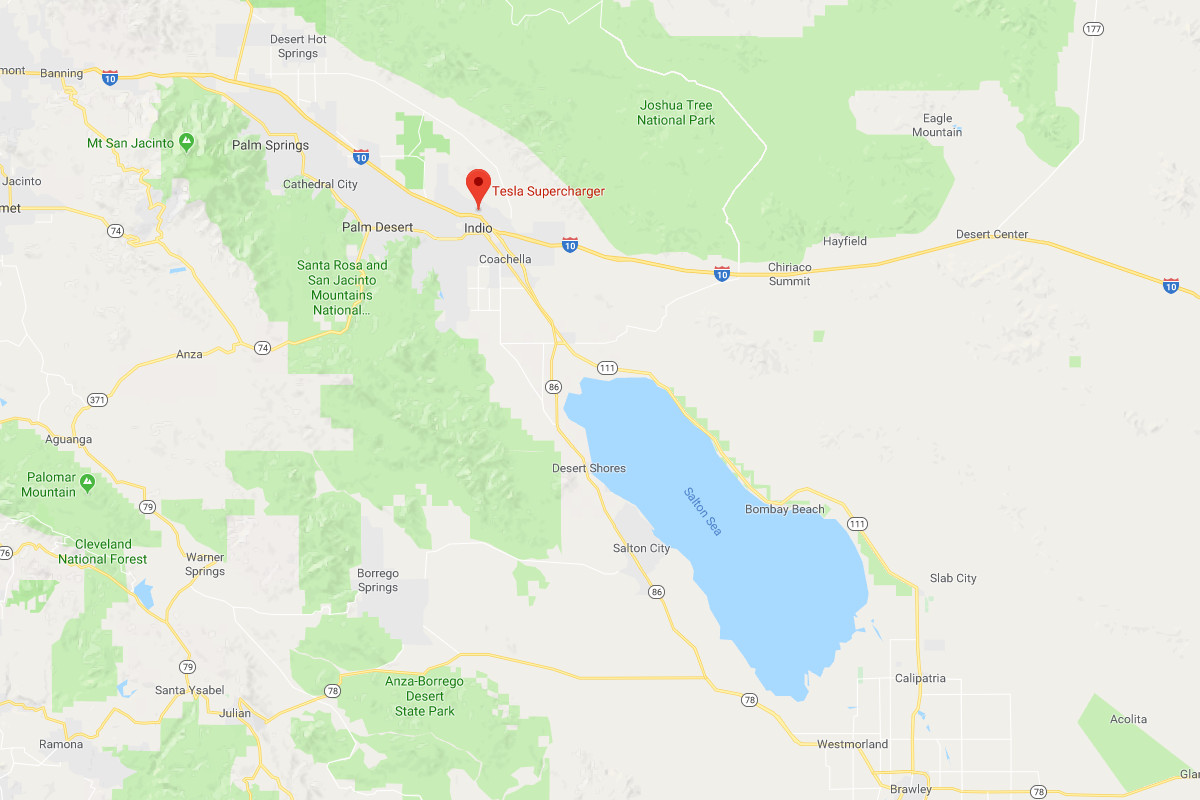 On the way back to the hotel, I stopped by a self-serve car wash right next to a 76 station in Cathedral City to rinse off accumulated bugs and grime. This turned out to be a big mistake as there were no blow-dryers and the water is hard. In the 106-degree Palm Springs summer heat, the water dried up quickly leaving behind mineral deposits which would no doubt bake into the surface under the blazing sun. Alas, there wasn't much else I could do and decided to break out the small travel bottle of ONR and a microfiber towel. The paint coating on the surface should help alleviate some of this, but those things aren't bulletproof magic so I'm hoping to minimize the amount of heat bake-in. A warning to those who are nitpicky about paint maintenance. Ultimately the paint film is that final barrier which defends against any permanent etching in the clear and the PPF eventually needs replacing anyway.