That "2013 Motor Trend Car of the Year" is sooo yesterday.
New-car envy. We all get it eventually. Earlier this year I was at the Burlingame Tesla store to see if there was a Model 3 to check out. They didn't have one, but a proud customer with an early build (in Midnight Silver) was there charging out front. He was showing it off to others and I got a chance to quickly sit in it. He seemed like a pretty happy camper.
Now that the Performance version is out, I wanted to see if it lived up to the hype. The only dual-motor Tesla I've driven is a Model X that I took for a brief spin last year when I was entertaining the thought of a trade-in. I ultimately decided it wasn't worth it since I wouldn't be gaining that much compared to what I already have.
But the Model 3 is a bit different. My one (small) complaint about the Model S has always been that it feels big, especially around corners. My first two cars were small hatchbacks and moving to an S85 took some adjustment. Life would certainly be more difficult without those ultrasonics. Is there a place for a Model 3 in my near future? It's always fun entertaining the thought so I decided to take the next step and go for a test drive.
Compared to the last time I went for the Model X test drive, the folks at the Fremont showroom seemed more motivated to have me place an order sooner than later. It's also a stark contrast to my first Model S test drive back in 2013 when the emphasis was to provide an enlightening, informational experience instead of pressing for a sale. The folks today were by no means pushy, but did ask about when I was planning to order and mentioned at least twice that free lifetime Supercharging will only be available for the Model 3 Performance orders placed within the next week.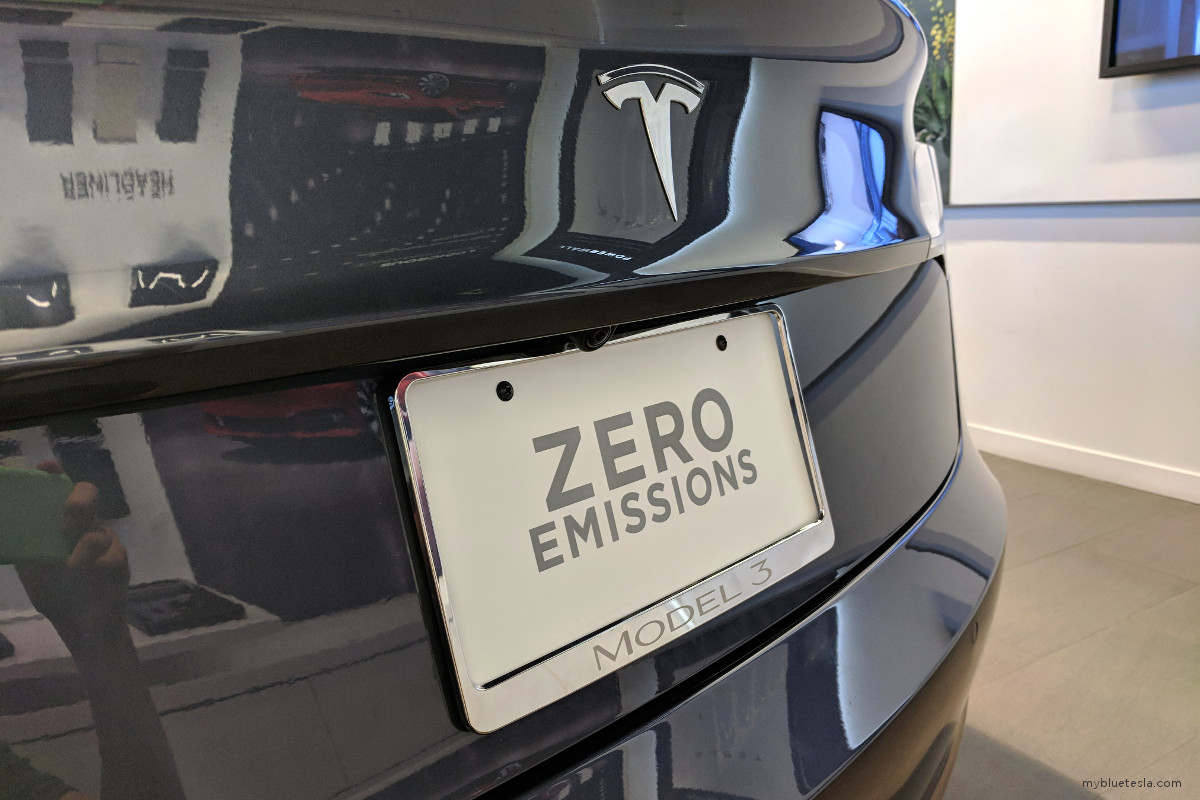 A quick scan of my driver's license and then a short walk outside to a row of Model 3s. A moment later I was sitting in a Midnight Silver Model 3 Performance with the white interior. Very comfortable material quality for sure and my first impressions of the seats were good. A bit more plushy than my first-generation Model S seats. I think they're average in beauty, but I sense they would add less fatigue on long road trips than mine. A quick sanity check through the screen functions and we were off to Kato Road at the outer perimeter of the factory lot. I immediately felt the smaller chassis and better sense of control as I rolled out of the parking space.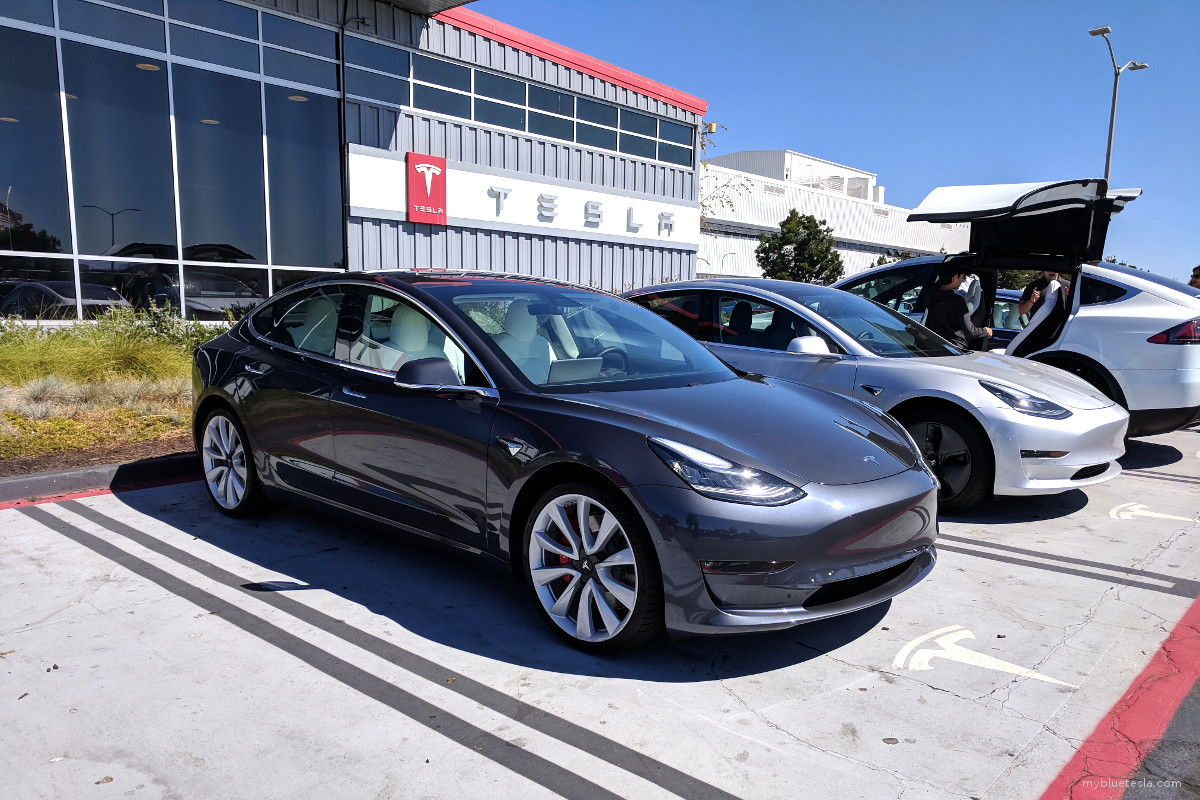 The test drive path was the exactly the same as when I first took a P85 for a spin almost 5 years ago. I finally got a chance to do a take-off with a performance-variant of a dual-motor car. I did The Stomp, the car did The Fast, and my phone which was resting in the dock/charging area of the console apparently flew back (it wasn't plugged into anything). While the take-off to 60 mph wasn't dizzying, a moment later when I let the regen kick in to slow down did I start feeling the queasy after-effect of that blast-off in my gut. Yeah, I think the acceleration is ... adequate enough. Heh.
I took a few quick turns around corners and bends and the car remained planted. Definitely nimbler and tighter than my Model S. I don't know how different the non-Performance versions are, but I imagine they're roughly the same. The test drive was relatively short and uneventful given what I already expected.
Overall I'd say the Model 3 is by many measures superior to my 2014 S85. It's certainly a compelling package and I can understand why anyone would lust after it. Some observations:
The steering wheel is smaller. I've always felt that the Model S steering wheel to be a bit too large so this is welcomed. That said, the Model 3 steering wheel isn't that good-looking. There's something lacking or excessively boring about the appearance.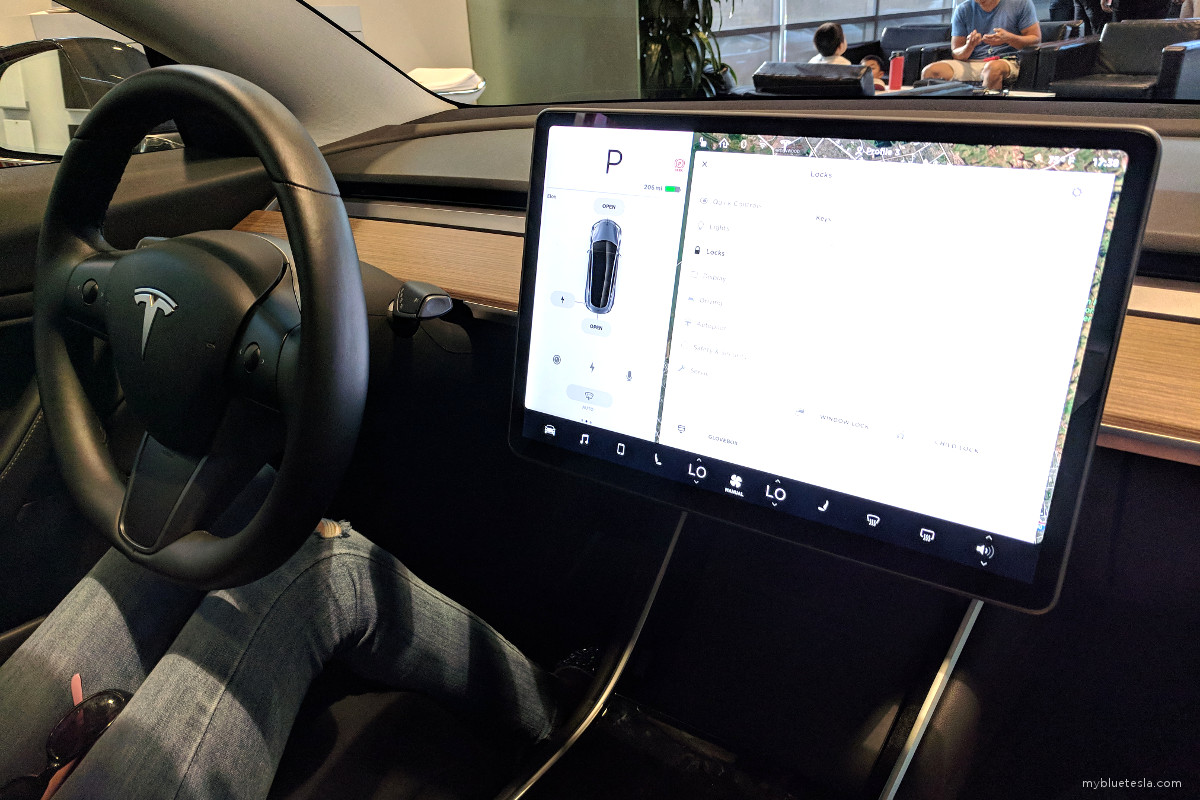 The steering column stalks feel just a bit cheaper than the Mercedes parts in my car.
Overall interior material feel is definitely nicer than my older Model S build. When you close the door it feels solid. The white dash trim which replaces the wood grain trim in Performance models definitely has a nice smooth feel to it. However, that and other areas inside with the "soft plastic" surface feel reminds me of the soft plastics in MK4 Volkswagen cars that scratched easily and eventually had peeling issues. Not sure if that'd happen with the Model 3, but I worry that it might be prone to being easily scratched.
I wish the two trunks were larger. The hidden compartment underneath the rear trunk floor is pretty deep though. Considering the size of the car, it seems pretty good otherwise.
Those 20" wheels make the car look awesome, but I was told the tires will wear out as quickly as the factory-installed tires that wrap the 21" Turbines. A separate set of 19" wheels with tires (for the "other" seasons) would be $4000.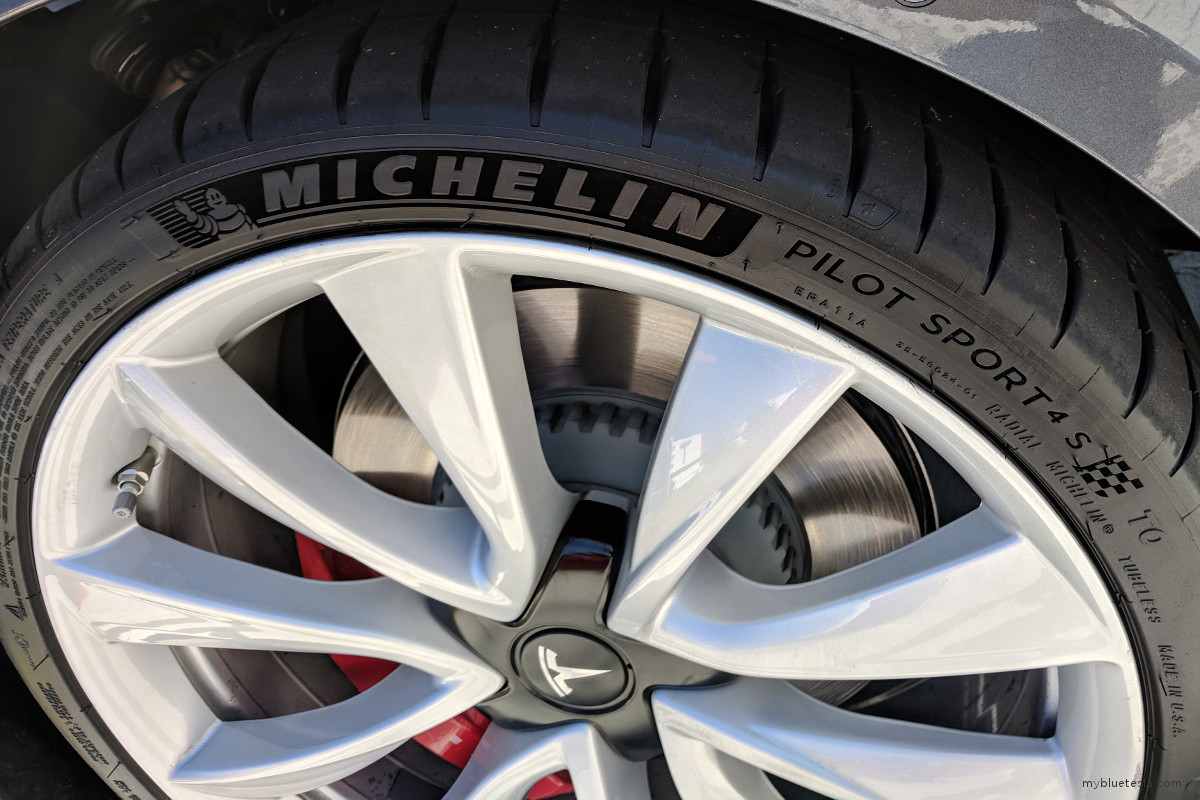 The ride quality was surprisingly compliant and comfortable for 20" wheels and 235/35/20 tires (with no air suspension). It's something I could easily live with everyday. I was expecting it to be harsher and it was a really good balance between sportiness and comfort. If only my Model S with the Turbines performed in the same manner.
I didn't notice this until the Tesla employee riding along with me pointed it out - since the height of the front dash is lower than in my car (because there's no traditional instrument cluster), the forward visibility is better and makes the cabin feel more spacious.
No option for a powered liftgate is a bummer. I've become used to having one. Not a deal-breaker, but it definitely cheapens the car for me. Having to swing the trunk lid shut manually 4 times a day feels like a step back.
Some reviews online have complained about the awkwardness of the Model 3 door handles. I don't really see a problem here. If you can't, ahem, handle it, then it sucks to be you.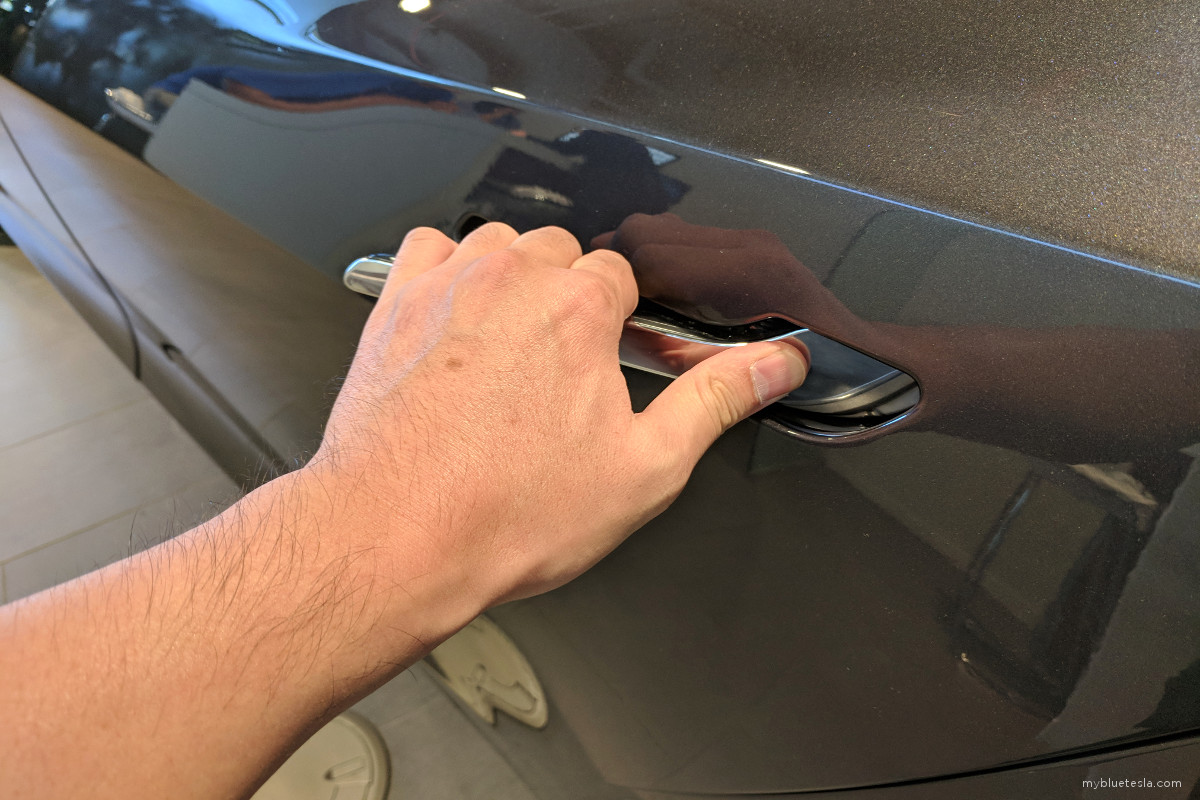 While it looks cool, I wouldn't opt for the white interior. I prefer the black look. As a matter of fact, if I were to order a Model 3 today I'd likely get solid black for the paint as well. At least that's what the configurator in my browser shows right now. :)
During the test drive I wasn't paying attention to whether I found the gauge cluster being "off to the side" an annoyance. I suspect I'd get used to it quickly, but like many others I'd pay for an optional HUD. Because who wouldn't want this: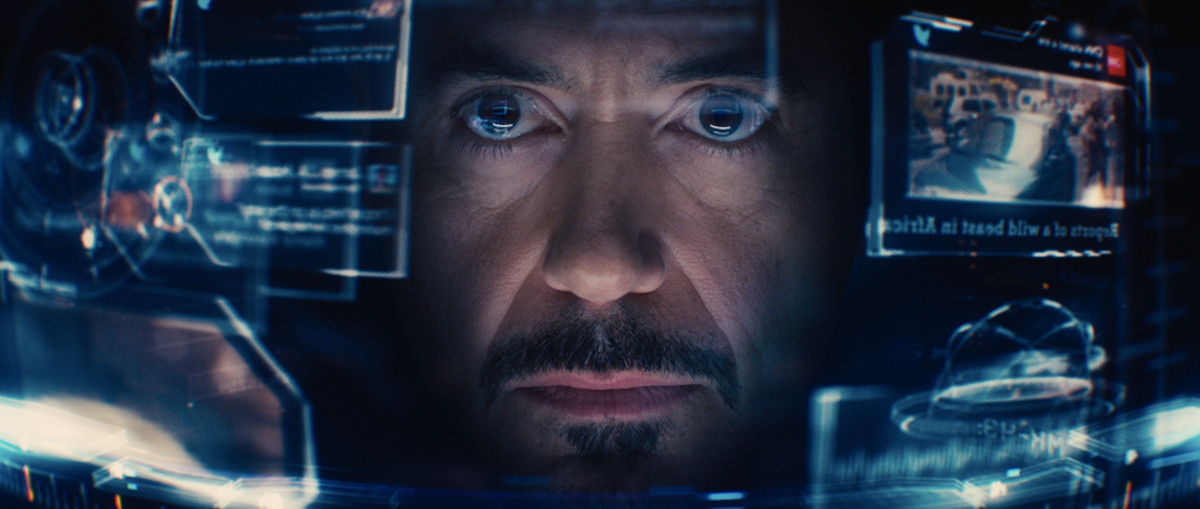 I have no idea what Ludicrous mode in a P100D is like, but the Model 3 Performance is damn good enough. Even the (slow) 5.x seconds my old Model S does to 60 is more than enough for me 99.9% of the time.
No free lifetime Supercharging ... unless I order the Performance variant within the next week. I've been road-tripping a lot lately so this could be a critical decision point if I really want to get this 21st century landspeeder. I have no idea if there will be referral links in the future to extend the lifetime Supercharging offer, but the showroom folks seemed to think otherwise ... or perhaps they're just trying to get me to press Order ASAP. The end of the quarter is approaching so I understand.
One option that Model 3 doesn't have is a sunroof. Although I rarely open mine, I enjoy being able to open the top on occasion. In most cases it's more of a novelty for me but there are times when I want to let the sun in directly.
I saw the carbon fiber spoiler installed on one of the cars. It's not something I'd personally opt for, but there it is along with the Dual Motor badge.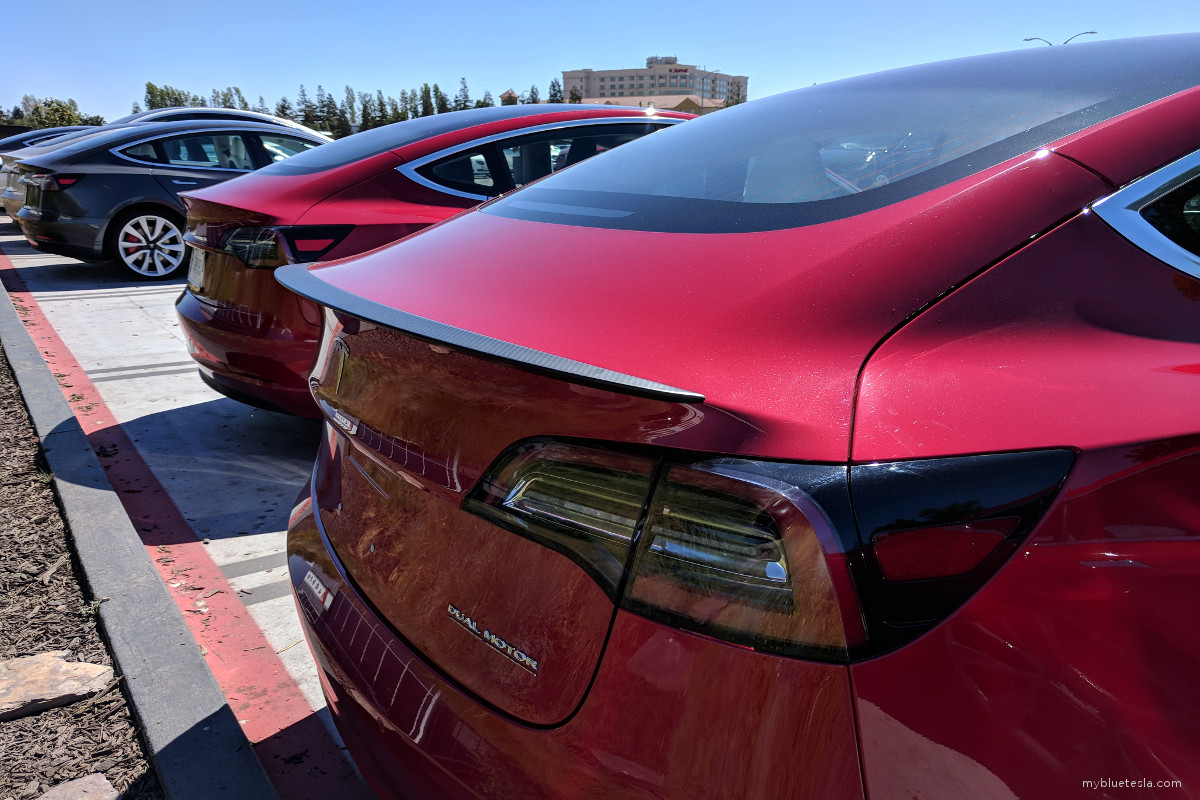 More Tesla porn: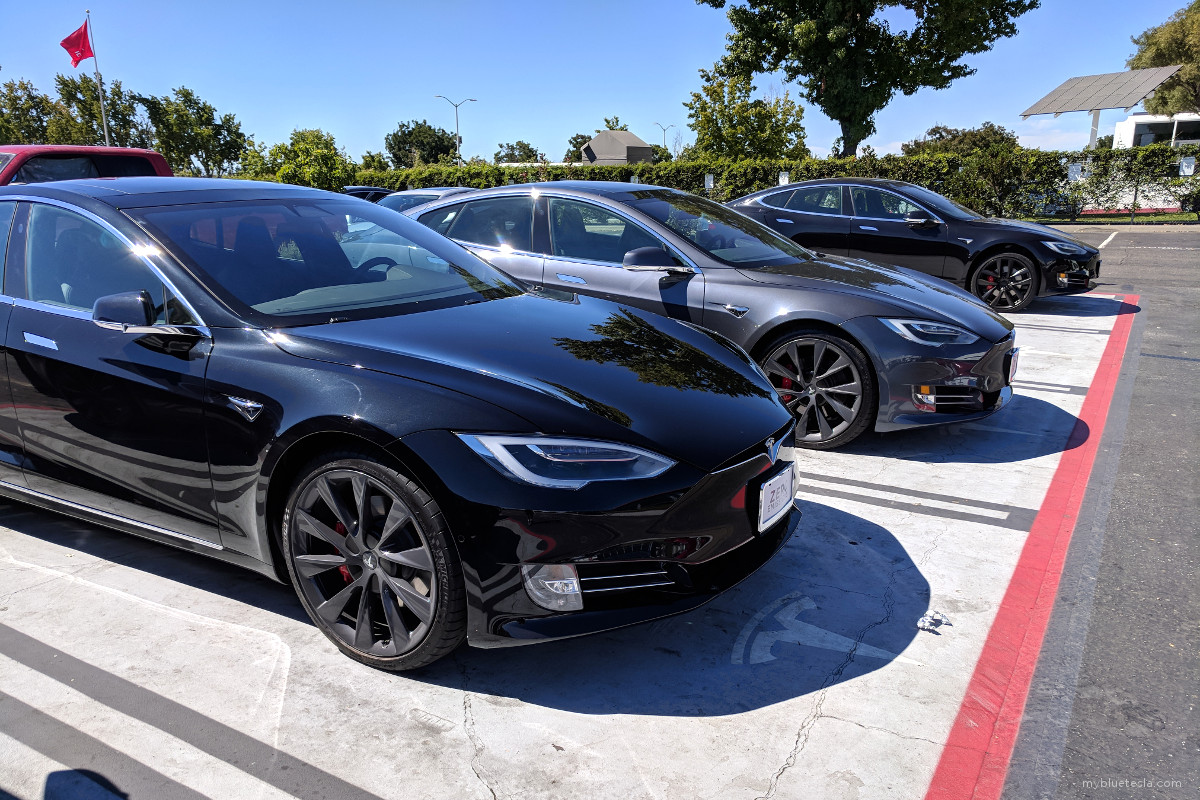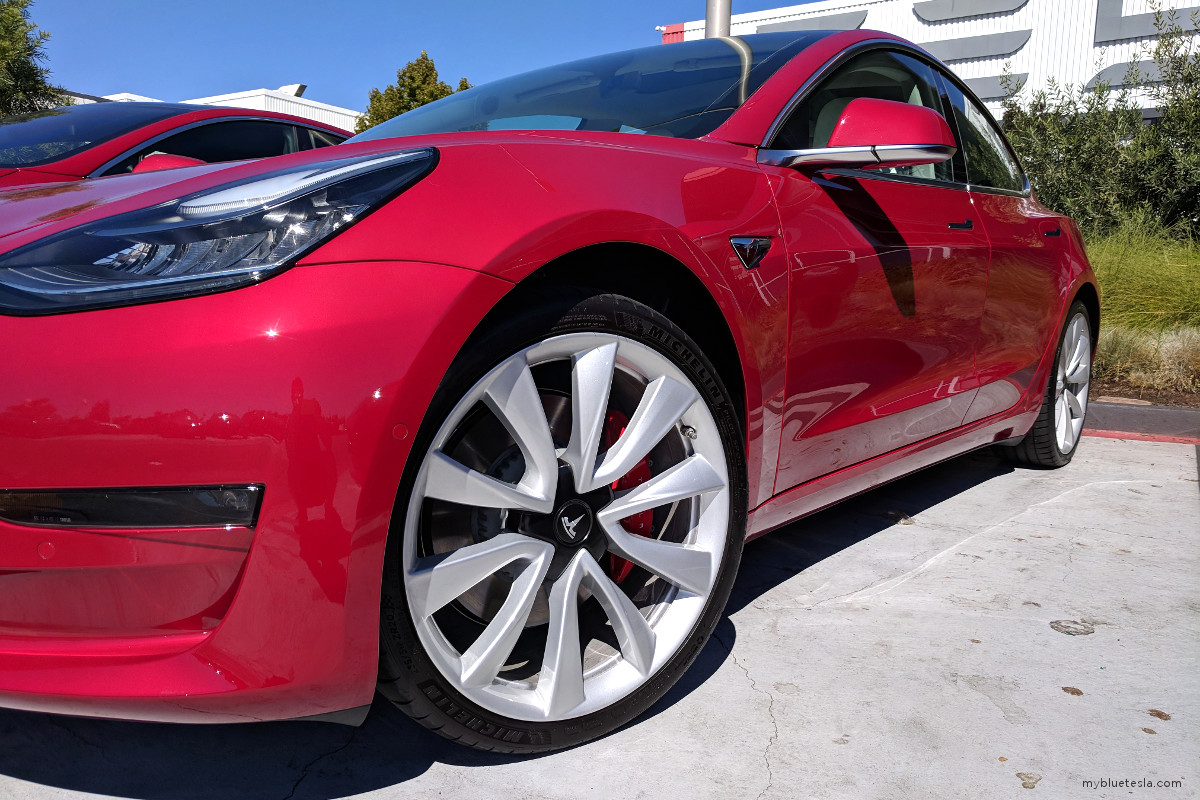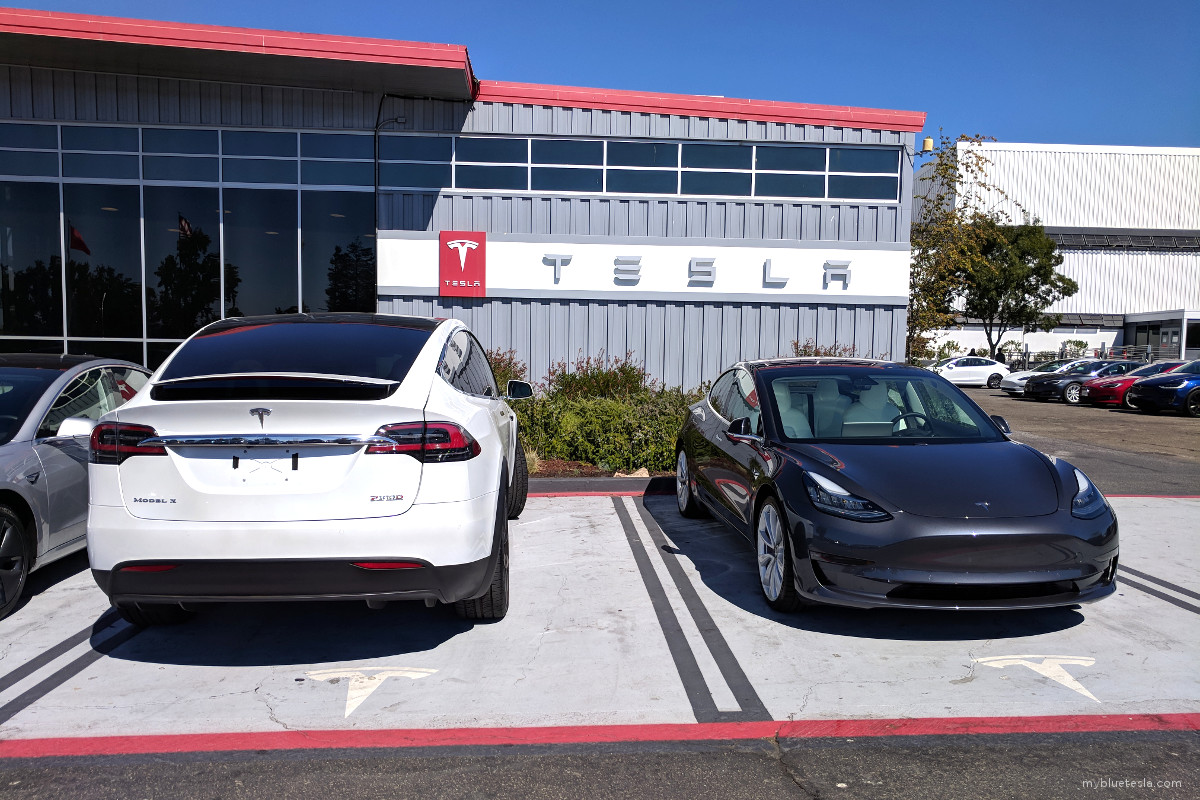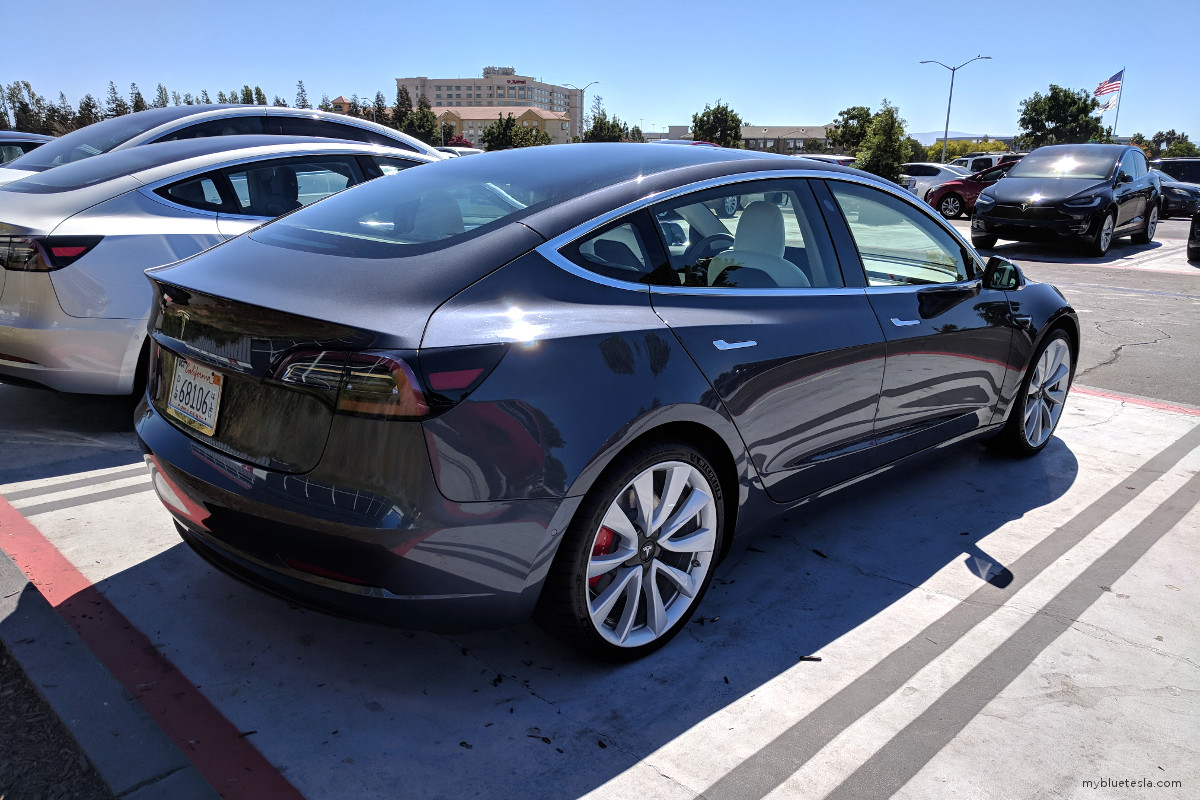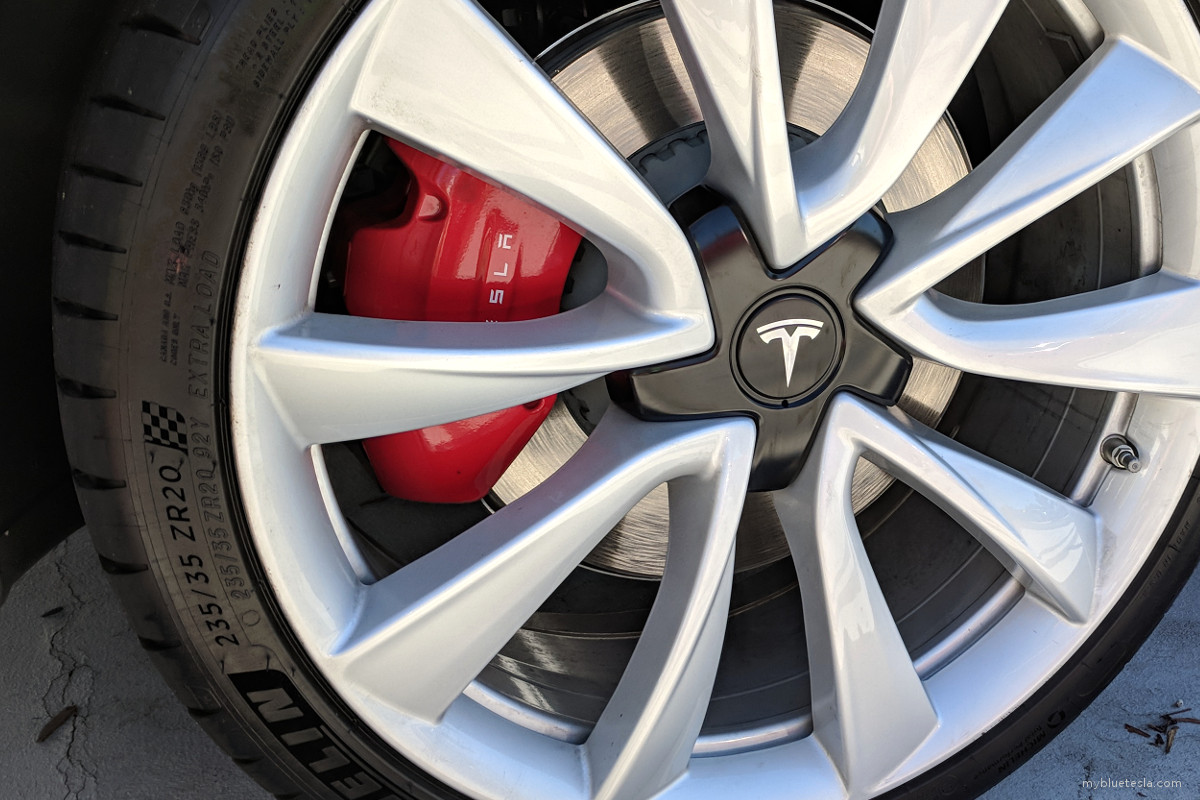 So, is it worth it for me to trade-in or get a third car? Affordability questions aside for the moment, the main issues for me are the smaller cargo volume and the fact that I consider Model 3 less stylistically-attractive than Model S. Not by much, but I feel the latter is more satisfying to look at. There's something funky about the overall shape of the Model 3 and the front bumper looks a little weird compared to the S and X, almost as if it were intentionally designed to look less sexy. The lack of a powered lifegate takes another point or two off, and with all the cameras Autopilot v2 has why is there still no 360-degree view feature? I can't tell you how many times this would've helped me straighten out my parking job or during turns around parking lot islands.
There's also the depreciation hit if I decide to do a trade-in. When I bought my Model S, my intention was to drive it into the ground (hopefully after a million miles). Given the car is nearly 4 years old with 92k miles on the clock, I can imagine how much the resale value has dropped like a dead 85kWh battery. I also have a lot of sentiment in Big Blue. A trade-in would almost certainly be not worth it for that alone.
I also don't want a third car. I intend to keep both my GTI and Model S and having yet another car is impractical, regardless of Model 3's allure. It is in many ways a better car than the one I already drive - the ride comfort is great, it does Fast well, the interior has sufficient creature comforts, it feels tightly put together (at least when new), and the screen response is super-fluid compared to the lag time with my MCU. Like the Model S was back in 2013 when I first saw it, the Model 3 proposition is unquestionably compelling. There's undoubtedly an emotional tug going on.
If I didn't own a Model S, the answer is Order Immediately. But since I already have a pretty-damn-near ultimate dream car, there's much less incentive for me to "upgrade" to a Model 3, even with the Performance setup. It is mighty tempting though, and the size of the car is just right ... it also beats mine in most respects when comparing features and evolution in a side-by-side comparison. My "old man" car is essentially left in the dust. Damn these kids...