From Blue Metallic to Deep Blue Metallic.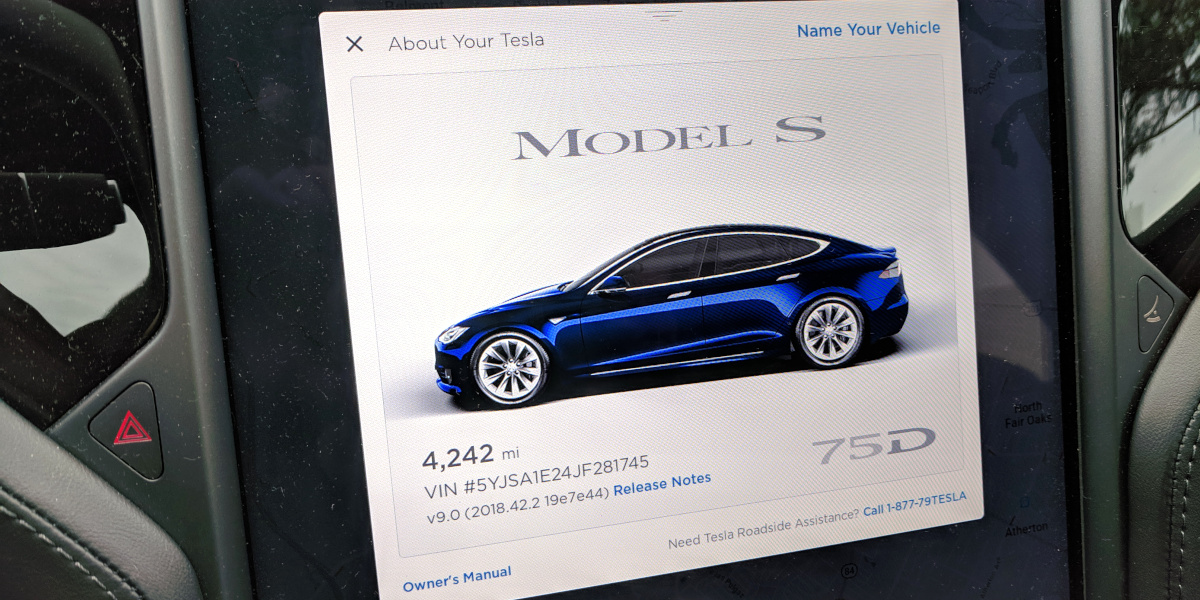 At 95,762 miles on the odometer, I cashed in on my last prepaid annual service. So it's back to the Fremont Service Center. A highlight that I always look forward to is driving a different car on the loaner program and comparing it to mine. At the Service Center, the lounge area has a large saving-the-world monitor displaying Supercharger kWh deliveries: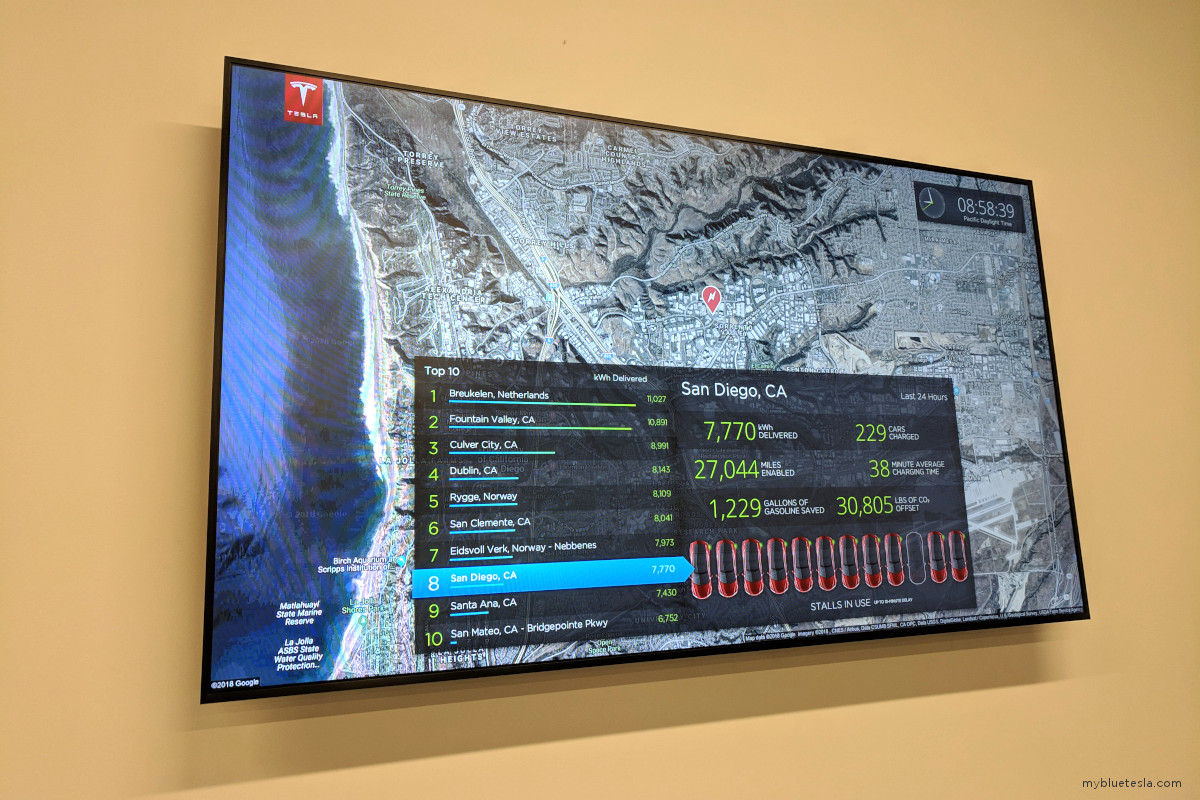 Free personal Supercharging (via Keurig) is also available in Tesla-bling: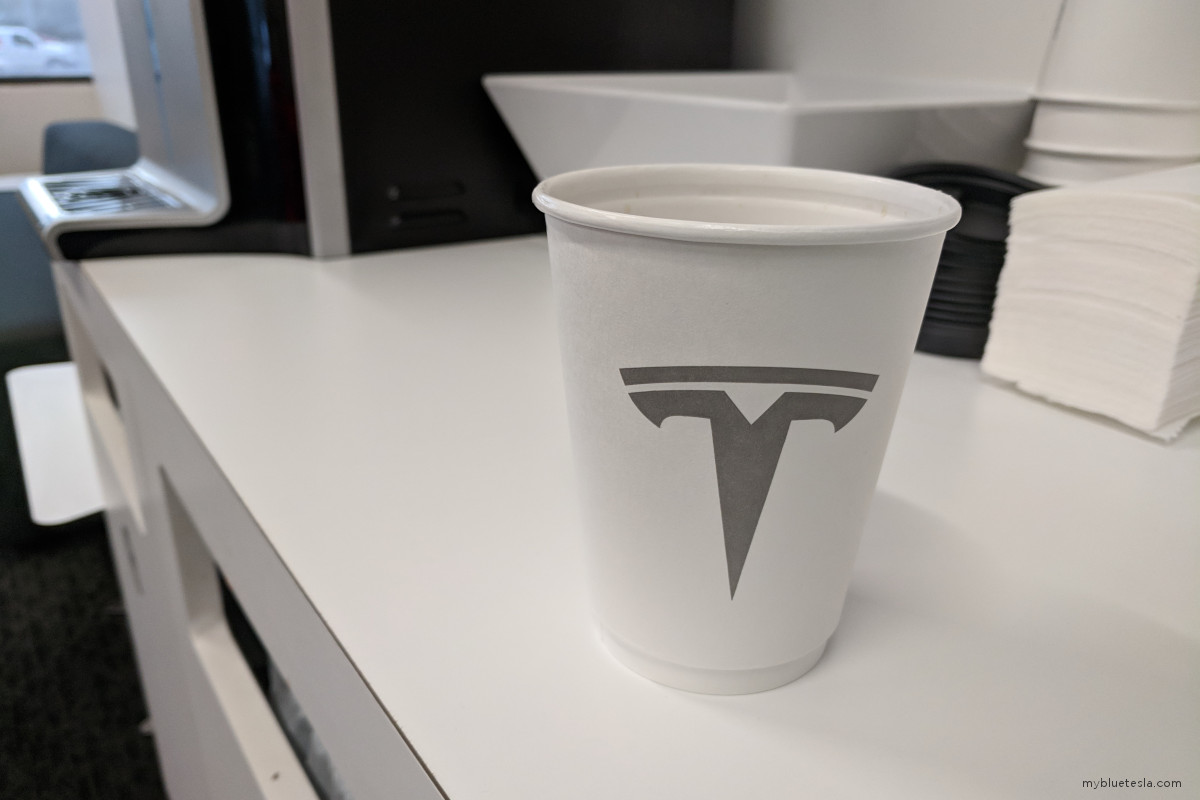 The on-site Enterprise rental staff pleasantly introduced me to a Deep Blue Metallic 75D. I haven't had a Tesla loaner in the last few years (I was sort of expecting to be shown to a Camry). It's also my first time trying a Model S with dual-motor, the newer front facia, seeing/feeling textile seats, version 9 software, the newer MCU with the faster processor, and all-glass roof. A lot of firsts. The car is equipped AP2 hardware although Autopilot isn't enabled. Bummer.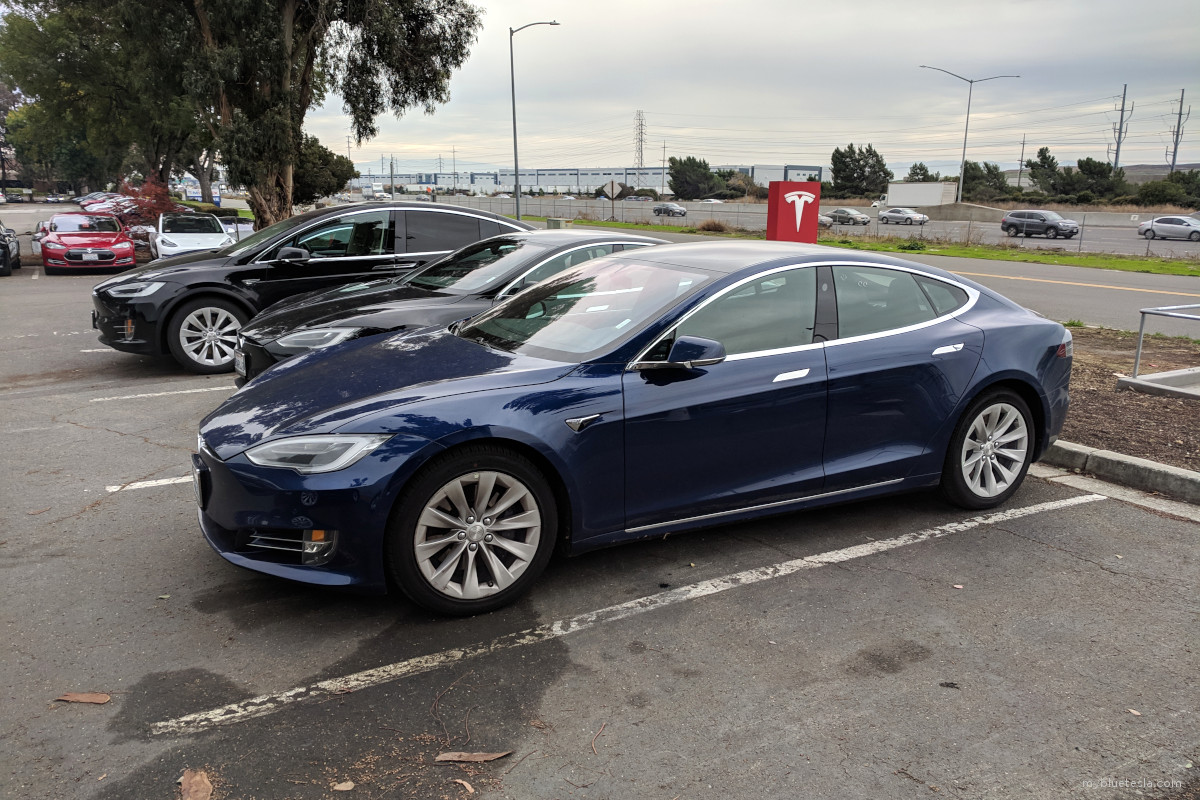 It's not quite the P100D that Elon promises, but I'd much rather take the 75D than a Cadillac like last time. This isn't exactly the cleanest loaner I've ever been given, but in their defense it was a rainy day.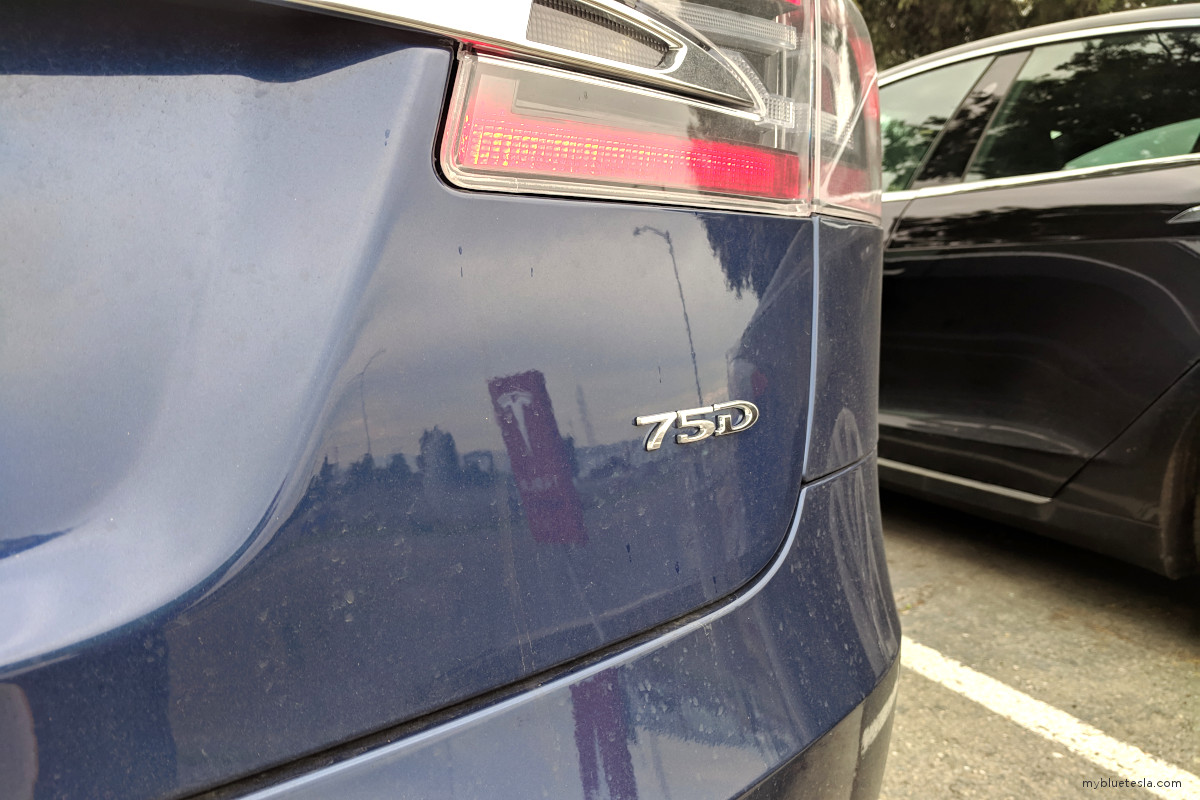 Did the walk-around to inspect for existing damage and signed-off. I noticed how the wheels were, shall we say, "well-scrubbed" (and rather funny how the square "peel off" stickers were still on the wheels):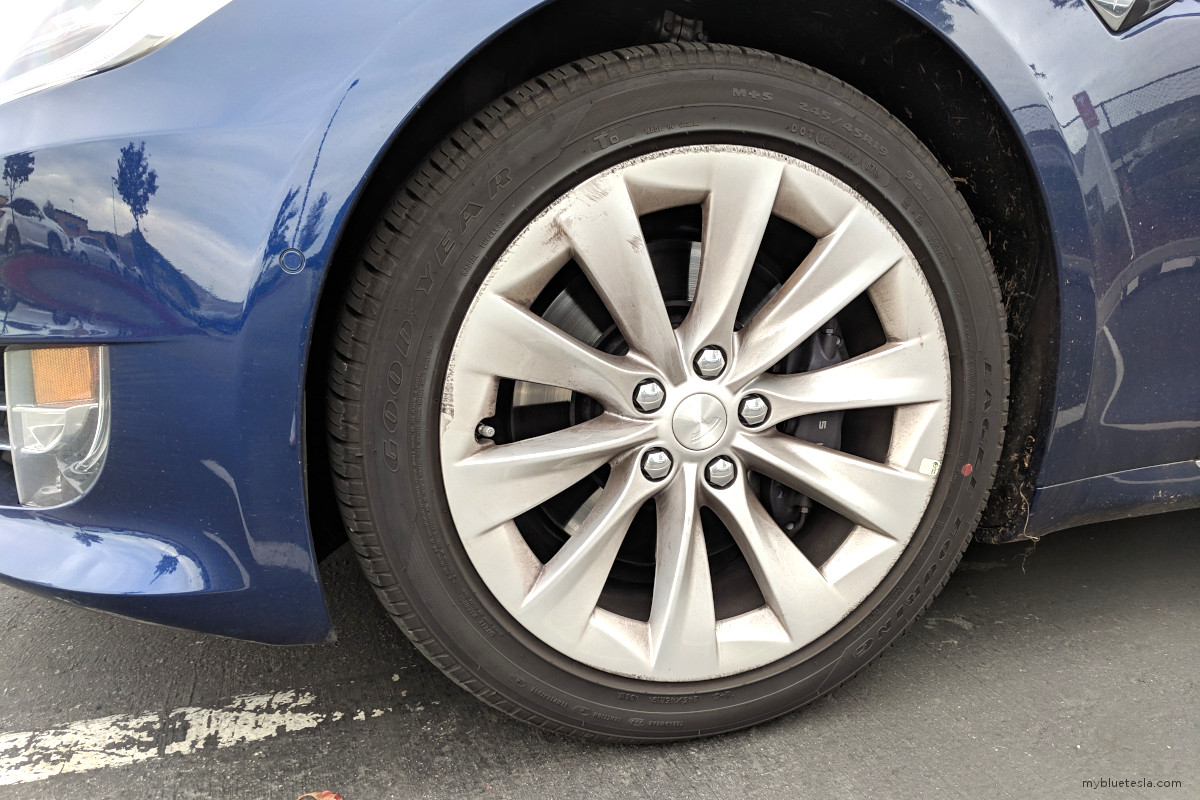 I was immediately enveloped by the new-car smell. There were only 4214 miles on the clock with a VIN in the 281k range.
These textile seats are awesome. It'd be really cool if I was able to swap my original-style leather seats to these since they hug my torso perfectly like a glove which enhances the driving experience. The steering wheel also seems to be non-leather as it feels a bit more artificial and slightly coarser to the touch. In that vein the rest of the interior where normally leather padding would be was the typical vinyl-like material as in my car.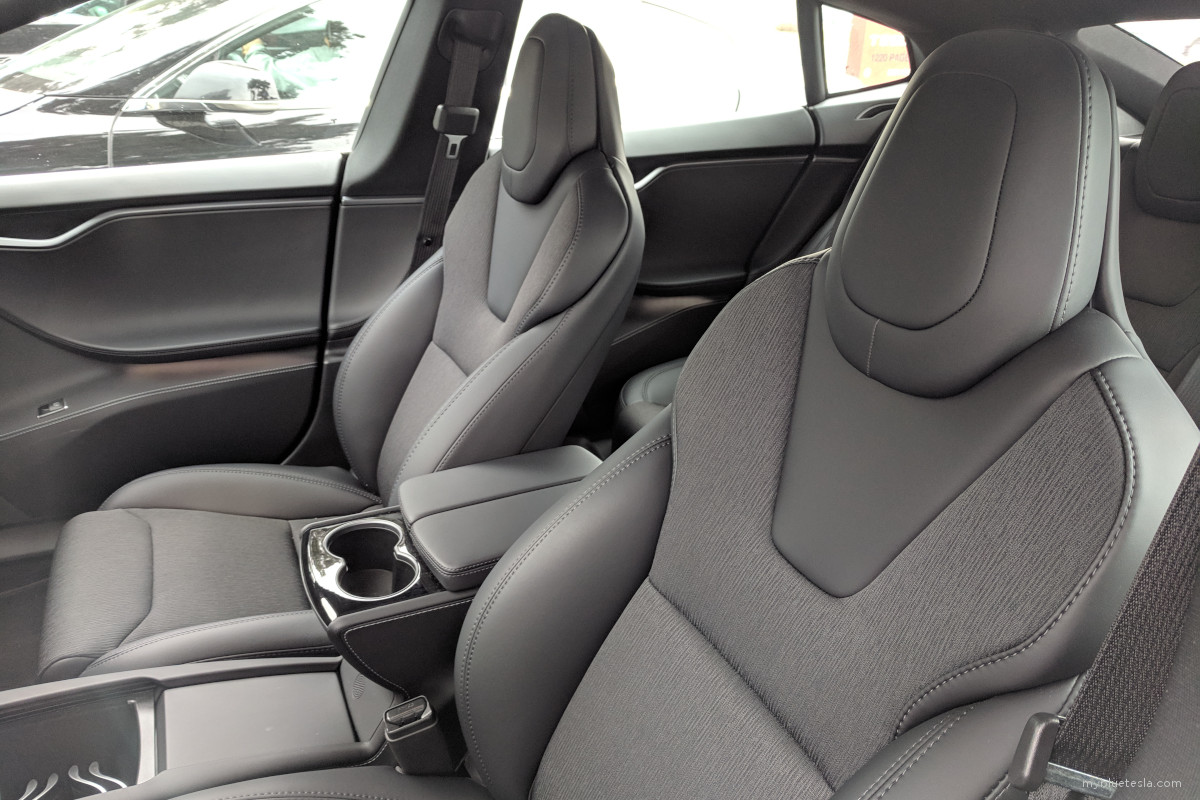 There's Big Blue waiting for maintenance. You can sense the jealousy from the distance while I hopped into the shiny new hotness.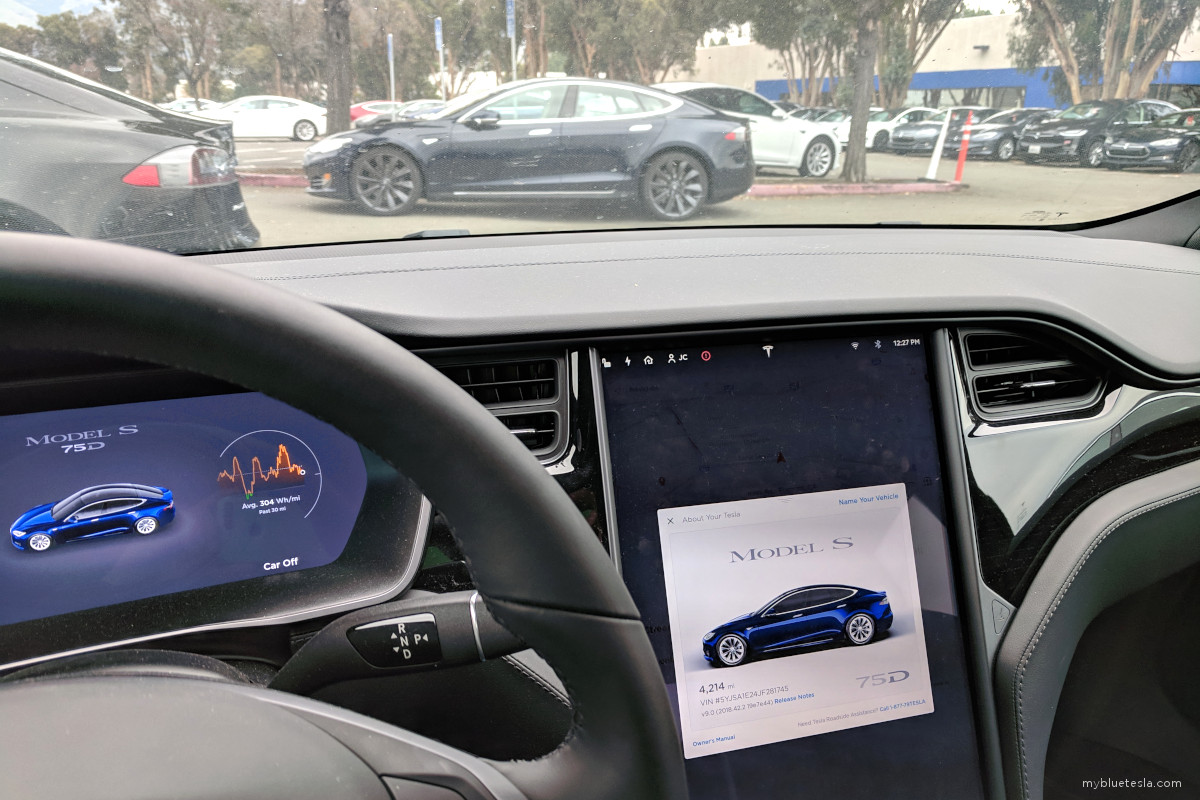 As soon as I pulled onto the street, I instantly felt acceleration more forceful than what mine is capable of. Tesla claims 4.2 seconds to 60 on the current 75D which is about a second quicker than what my old rust bucket can pull. That's old-school P85 territory. The vehicle also felt more tightly put together than in my vintage museum piece and surprisingly more nimble to drive. I'm not sure if this is somehow attributed to the air suspension or perhaps the internals of the car is better assembled. Whatever they've done, the Model S feels smaller now which is much welcome.
Later on I also noticed the headliner was a newer textile material, although the sun visors were Alcantara. The visors have lighted vanity mirrors with the magnetic flip-covers like the Model 3. My own car has none of this fanciness and merely comes with the cheap plastic cover and I have to be infinitely grateful that a mirror exists. In yo face, S85 (quite literally).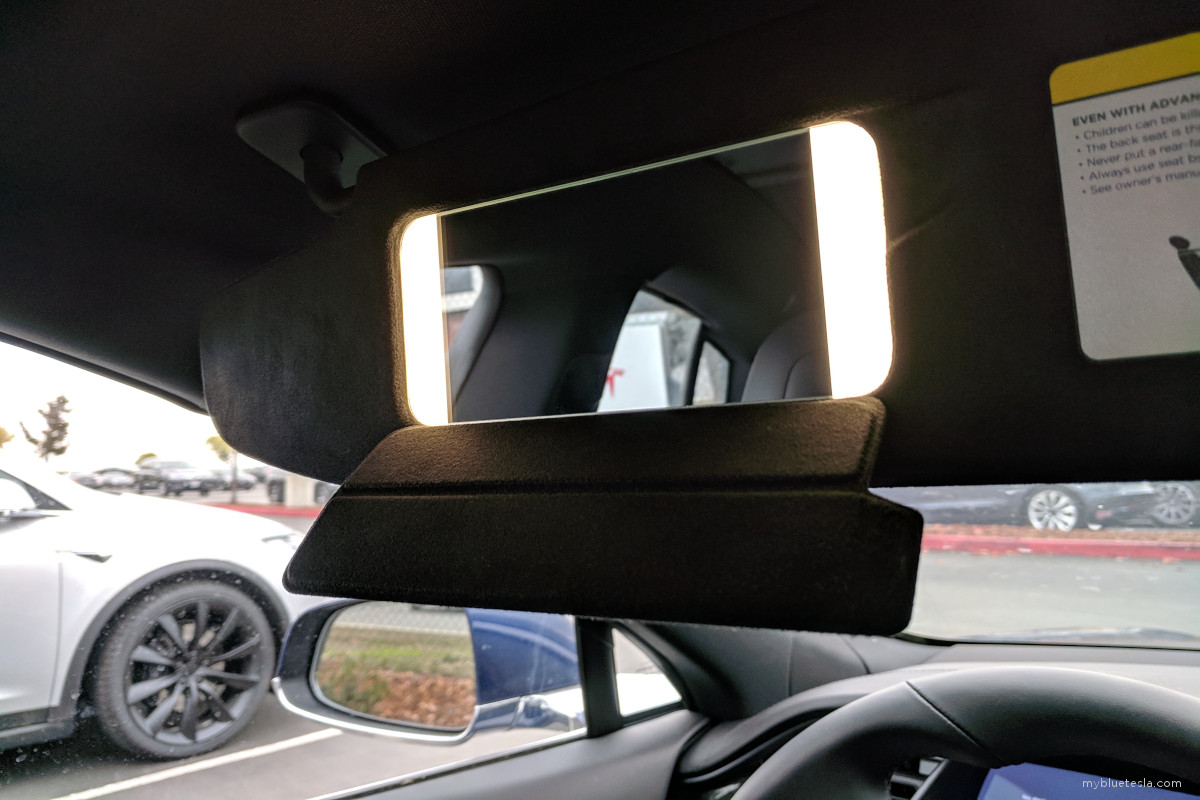 Oh, look - the basic rear-seat passenger creature comfort that all early Model S adopters have been deprived of: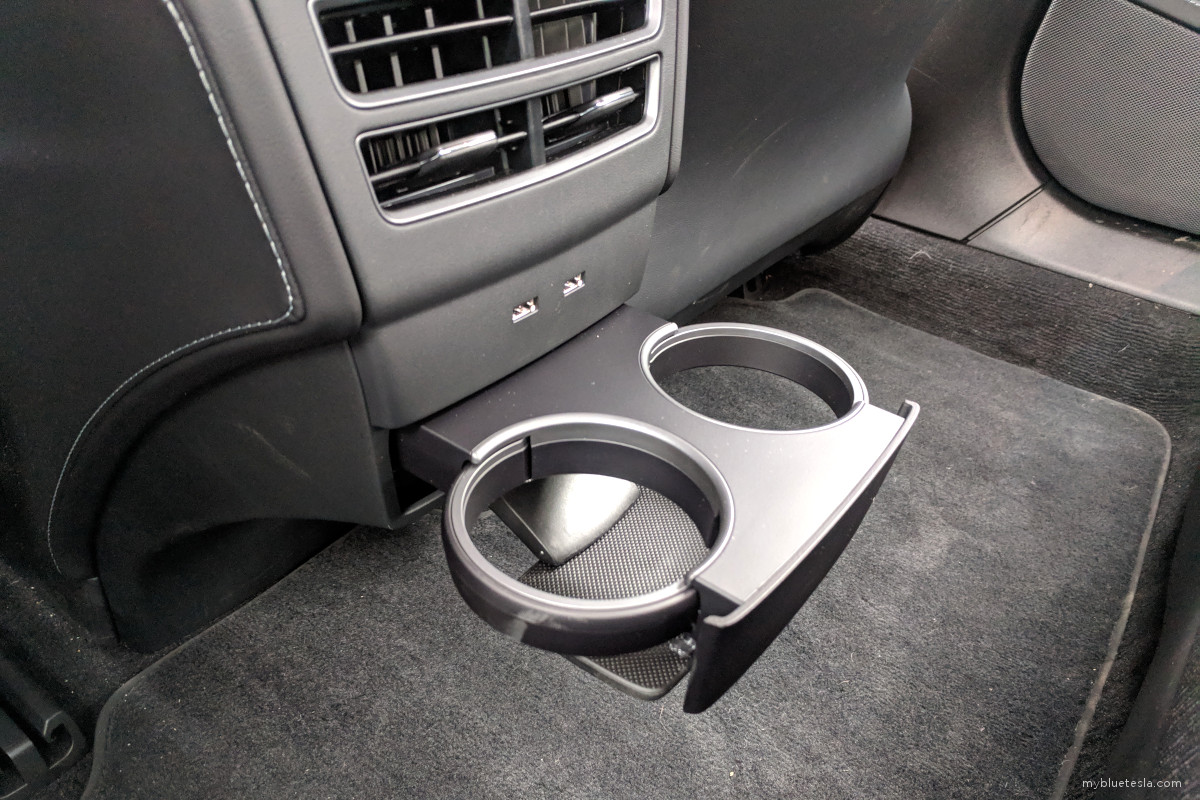 Some things never change though: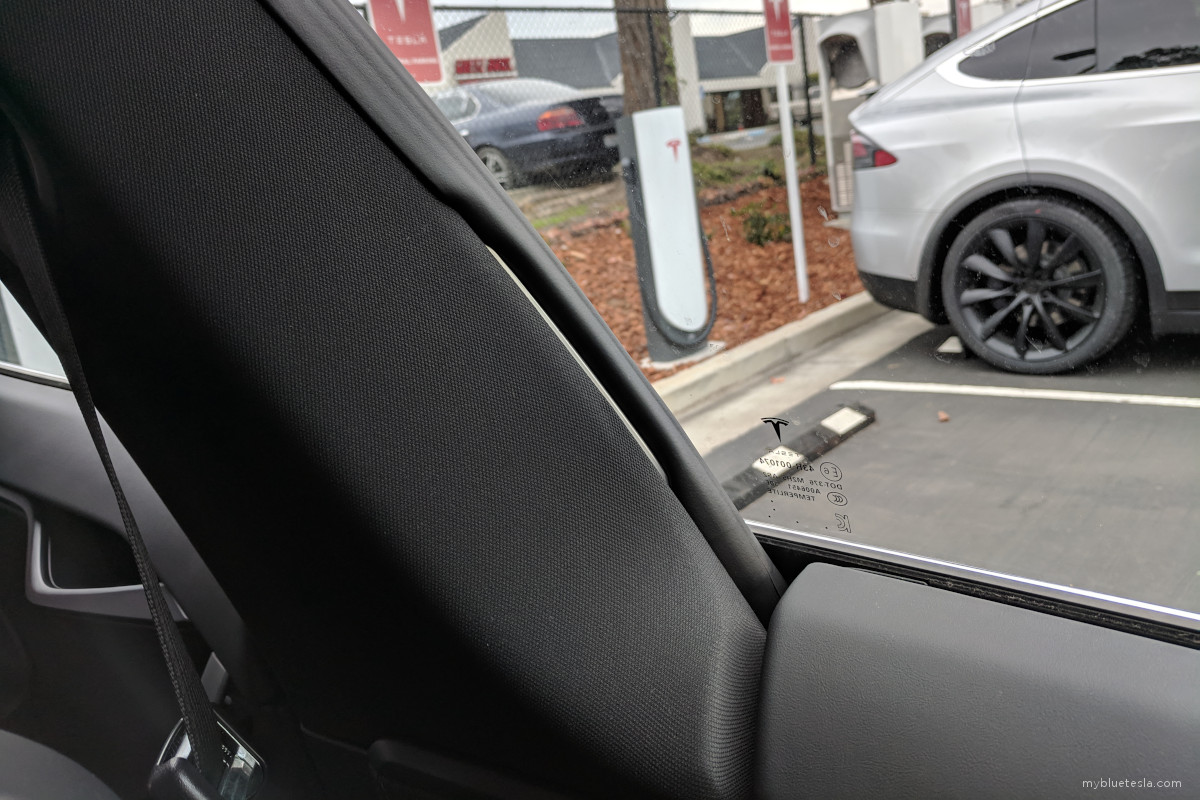 The instrument cluster is sharper due to higher resolution and with AP2 (and/or software version 9), the car is represented as a smaller, more centered icon with all the ultrasonic sensory input given more prominent view. This allows the rear-surrounding areas to be displayed further out and I think it slightly helps making the advertised "blind spot monitoring" more legitimate. Here's a snapshot of the car surrounded by a bunch of silver key fobs: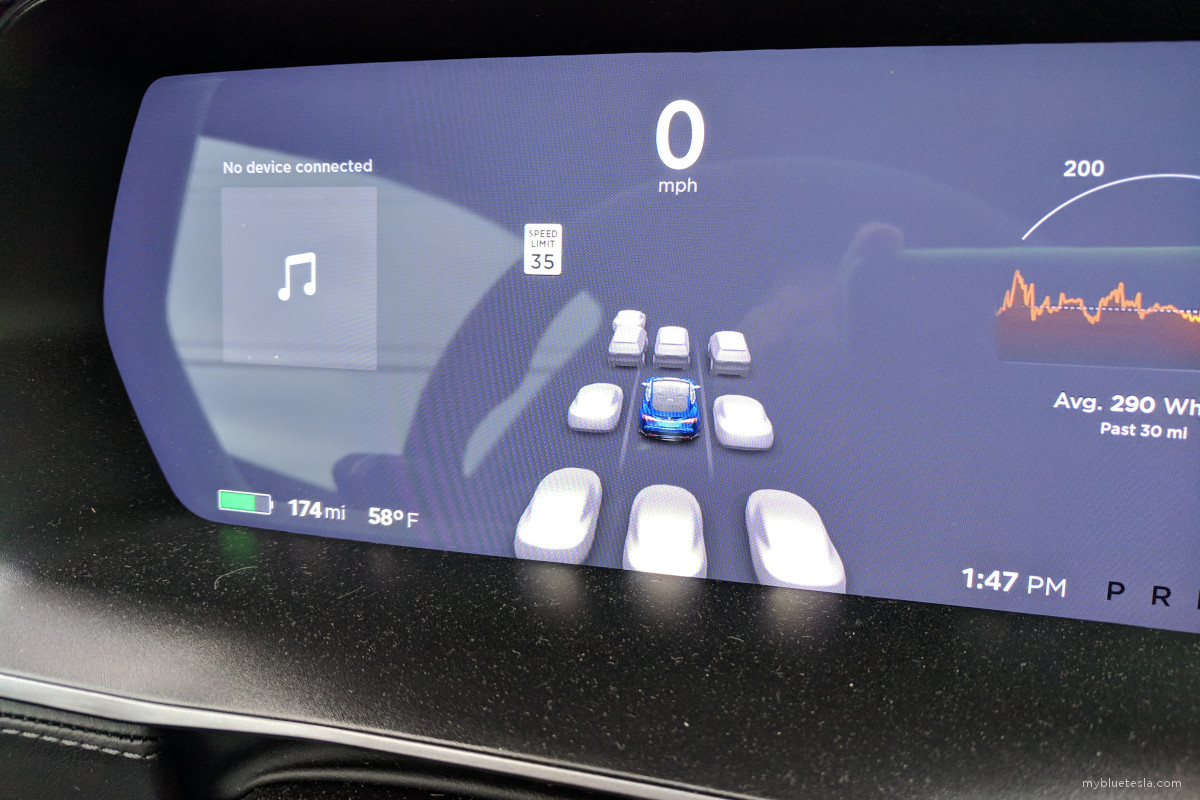 Note that the 290 Wh/mile average is not something I generally achieve with my Model S given my driving style, even with the 19" wheels. This dual motor stuff really helps in the efficiency department, apparently.
The parcel shelf is more sturdily-built than mine. The one in my car feels like just thick cardboard and is relatively flimsy. And to think that Tesla wanted to charge for that thing as a separate item back in the day.
This 75D also has the latest MCU which responds way faster than mine. Software version 9 is pretty nice so far and I really don't see what the fuss is about in the forums. Too many Tesla owners are overly-sensitive about new changes. Those folks need to go get their daily serving of single origin coffee or fancy latte concoction and chill out.
Oh, and three words: heated steering wheel. I've never had the pleasure of a warm grip surface during colder weather but it certainly makes a difference in comfort. I wish I could retrofit that feature to my car.
The only downside to this 75D was the rear seat headrests which are taller than on my car, thus blocking some rearward visibility. And since this is dual-motor, I could hear the front motor whine more during acceleration and deceleration.
If I had to spec out a new Model S today, it would look a lot like this loaner. The battery size may be smaller but the range is comparable to my old S85. I understand the textile seating would be a special request that's still available but it's not something that can be chosen on tesla.com's configurator anymore. I don't think I'd miss the sunroof either since I hardly ever open mine and the all-glass roof would suit just fine.
Not having Autopilot on the loaner took a bit of conscious adjustment since I've become very used to flipping on Autosteer on freeways. While basic cruise control is available in this Autopilot-less 75D, TACC isn't. Nonetheless, it's a nice change to not rely on any driver assistance systems and completely run the car manually for once.
Later on in the afternoon I checked the app to see if my car was being worked on. The trunks were open and the location showed that it was inside the Service Center facility.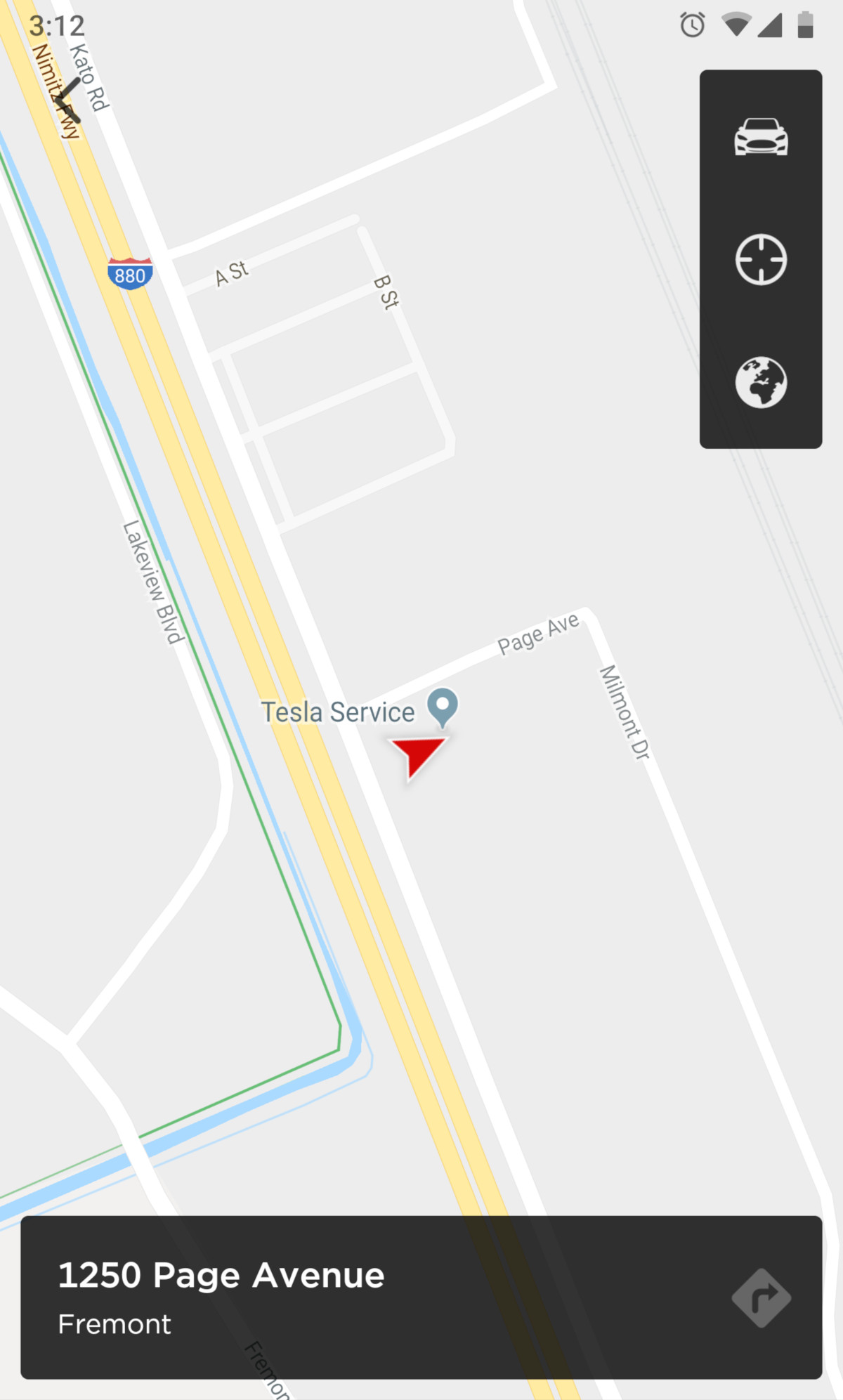 When I checked again in the evening, it looked like the car's mobile access was disabled.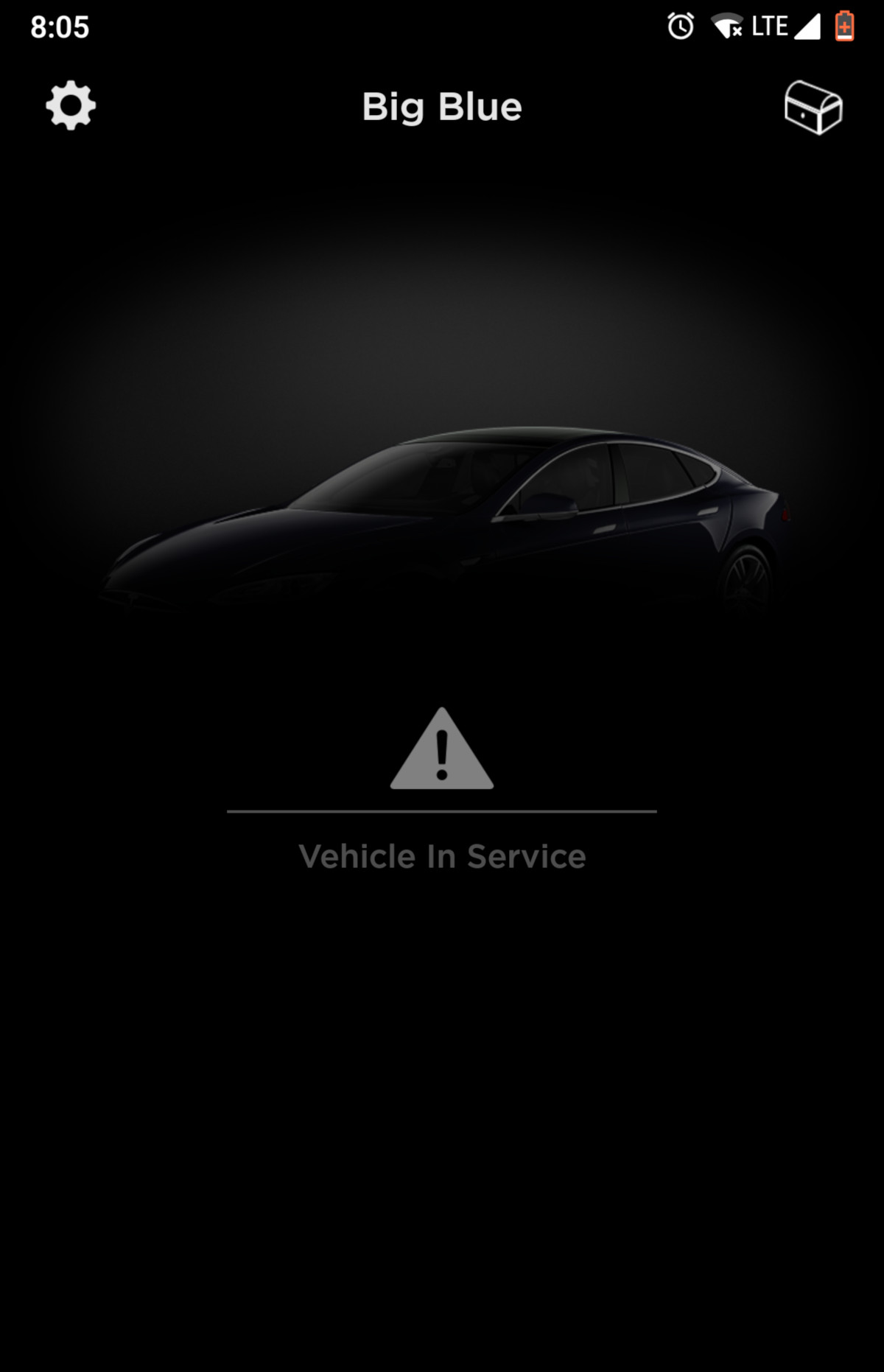 The next afternoon I got a text message indicating my car was ready for pick-up. Everything seemed to check out. They ended up washing the car (which I usually request to be skipped, although this time I didn't bother asking). Tire dressing got applied unfortunately and I'll probably spend this or next weekend washing that off. Since it's getting to be the rainy season around here, I wonder if that effort is worth it.
Version 9 (2018.46.2 8f8dc1b) was installed so driving the loaner in a way served as a transition to its usage. My MCU isn't as responsive as the loaner, of course, but it's nice to have a software refresh after everyone's been talking about it for months. I never got an update notification for it. The instrument cluster graphics look the same as before so the car avatar being smaller and more centered like in the loaner is probably specific to AP2.
I did, however, notice that when I got in the car there was a "Park Assist unavailable" message which didn't go away by the time I got home. If this doesn't resolve itself, I may have to stop by the Service Center again this weekend.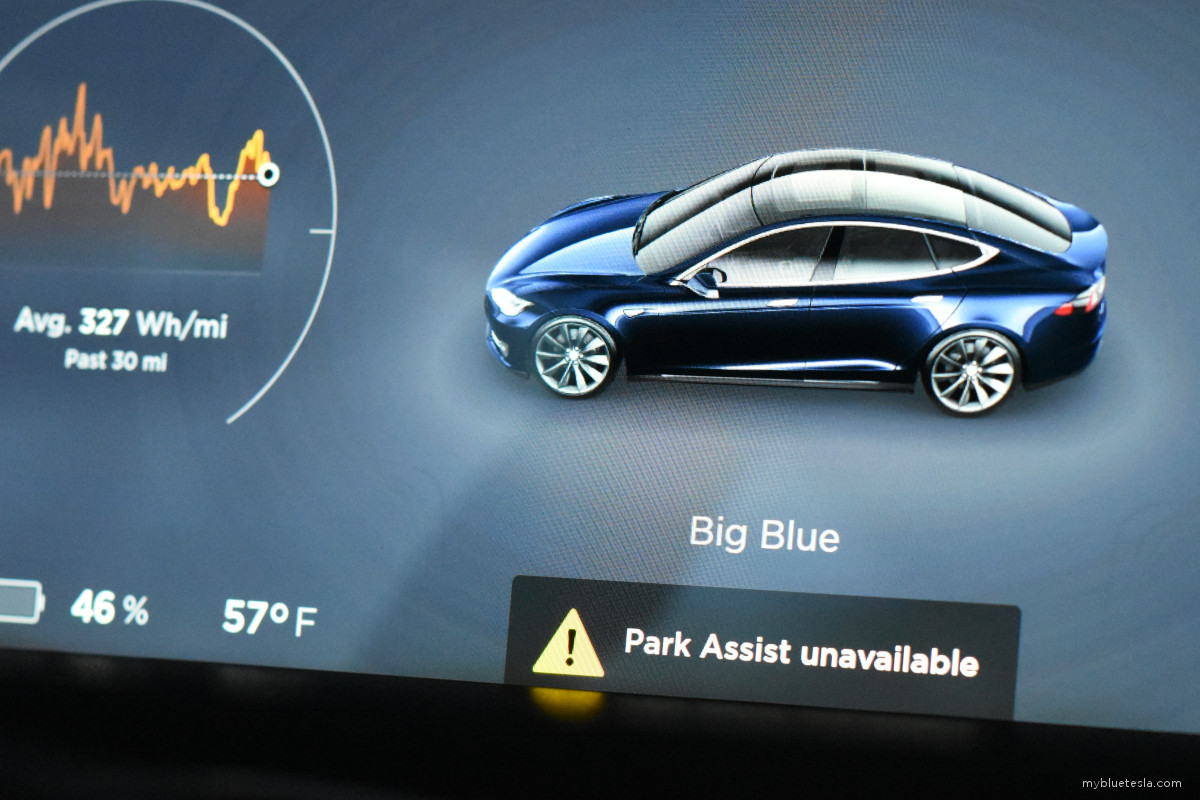 In any case, here's the final invoice for my fourth annual service inspection: