Colorado Springs -> Wichita -> Dallas -> Houston -> Austin.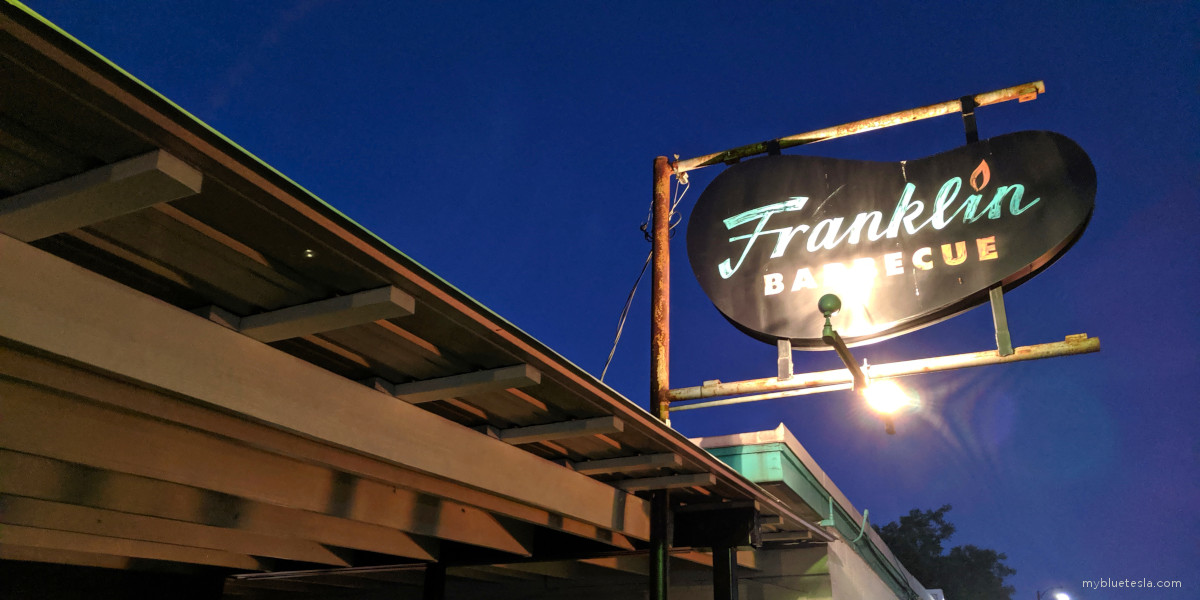 5/17 (Wichita, KS)
They say Kansas is ... flat.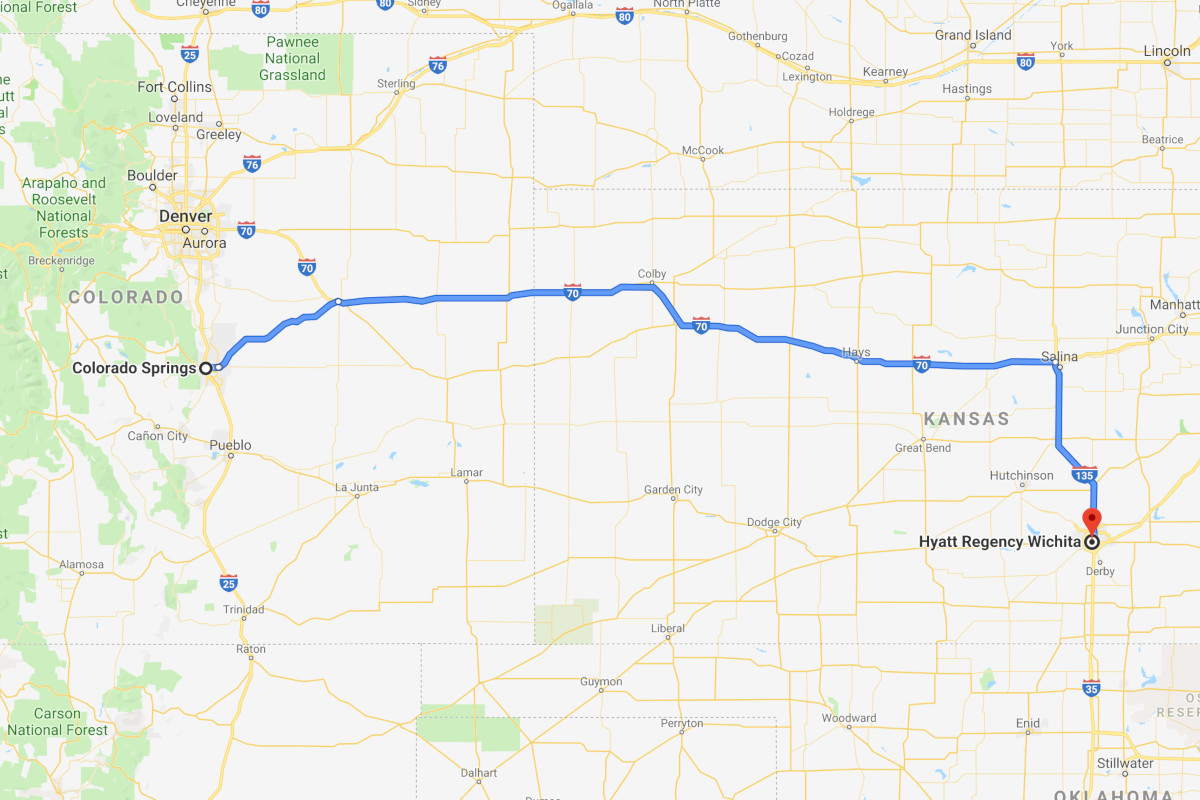 I've been warned about the long, monotonous drive through "the cornfields." My next stop was Wichita, but storm advisories with forecasts of potential tornadoes and hail have been making headlines. Since wind is inevitable, I decided to pace myself near the speed limit and stay behind semi-trucks (although a couple of comfortable paces away). There was a little rain along the road but my concern over potential range impact due to wind/rain/hail turned out to be unnecessary and I ended up with more buffer than needed when arriving at each Supercharger. However, it's better to err on the side of caution than end up stranded in the middle of Kansas with a tornado lingering overhead while sitting on the side of the road watching the cows graze on green pastures.
The Limon Supercharger was my first stop right next to an Arby's and my last stop in Colorado. Ahimsa Coffee is a 5-minute walk up the street and it seems to be the only nearby option for non-fast-food coffee. Also, someone added flair to a couple of Supercharger stalls with Trump stickers.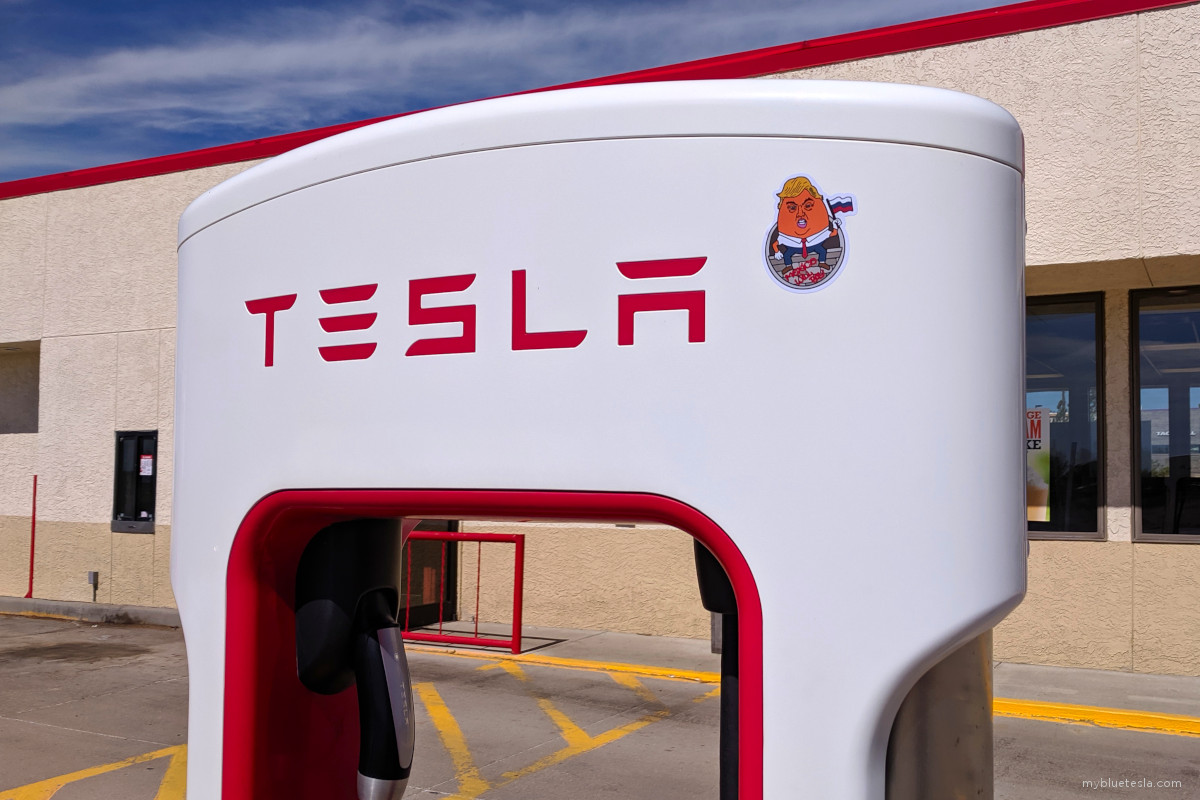 After some time on the road watching relatively flat open fields go by, I arrived at Colby. This is my first time in Kansas as far as I can remember. It was also the first time I saw a Model 3 with a couple of dogs inside (Dog Mode was enabled at 74 degrees). There's a selection of eateries at this location so if you need to stop for a bite to eat while charging, consider Colby.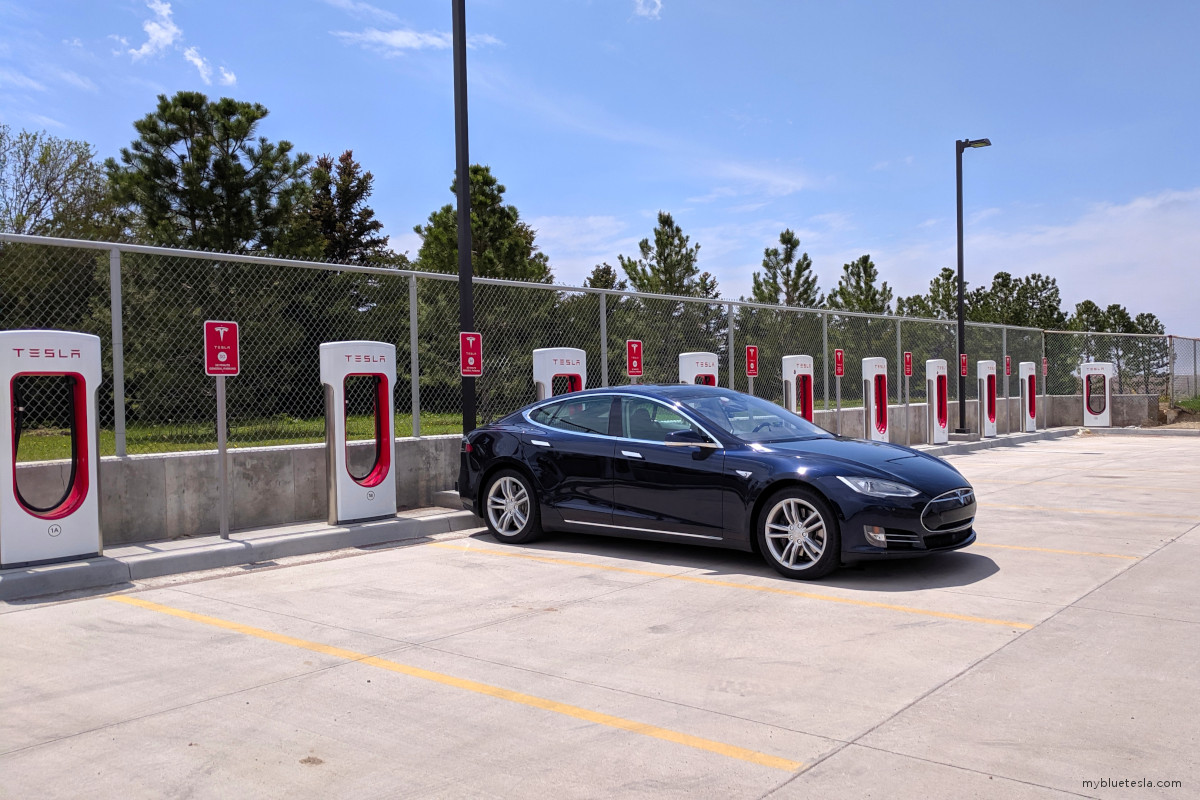 Hays, Kansas was an example of a windy welcome. As soon as I opened the door to plug the charging connector in, a strong gust of air kept pushing my door in. I'm not sure whether it was due to the incoming tornado weather or if it's normally like this here. In any case, this Supercharger is located next to an Applebees and I just waited it out in the car.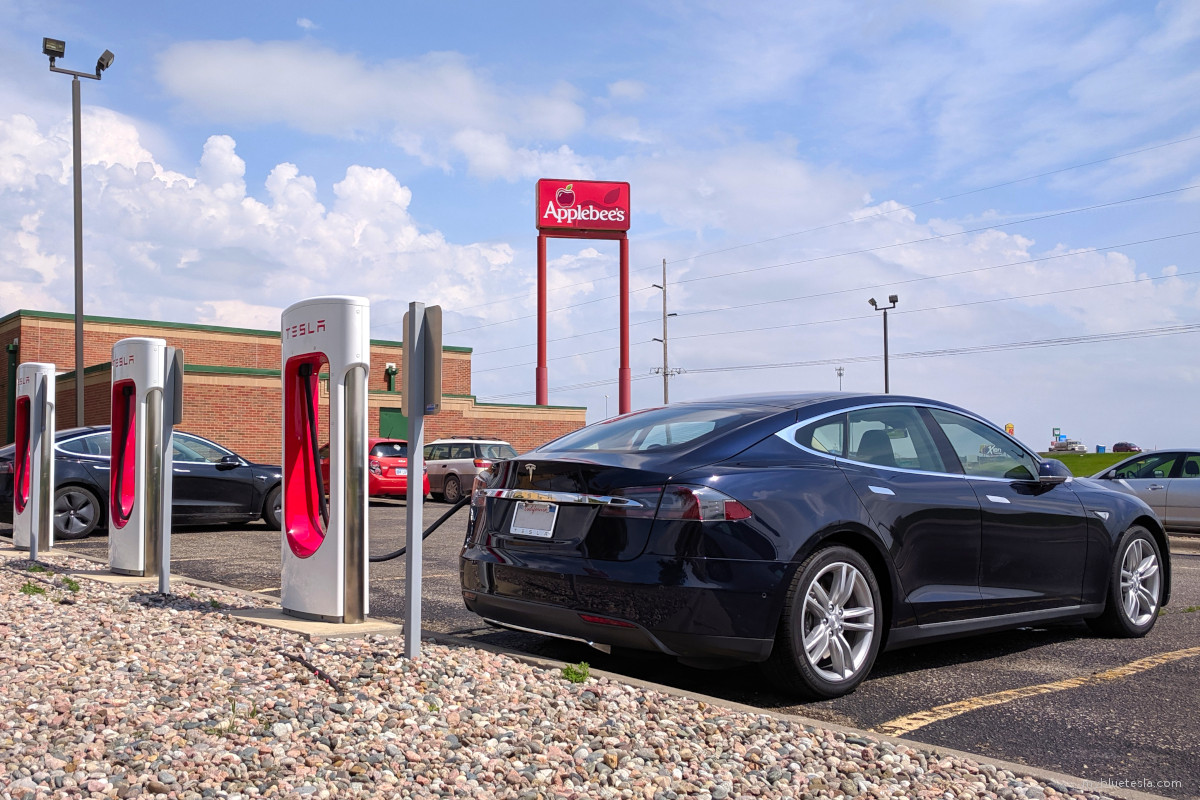 My last charging stop for the day was in Salina. The Supercharger here is located at a Holiday Inn Express. While technically there are restaurants nearby, it's not the most convenient walk. At least the hotel offers public restrooms. Overall this drive through Kansas was not a thrilling one, but it wasn't as mundane as I thought it'd be. I rather enjoyed the view, although admittedly to a more limited extent. I had encountered a minimal amount of rain but it certainly wasn't the Tornado Alley storm that I was avoiding. Seeing hail hit the windshield would definitely have been a nightmare.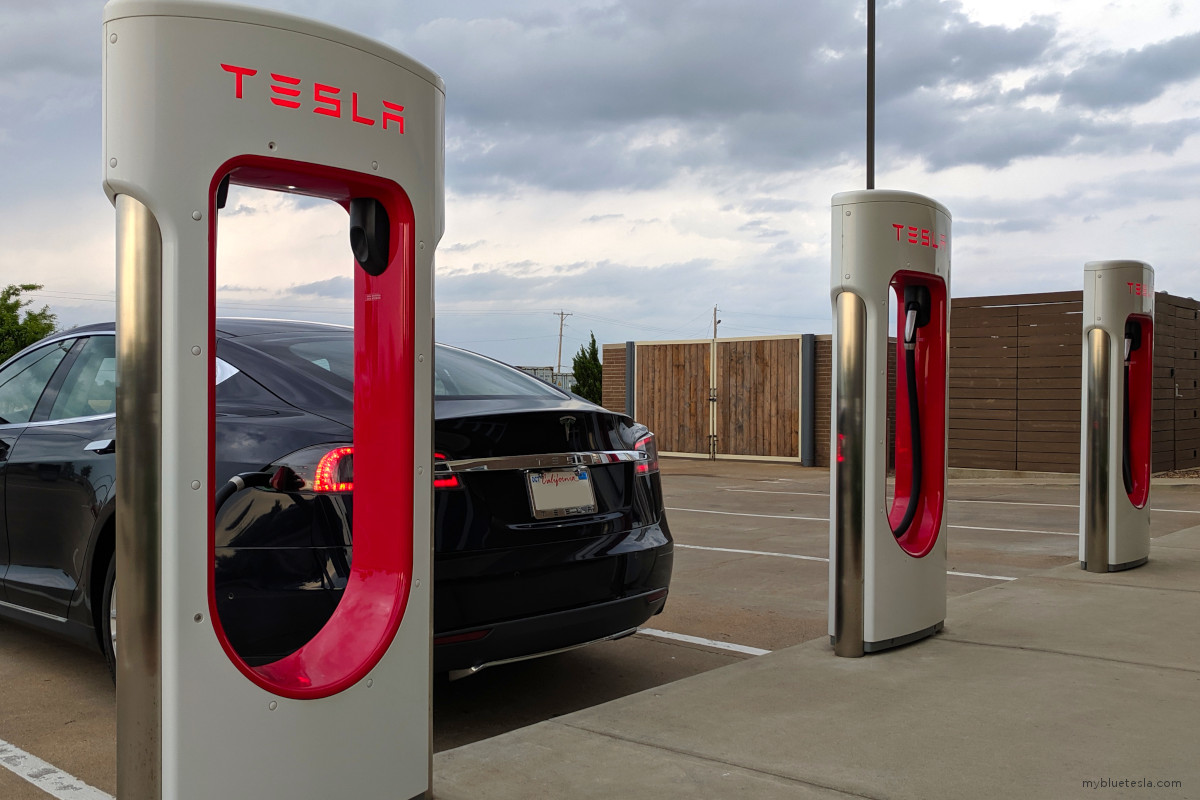 I arrived at the Hyatt Regency Wichita after 11 hours on the road which was way more than I had anticipated, probably because I charged more than necessary to add buffer against the forecasted winds. There's only a single Tesla Wall Connector on the second floor of the parking garage at the corner. There's another non-Tesla charging station in the next space over. Teslas aren't very common in the middle of the country as I rarely see them on the open road. The signage here didn't imply towing due to ICEing, but at least it could reduce its potential I guess. I didn't need to valet for this one as I just parked in the spot and plugged in.
And that's all there was to this leg of the journey. Kansas for me was just a pass-through state to get to Texas (I have plans there). I checked into the Hyatt, had a burger, and fell asleep.
5/18 (Dallas, TX)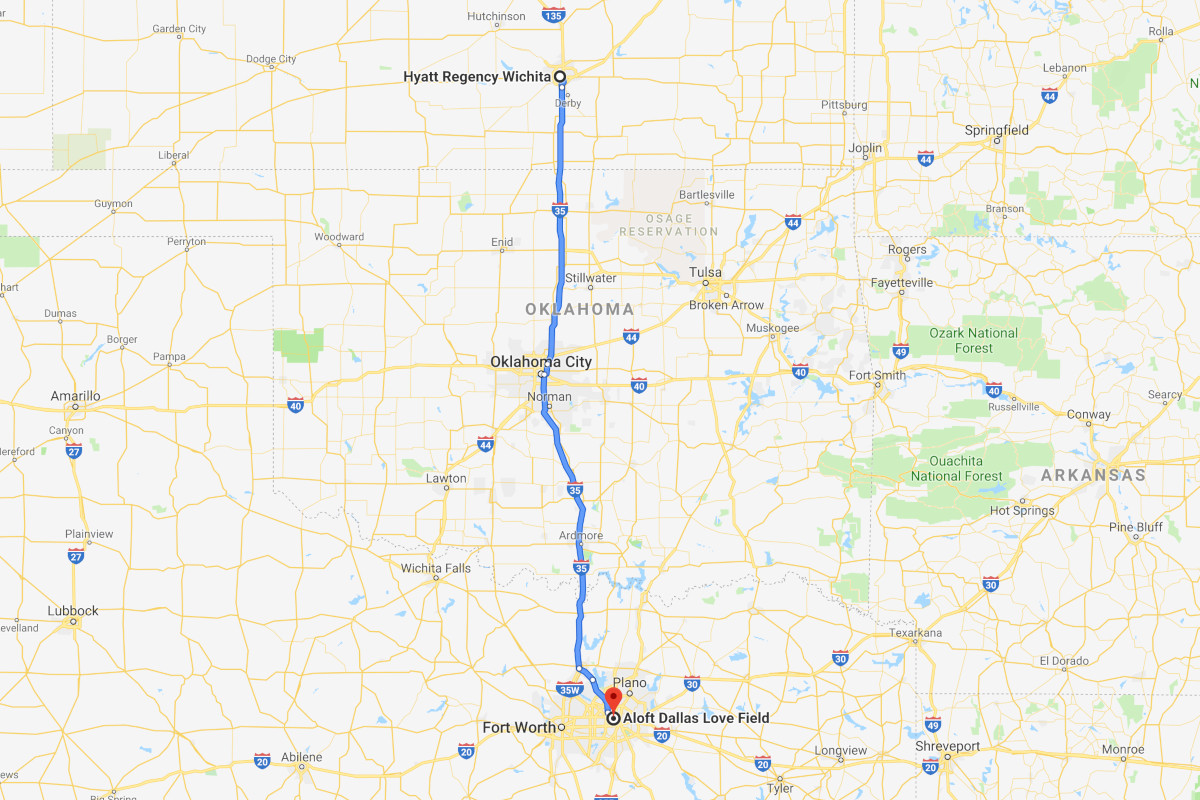 One of the challenges on a road trip during this time of year in the central part of the country is timing your driving schedule to avoid the dangers of Tornado Alley. The forecast had been calling for pockets of intense activity (potential tornadoes, hail, flooding) along the path between Wichita and Dallas. With the projected trajectories of various storms tracked by meterologists, it looked like I had a narrow window to start driving from Wichita before noon so I can miss out on the bulk of rough weather through Oklahoma City and into Dallas. It's as if I've been presented with my own personal Kessel Run challenge.
An unexpected "surprise" after leaving Wichita were the Kansas Turnpike Authority road tolls which are unlike toll systems I'm used to. Being completely unfamiliar with the system, I made an incorrect turn or two and ended up with a camera-triggered ticket. The charge wasn't all that bad so I just took it in stride, but note to drivers traveling through Kansas who aren't familiar with the system there.
The 2 Supercharger stops along the way that the navigation routed me through were at Perry and Ardmore, Oklahoma. The former was just outside the city of Perry so there was nothing to see. The latter was in the parking lot of Classic Interurban Grill where I had a cup of soup and some chips and salsa to keep me afloat until I reached The Land of BBQ. Overall, the drive through Oklahoma was relatively uneventful. Similar to Kansas, there were lots of grassy fields and (happy-looking) cows freely grazing.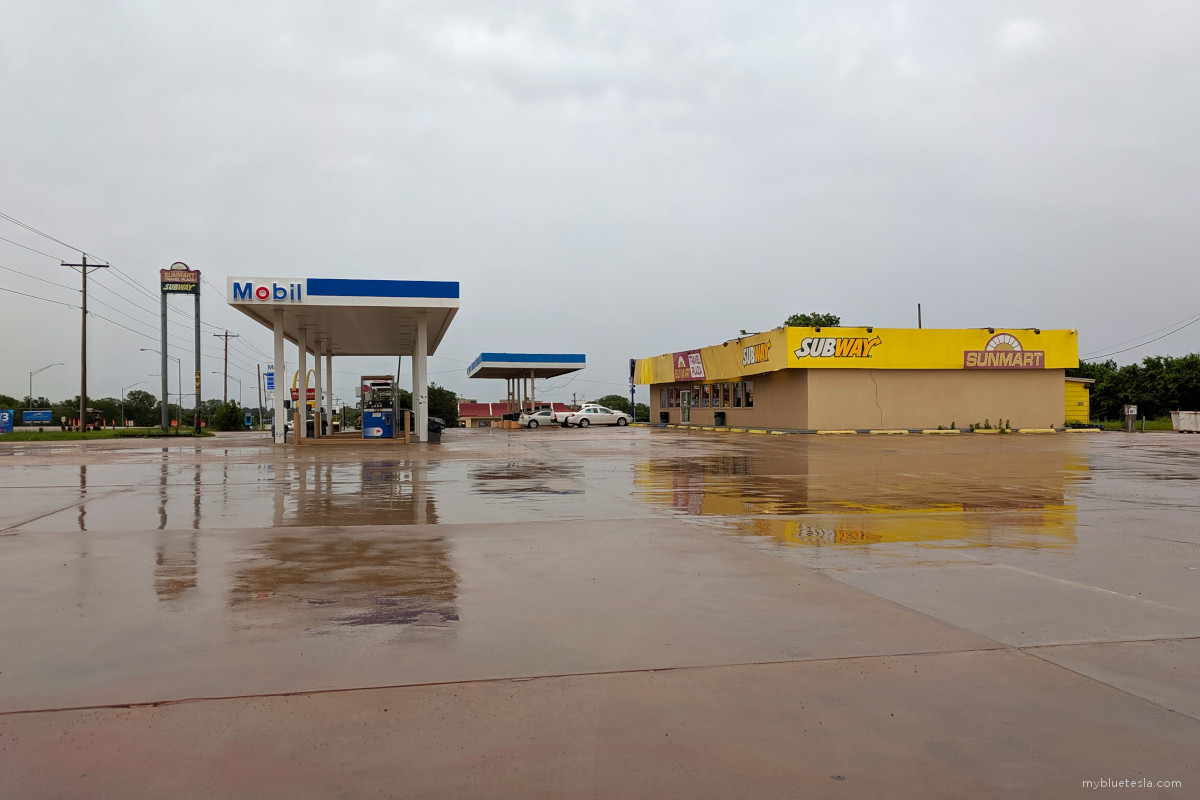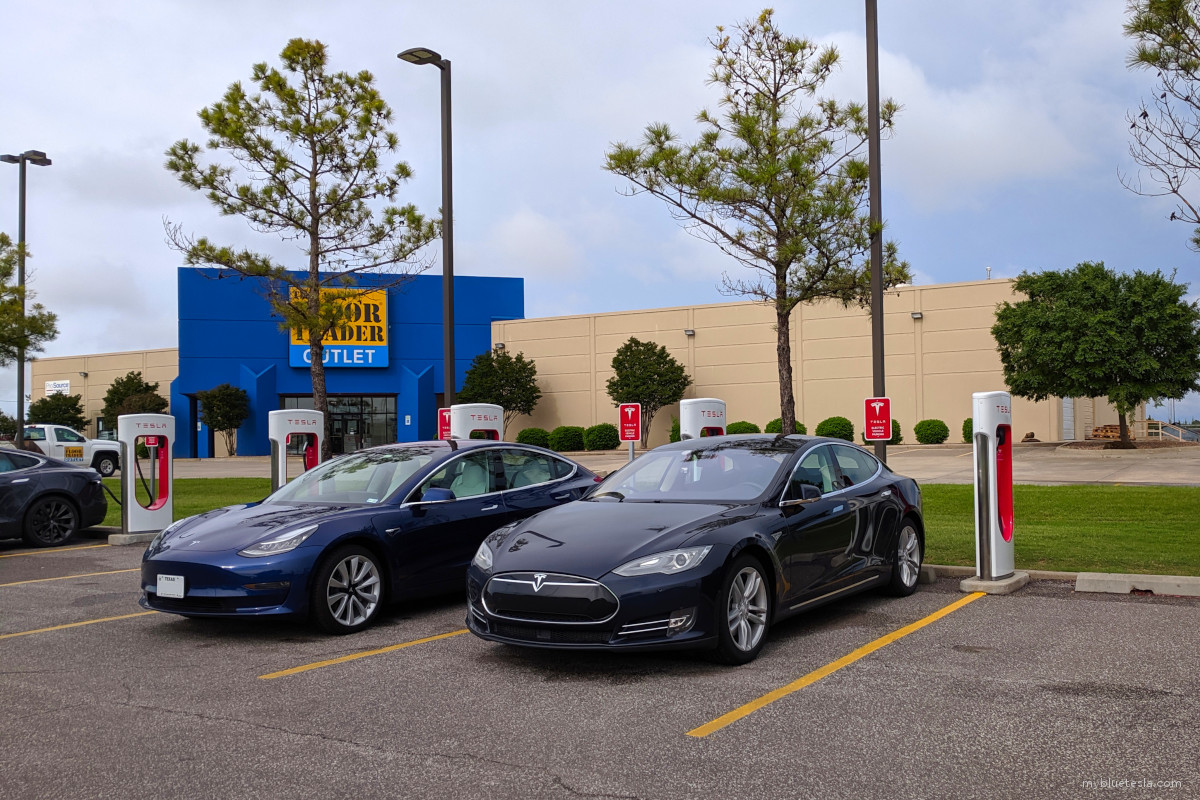 I had intentionally spent extra time charging in Oklahoma so I could delay my arrival in Dallas. I crossed into the Lone Star State in the early evening, right around the time the storm had become a non-concern. So far on this entire trip, I've been lucky with the only inconvenient weather being some light rain and a little wind. Nothing to raise any anxiety about range impacts and being stranded in the middle of nowhere.
Accommodations was at Aloft Dallas Love Field, another Marriott property similar to Element (both make up the building here). The front of the property has two spaces with Wall Connectors. You'll need to register your car at the front desk sign-up sheet when parking any car at this facility. This was my first 2-night stay on this trip and I had every intention to grub on as much quality barbecue as I could.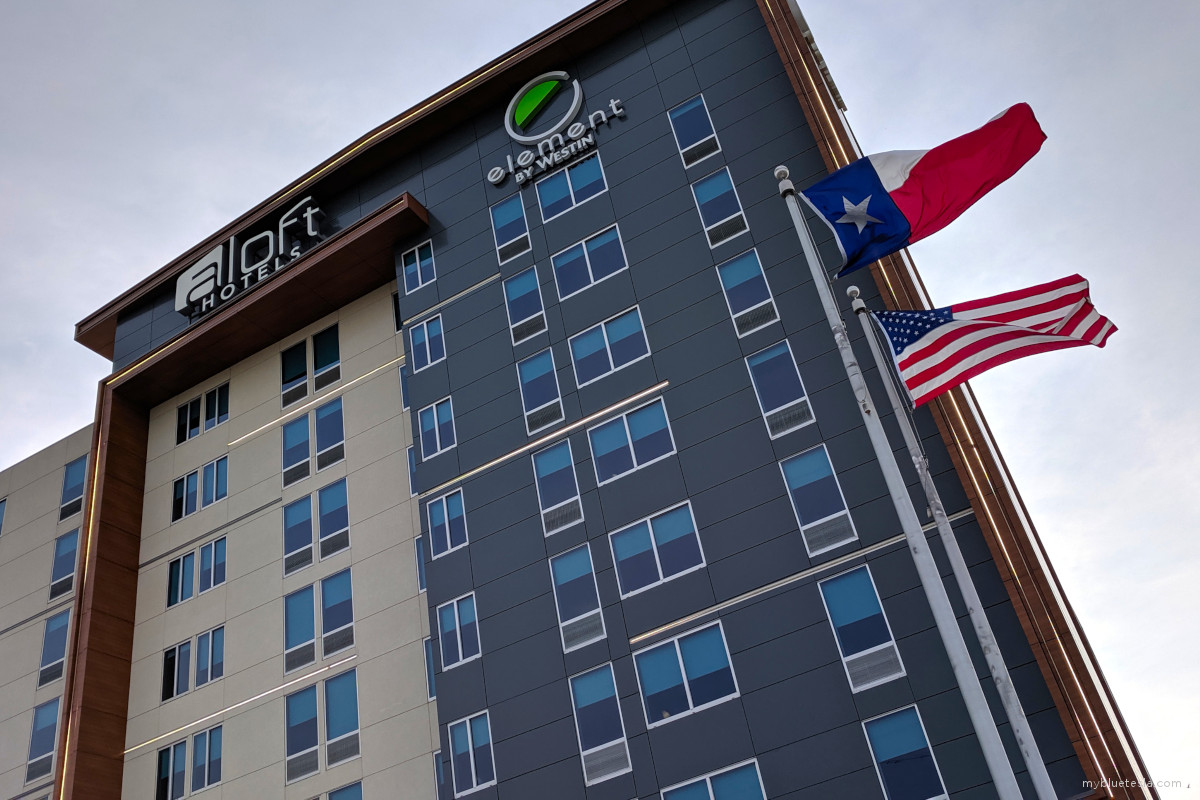 And there are barbecues aplenty in Texas. After checking in and resting for a bit, I hit up Sonny Bryan's a few minutes away on Inwood. This place is apparently well-known and also open 24 hours. My kind of place at 10pm. We need many of these in the San Francisco Bay Area.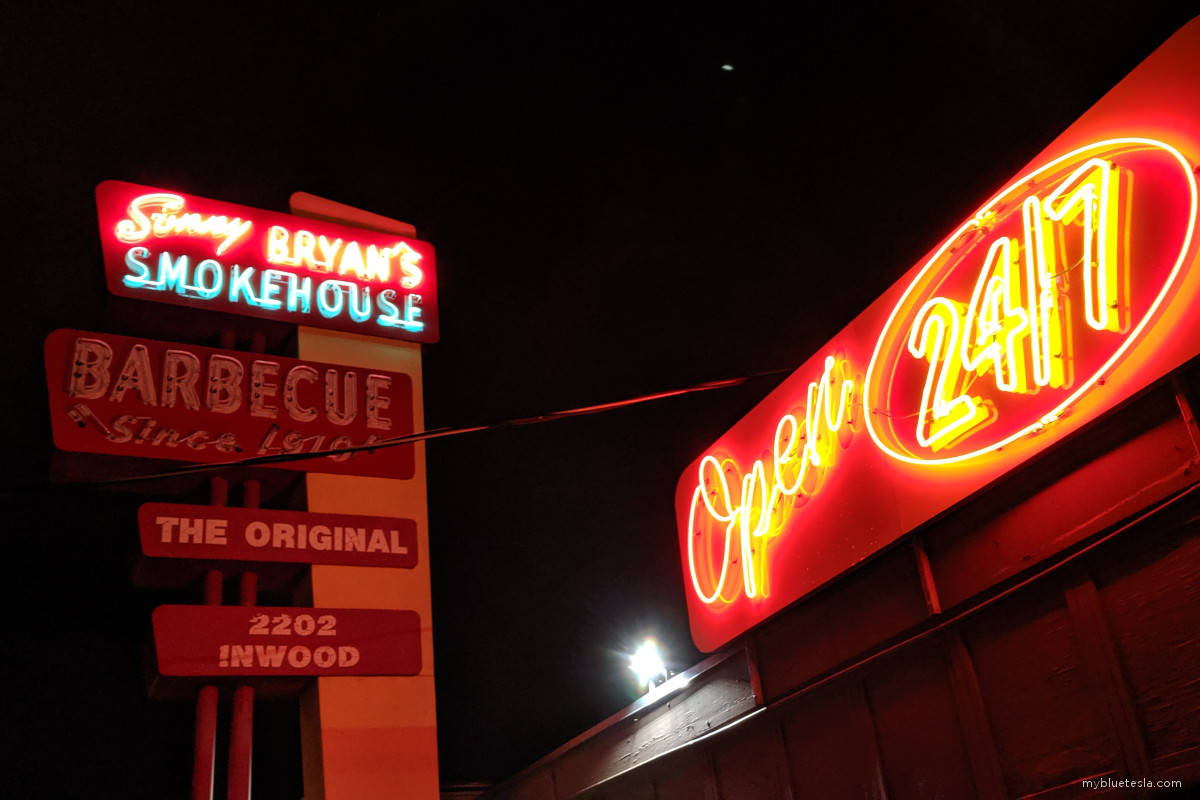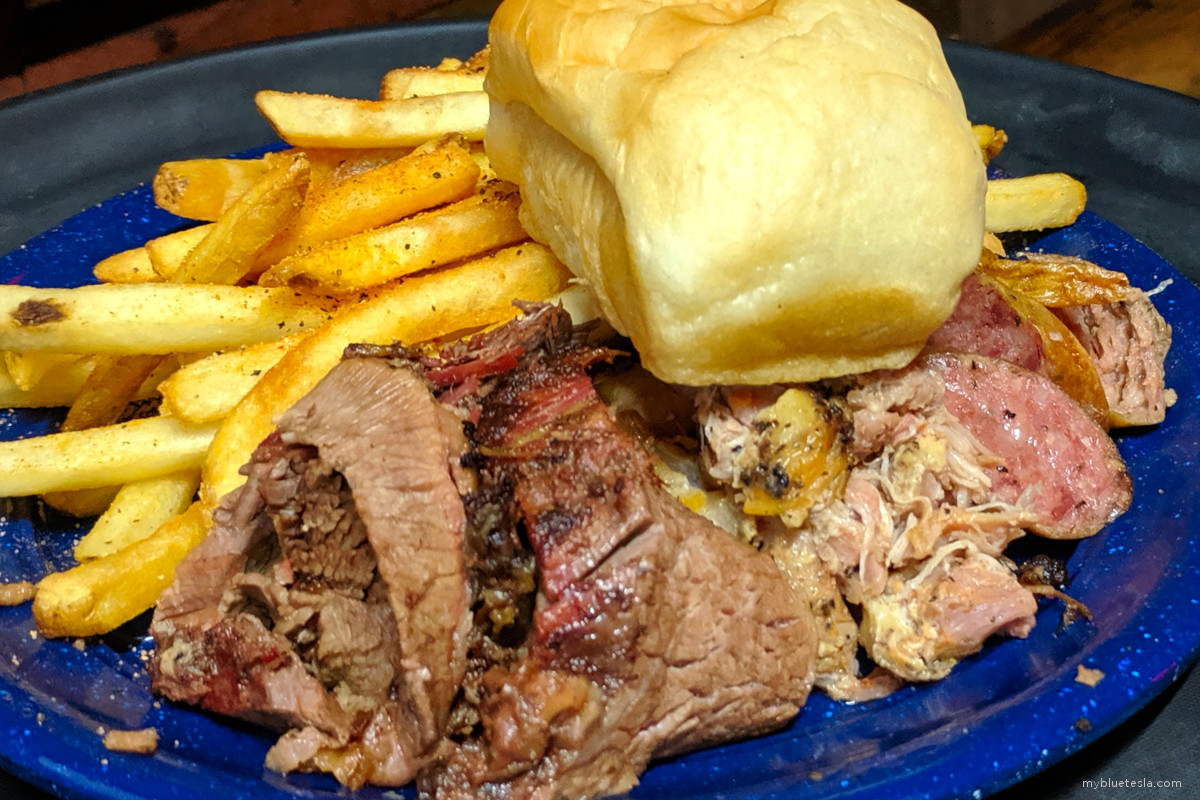 After driving through Kansas and Oklahoma, I absolutely deserve some barbecue. Let the brisket eatin' begin! The above picture also has jalapeño sausage and pulled chicken. A solid start to my Texas experience.
5/19 (Dallas, TX), continued
Unlike the previous day's weather, Dallas was bright and sunny on Sunday and for breakfast I drove a few minutes over to Slow Bone Barbecue. There is no shortage of potential barbecue joints in Dallas, not surprisingly (just type "bbq near me" in Google Assistant and see how many results pop up). A small line was already forming when I parked exactly at the 11am opening time.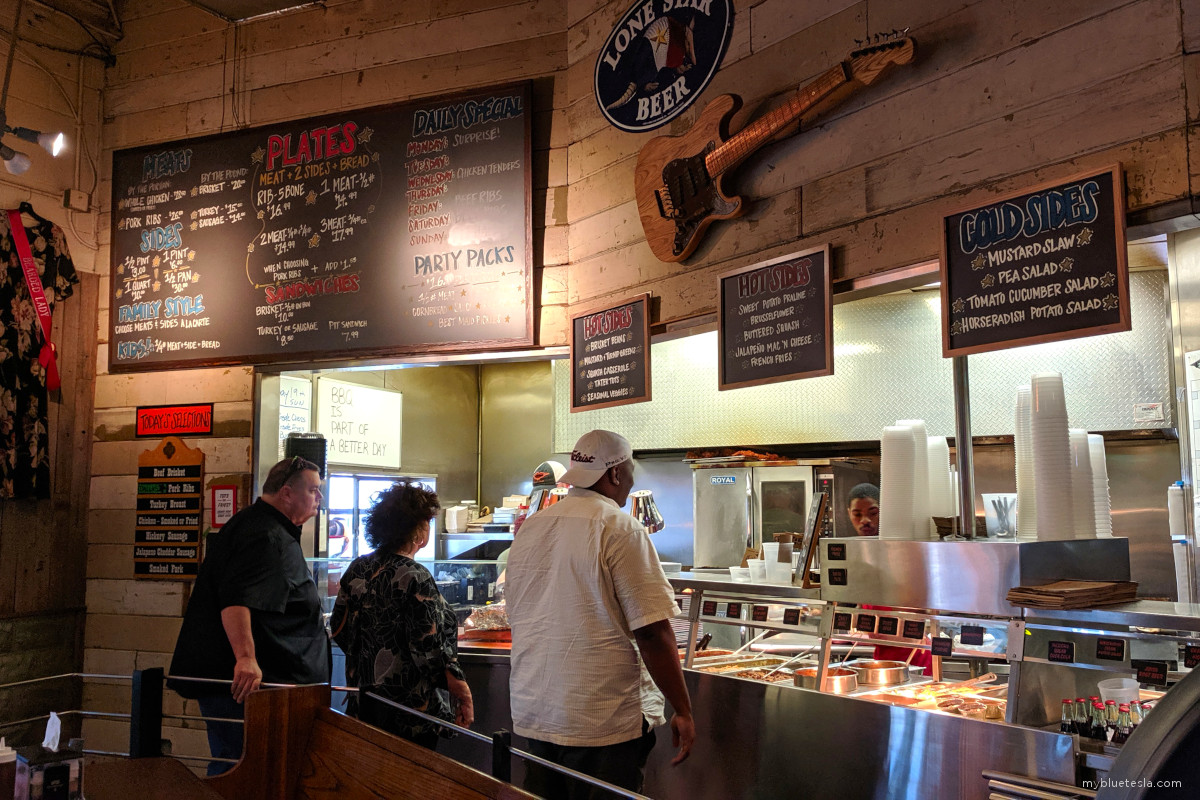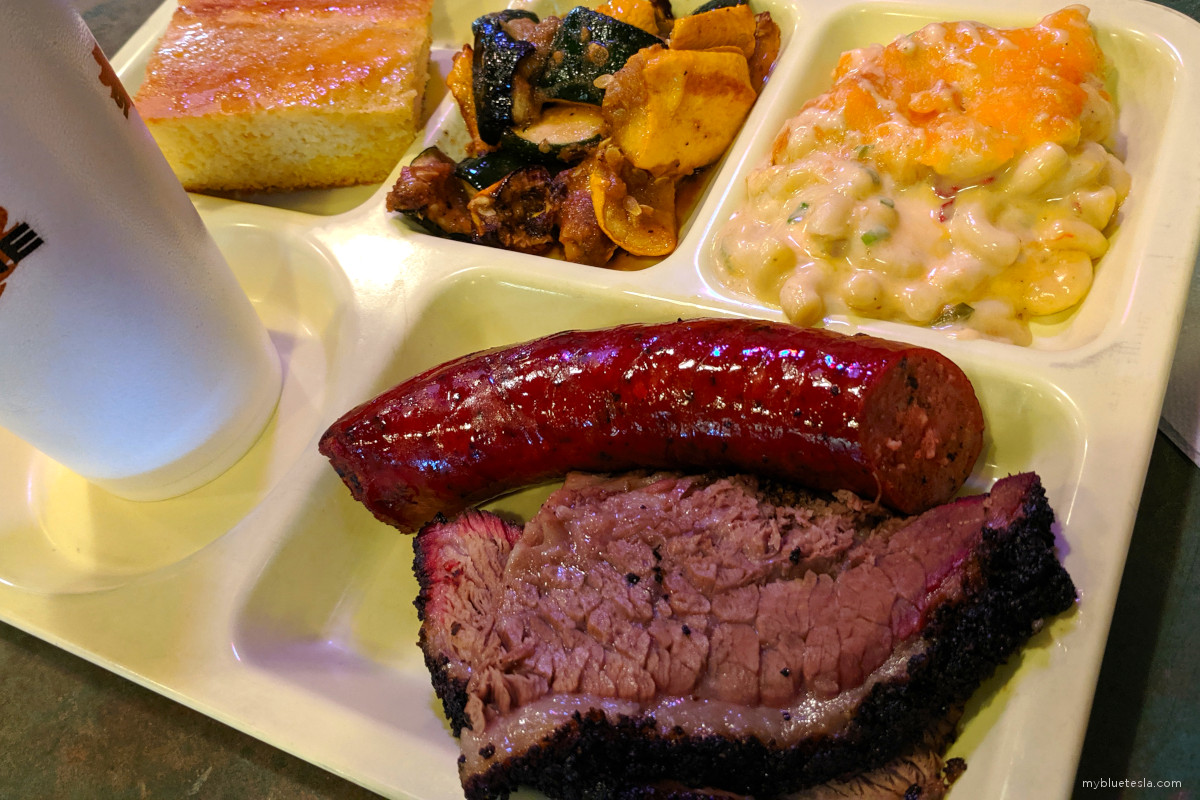 For dinner, I sampled another local establishment (very well-reviewed and rated on Google): Lockhart Smokehouse in the Bishop Arts District. Incredible food. I highly recommend. Be patient, there will be a line for good reason.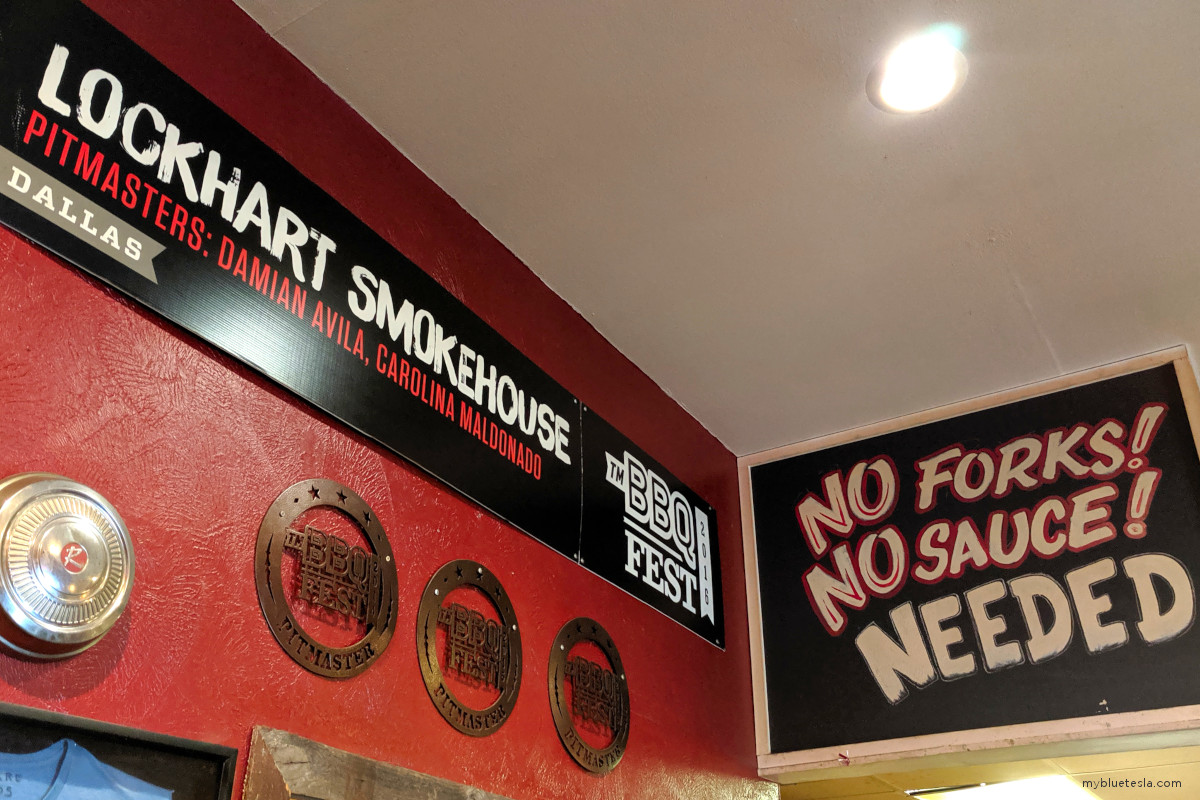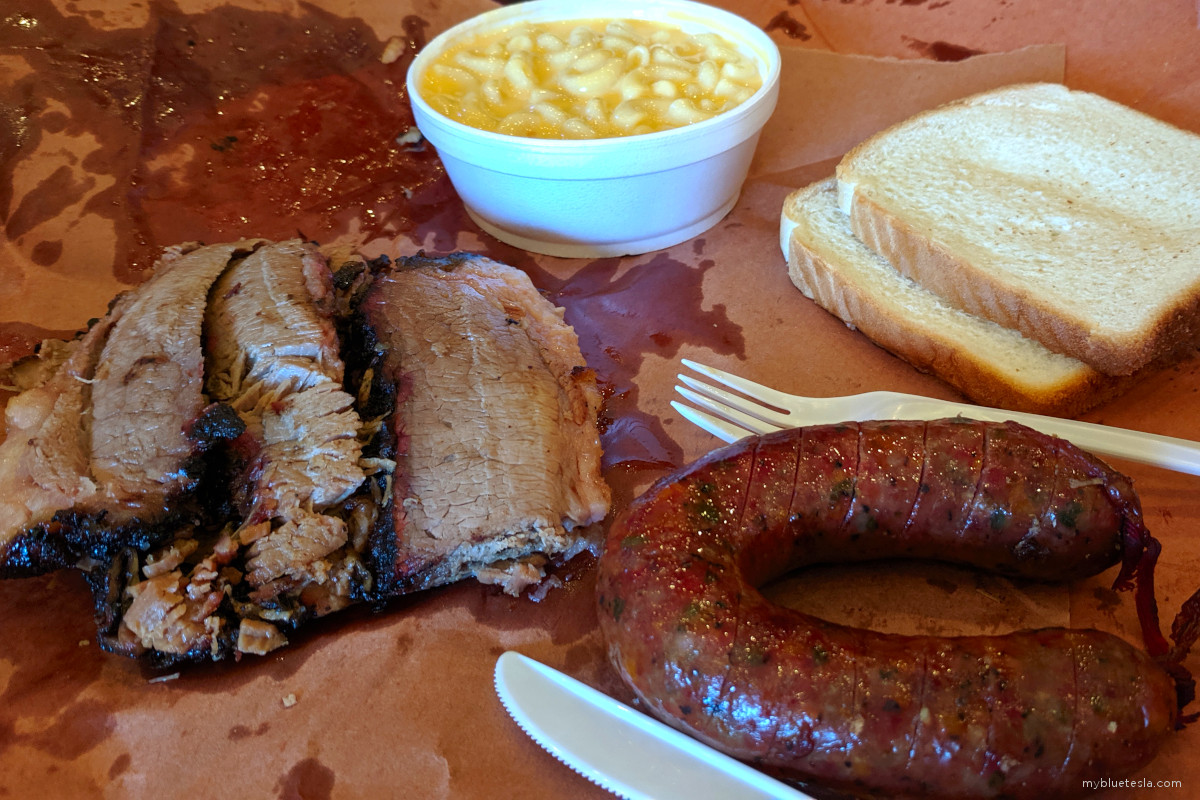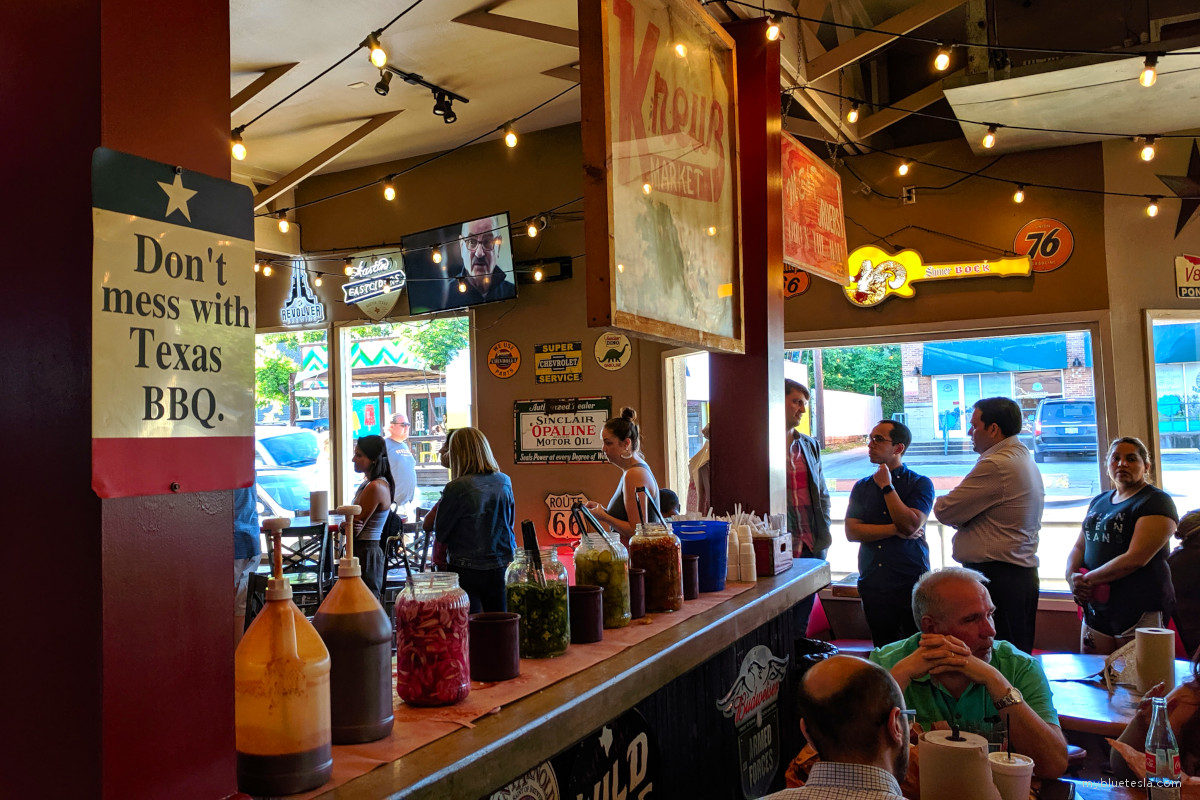 On the way back to the hotel, I got to experience the convoluted freeway interchange mess in Dallas. The navigation wasn't exactly helpful in some cases and had me going in loops on the same streets for a while. This might be due to the many ramps on the left and right lanes and how I must have merged into the wrong lane, etc. but I wish the computer was better equipped on the visual display for these confusing situations. A HUD would be great in these cases. After a few I've-been-here-before turns, I decided my own instincts would better serve me out of the freeway/street haywire to get back onto the 35E.
When I got back to the hotel, I finally relented to the nagging software update notice that had been going on for the last day and let the update occur. I'm now at 2019.16.1.1.
5/20 (Houston, TX)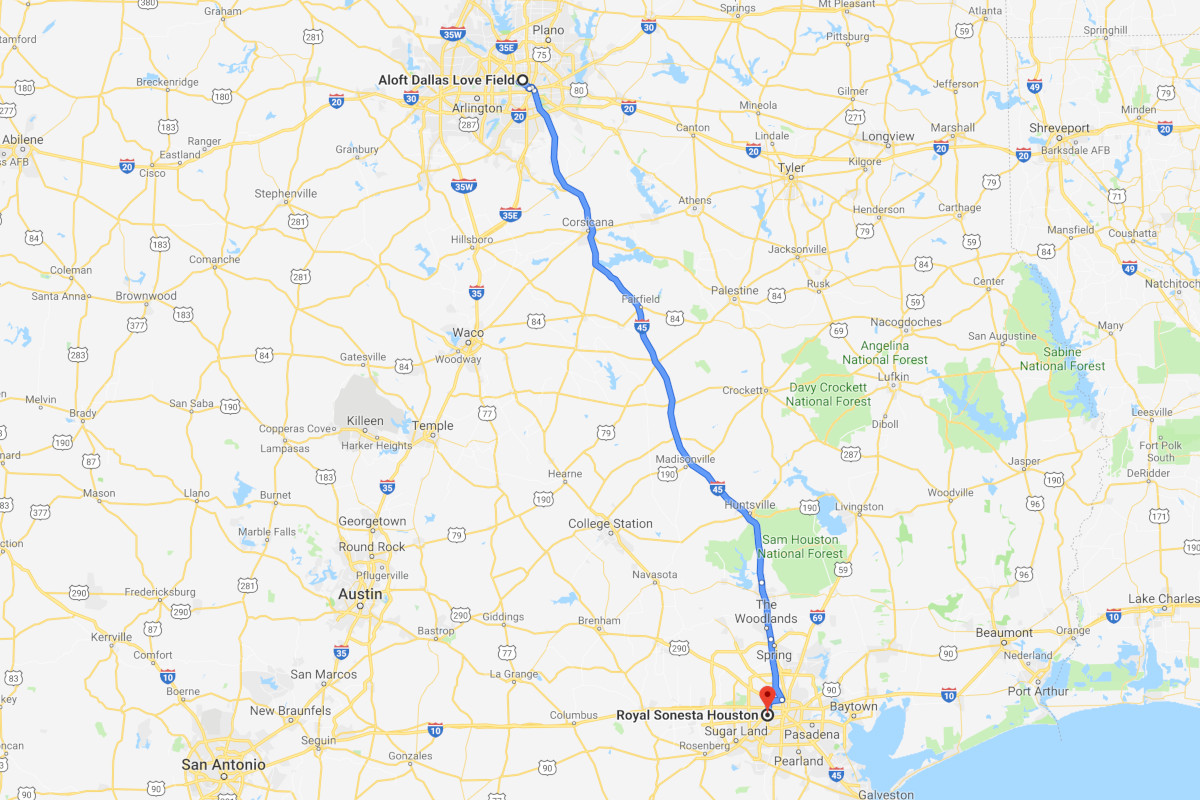 Traveling from Dallas to Houston can be done with a single Supercharger stop, assuming a full charge at the onset. However, I elected to stop by both the Corsicana and Huntsville locations since I wanted to arrive at my destination with more than just a trickle of charge left as I was contemplating on checking out a few places around Houston after making it to the hotel. At Corsicana, there's a sign at the Collin Street Bakery (where the charging stalls are located) offering free tea or coffee to all Tesla owners.
In Huntsville, the charging location is next to a Holiday Inn Express. This was another example where navigation would have been much more helpful if it pointed the hotel name out rather than the generic "turn right in 1000 feet" notice since there are many potential parking lot turn-ins along this area. Interestingly, this is the first Supercharger location which had a tow-away notice for non-Tesla vehicles parking at the charging stalls. Perhaps ICEing was common here at one point. I wonder why the poles are leaning. Hmm...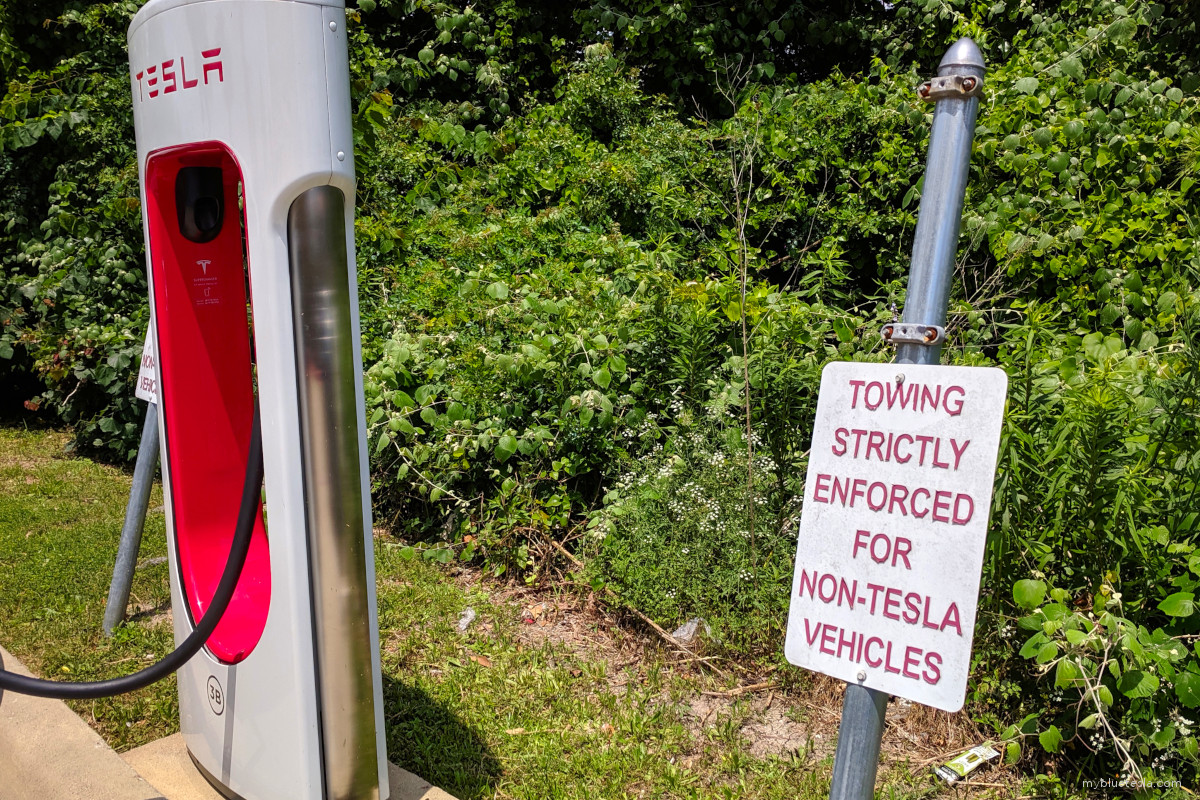 I finally arrived at the Royal Sonesta Hotel in Uptown Houston. They have 4 Wall Connectors towards the entrance of the parking garage right next to the hotel entrance.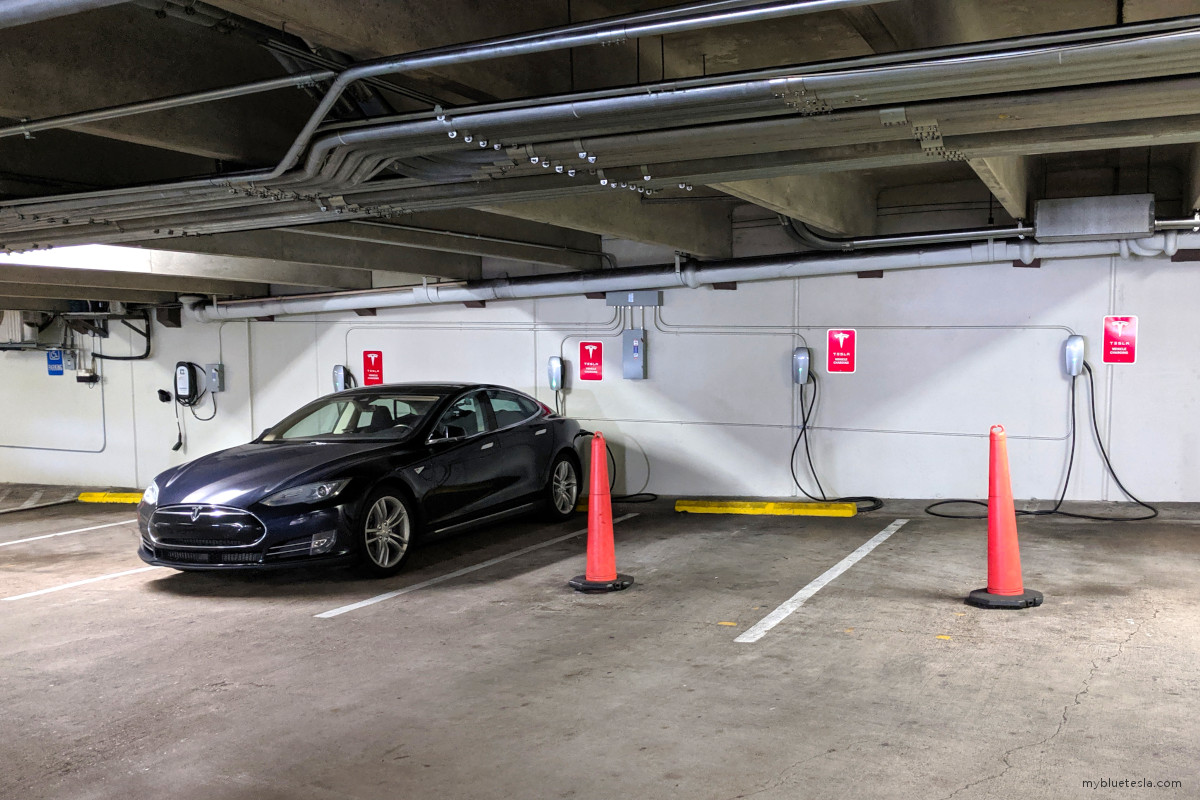 Considering the ongoing storm activity and dire reports of hail and tornadoes scattered throughout Texas, Oklahoma, and Kansas, I've been so far extremely fortunate to have avoided it almost entirely. This entire trip was booked a month in advance and I could never have foreseen the turbulent weather's timing. If I had left Dallas later in the day, I might've been bombarded by hail resulting in pelted aluminum panels and a costly repair bill.
Of course, I had to sample local barbecue and decided on Gatlin's. It was pretty good.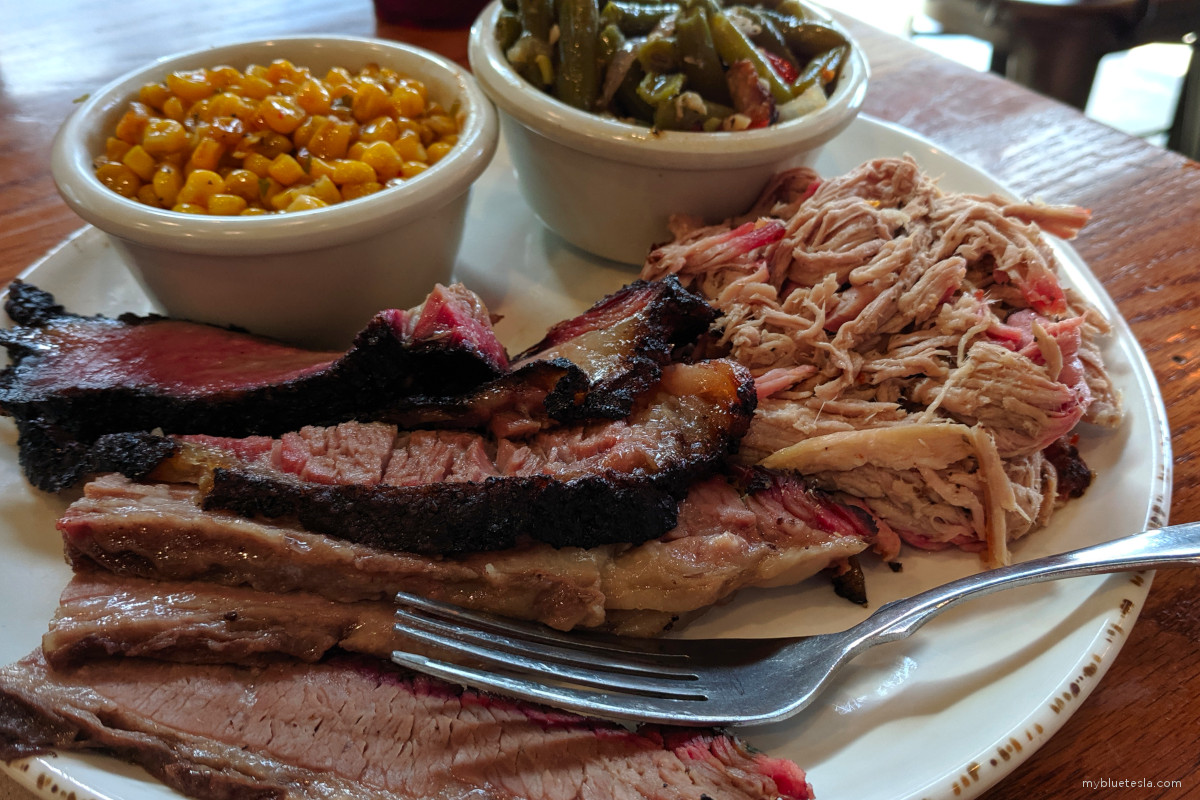 5/21 (Austin, TX)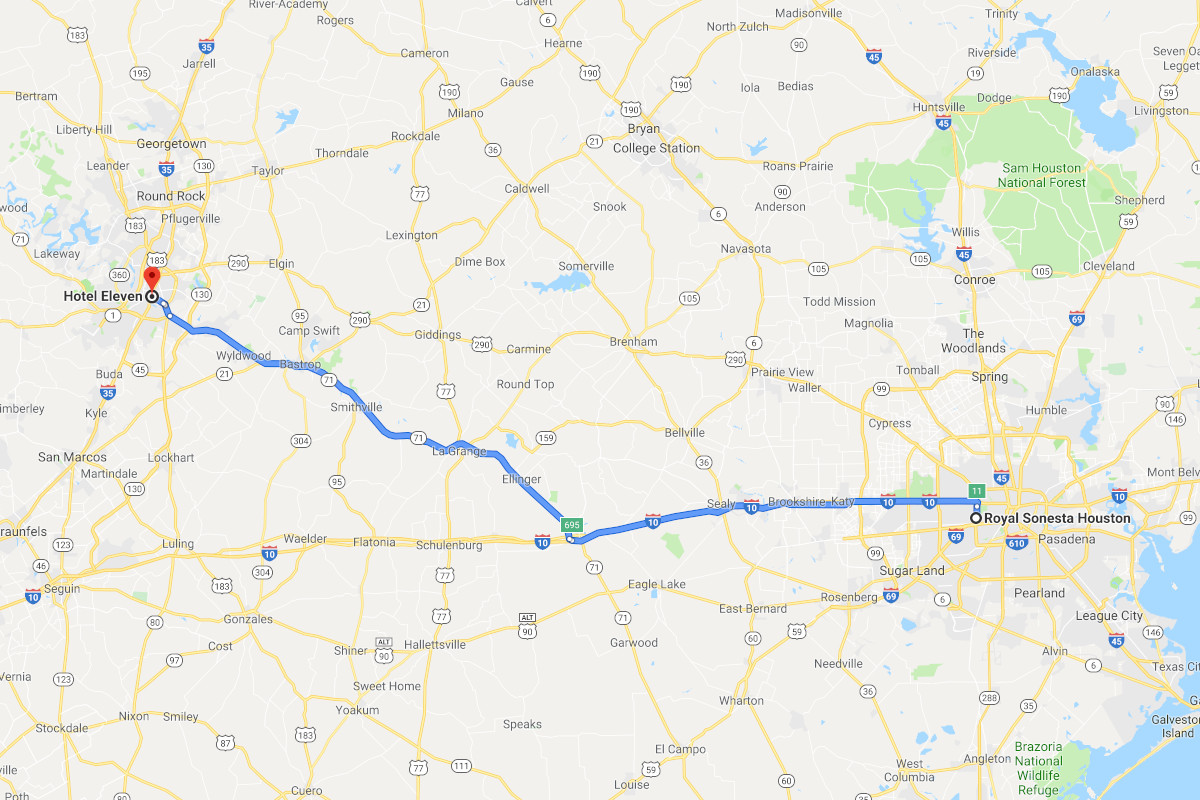 The drive to the Texas state capital was relatively short and encountered only minimal rain as the tail end of the predicted storm went by. But before I left the Houston area, I decided to take the opportunity to stop by the DeLorean Motor Corporation museum and look at all the time machines.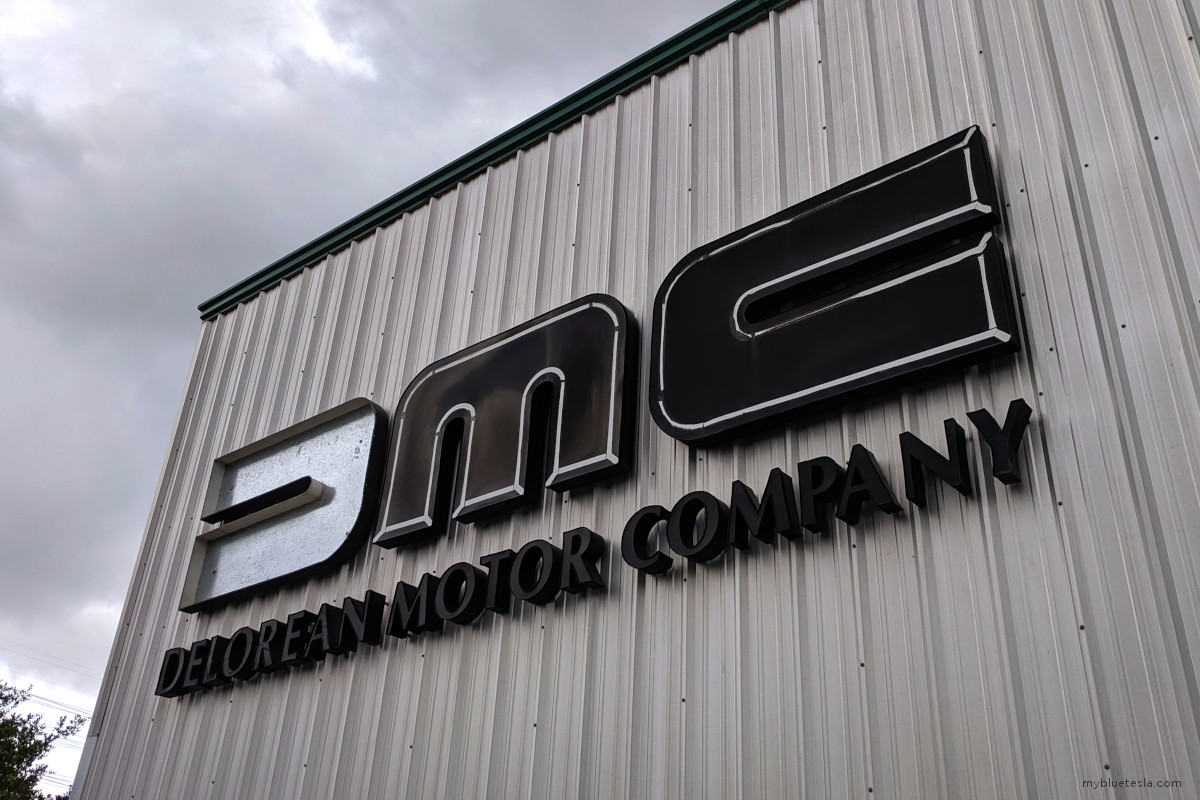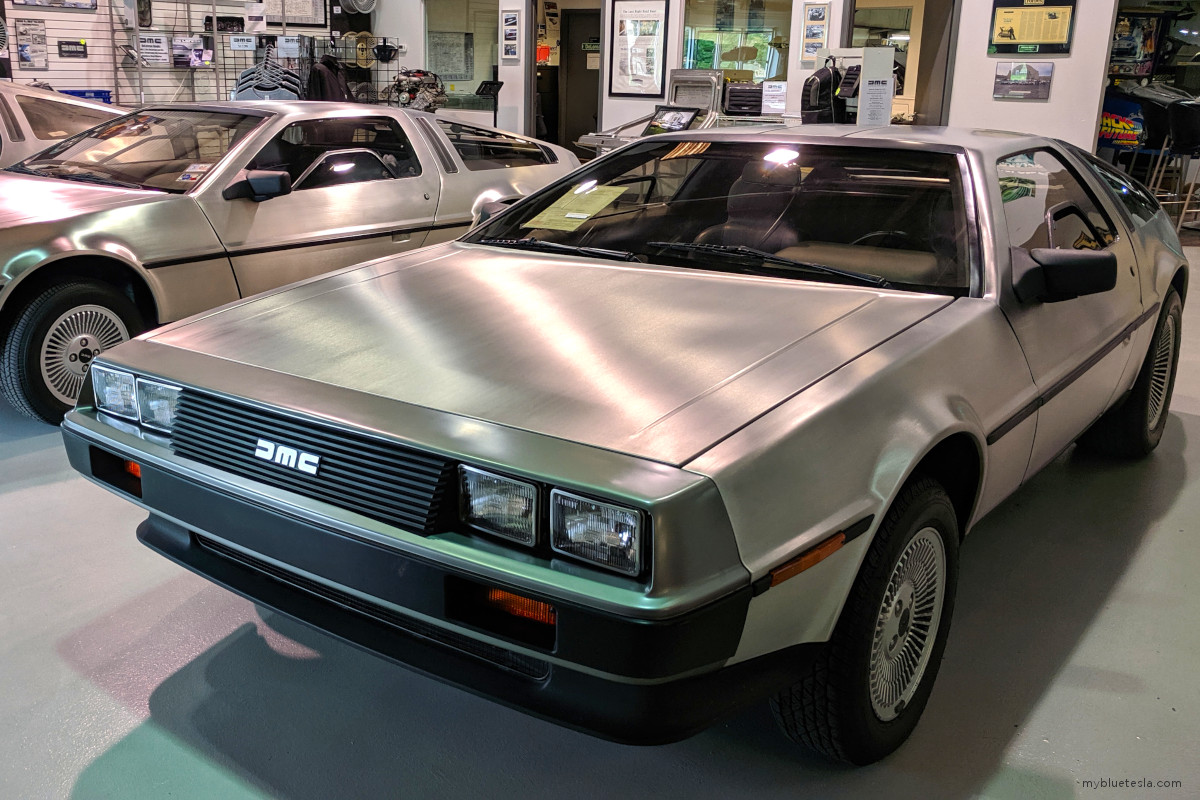 A part of me would like a DeLorean with a Tesla motor. Add a Mr. Fusion and one flux capacitor and I'm going out in style.
The Houston metro freeway system involves many criss-crossing interchanges and surfaces streets which parallel them with entrance/exit ramps located alongside in varying stretches. Tesla's navigation seemed rather confused and had me again going in circles or seemed otherwise out of step with reality. In several cases I ignored the turn-by-turn instructions out of frustration with the computer's problematic location recognition and course plotting. This definitely needs improvement.
I stopped by the Northwest Freeway Supercharger so I could breeze into Austin with plenty of range left over. Route 290 passes through several small towns and was a nice contrast to the larger metros of Dallas and Houston. My destination was Hotel Eleven which does not have any charging facilities, although the Austin Supercharger is only several miles north. Located right down the street from Franklin Barbecue, this is a very ideal location if all you want to do is partake in great food. There's plenty of it in this area. For example, right across from the hotel is a congregation of permanently-stationed food trucks.
After checking into Hotel Eleven on 11th Street and getting the keys to room 11 (coincidence?), the first order of business was to have a late lunch/snack. A couple of doors down is Blue Dahlia Bistro. Best. Waffles. Ever.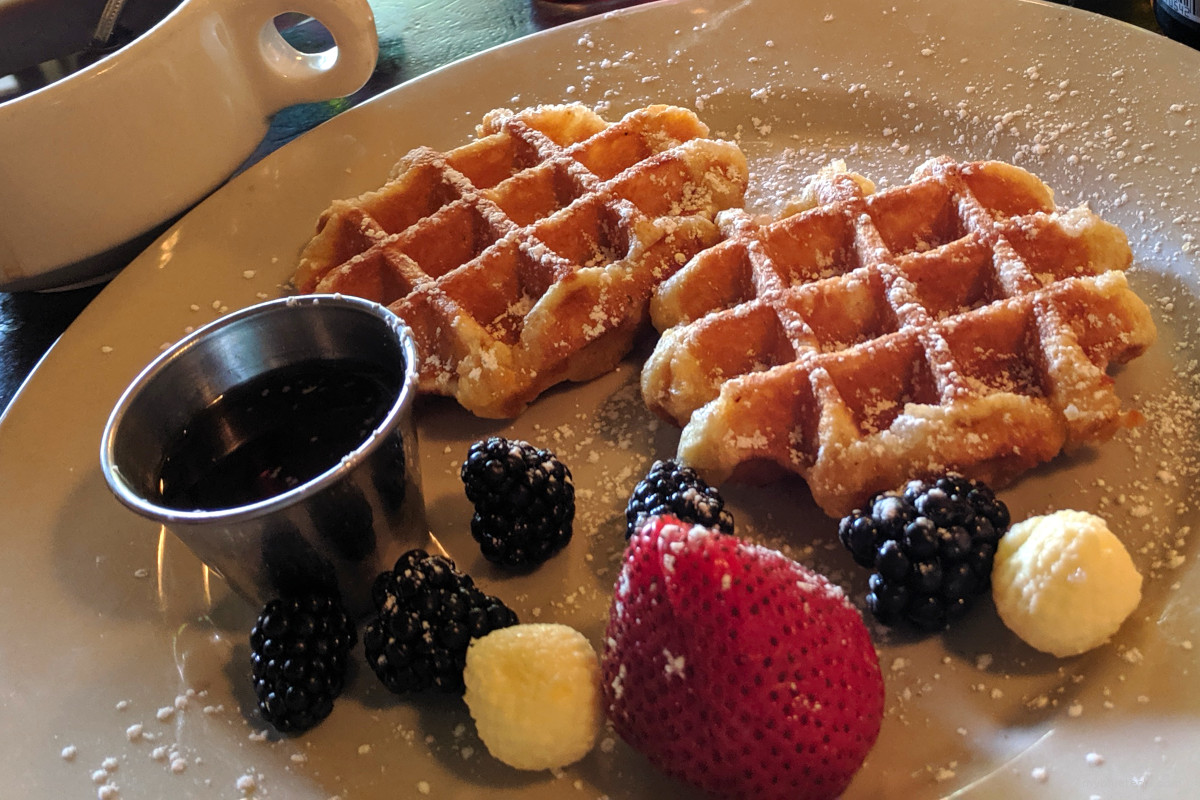 Also had a quick bite later at Hillside Farmacy a few footsteps away which is apparently some farm-to-fork offering. Several blocks south is 6th and 7th Streets where other bars and restaurants are buzzing with activity. This area is hip with plenty of dining options. I've heard good things about Austin and this central-east area certainly highlights it.
Interestingly, there are a lot of electric scooters around, including Lime. I also noticed a couple of B-Cycle stations.
5/22 (Austin, TX), continued
Hotel Eleven was the first place that I booked which wasn't on the list of Tesla destination chargers. The main reason for this was Franklin Barbecue, a renown smokehouse with some of the best brisket in Texas by reputation. It's only open for lunch from 11am, but patrons apparently begin lining up around 5 or 6 in the morning. When I arrived around 8:10, there were already maybe 70 people ahead of me. It took 4.5 hours to get to the point where I was at the order counter (this was at 12:35pm).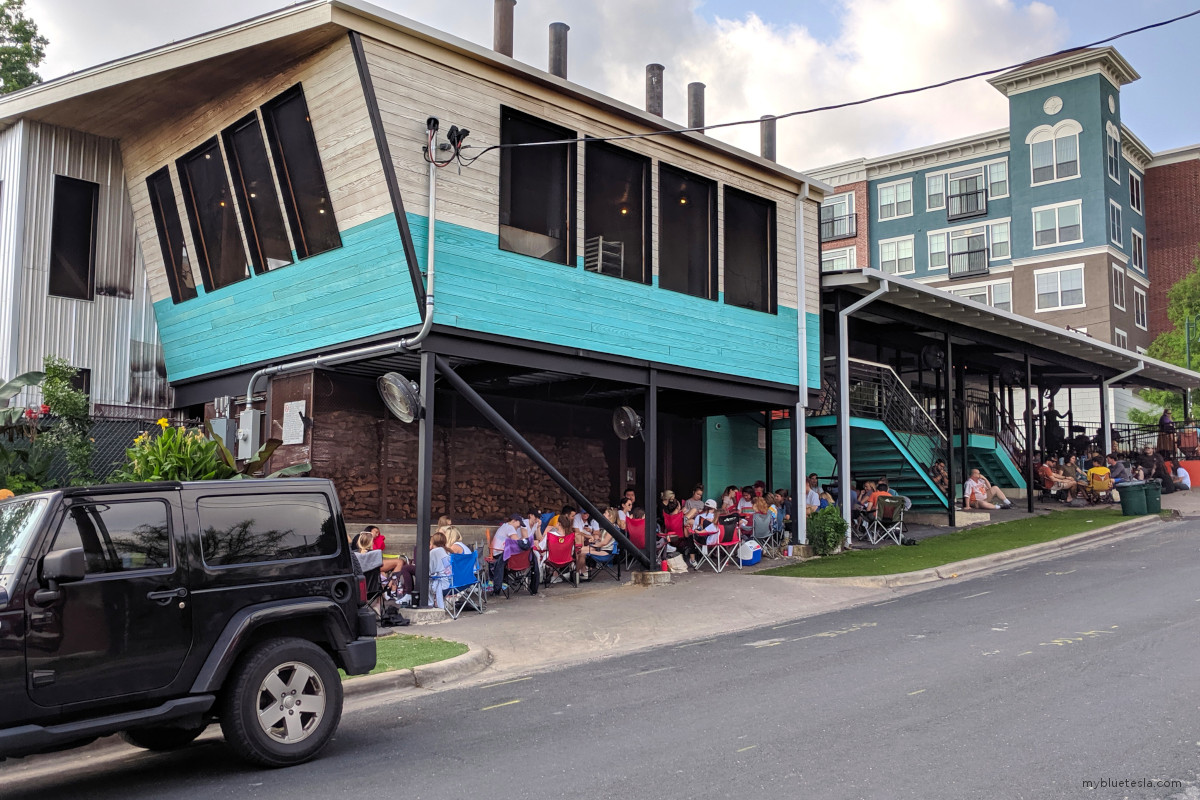 And yes, the brisket is probably one of the best I've had. No regrets. Would do this again.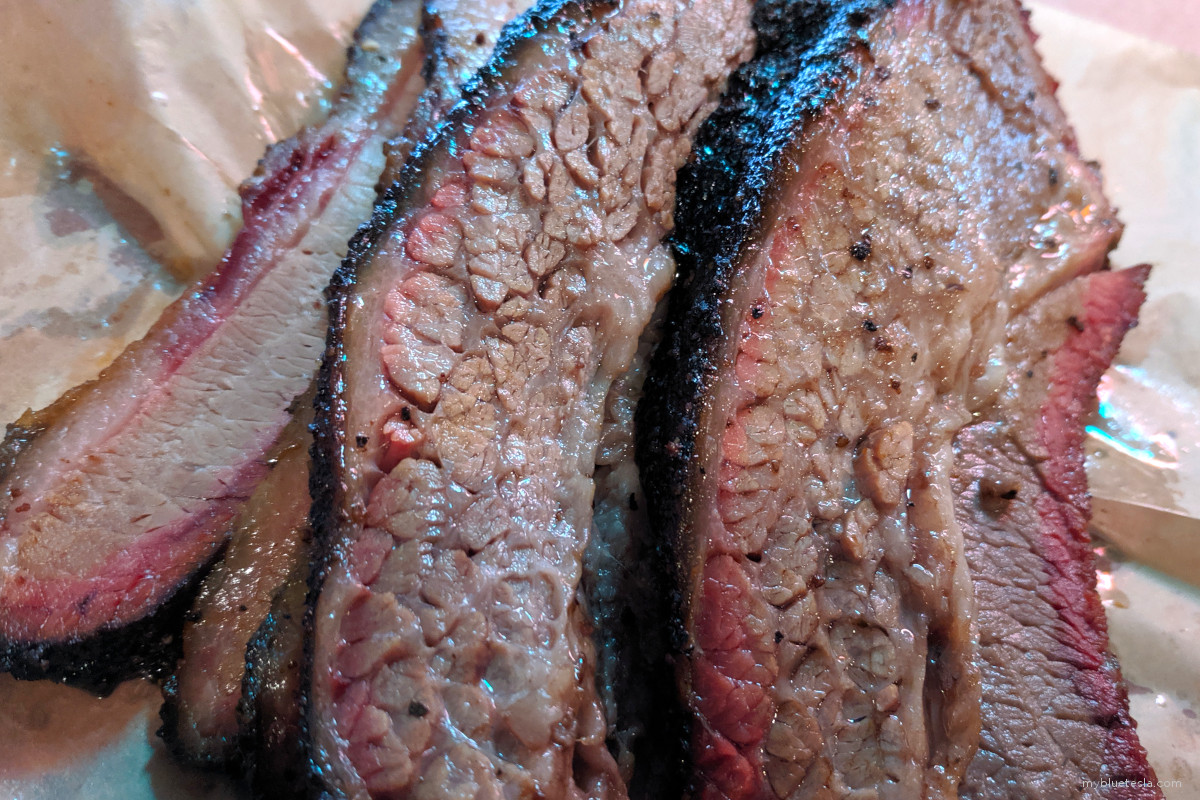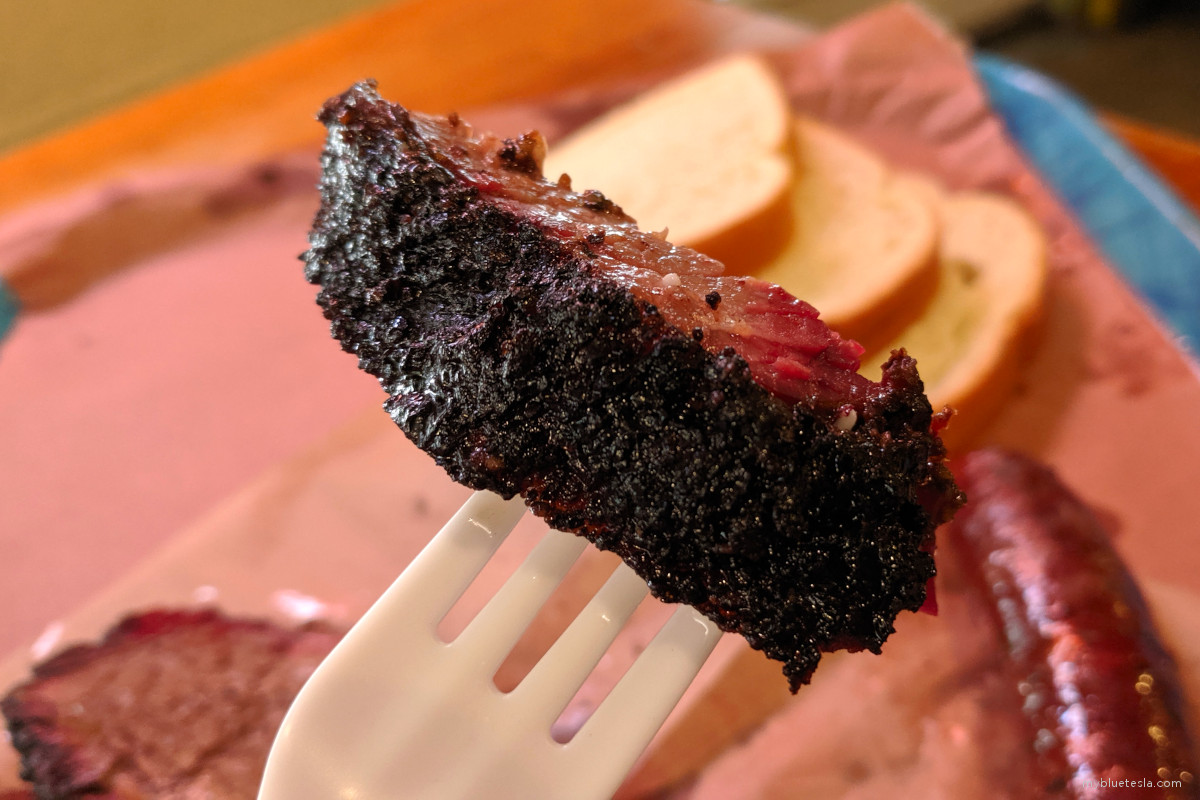 The convenience of being able to wake up and walk 2 blocks to get in line was worth not having a destination charger.
Louie, the resident cat of Hotel Eleven, is a very chill feline. He adds a fun touch to this small establishment.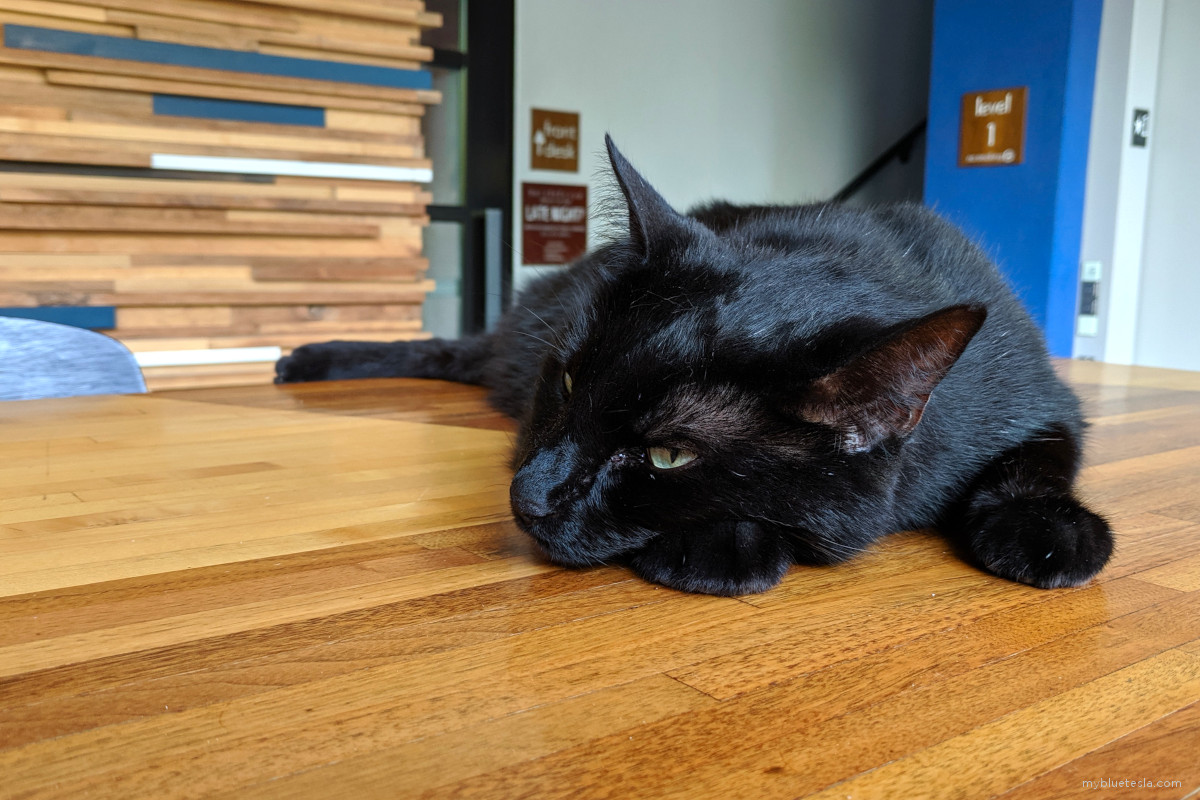 I stopped by the Austin Supercharger later in the evening to top up so I could head directly onto El Paso the first thing next morning. The charging location is along a Frontage Road (directly in front of Shanghai restaurant) and there aren't a whole lot of amenities in the area except a few restaurants and a Burlington Coat Factory across the street.
This day, unfortunately, essentially concluded the BBQ tour portion of the road trip. The next day would be the start of the journey home westbound - a long, long drive through West Texas to El Paso where upon check-in I'll have little time to do anything but fall asleep.