Fremont -> Reno -> Salt Lake City.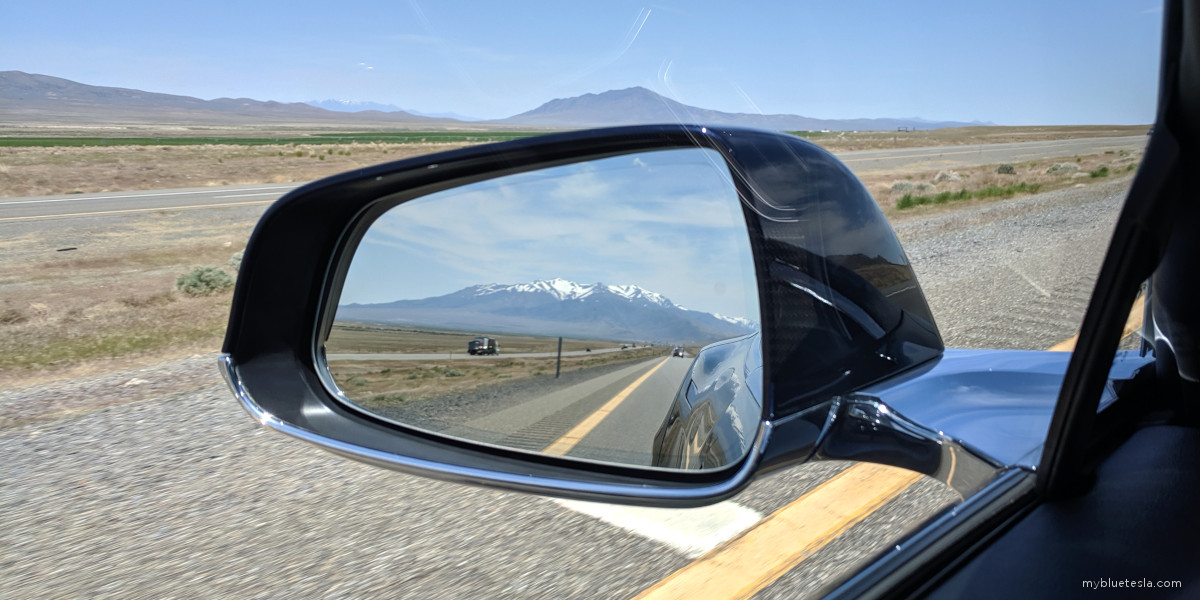 It wasn't until recently in life that I began consistently taking time off from work for leisure and driving up and down California to various destinations for a 2 - 3 day stay. When I purchased my Model S in 2014, I promised myself that I would one day tour through the American landscape leveraging the Supercharger network for that cross-country, zero-emissions goodness. That day has finally arrived.
However, my schedule only permitted several weeks for such an endeavor. I decided on a drive to the mid-section of the country, starting from the San Francisco Bay Area and going through Nevada, Utah, Colorado, Kansas, Oklahoma, Texas, New Mexico, Arizona, back into Southern California, and finally returning home along the Pacific Ocean coastline. The goal was to experience the scale of the United States from the perspective of the open road. For most states it would be a single overnight stop and not much more. Spending the extra time to do some sight-seeing at each stop would enhance the trip quite a bit, but extend its length considerably and wasn't in the cards.
I've spent most of my life in California (a few years in Los Angeles, but mostly in the SF Bay Area). I grew up in Colorado as a child and there are a few years scattered elsewhere but for the most part my view of the world is through the lens of the Silicon Valley region. The main goal of this trip was to get a brief sense of American life outside of home base where Teslas in the Silicon Valley are commonplace and taken for granted.
When choosing hotels, I gave preferential treatment to properties with destination chargers as listed on the Tesla Supercharger map. If no practical option existed for a given location, I then looked for boutique properties (although almost everything seems to be owned by the Marriott, Hyatt, or Hilton these days). I used the Tesla Supercharger map as well as EV Trip Planner to estimate my routes, trip time, and charging needs.
05/12 (Reno, NV)
I launched on Mother's Day and headed towards Reno, Nevada with the odometer at 102,094 miles. My destination was the Whitney Peak Hotel several hours away requiring a single Supercharger stop at the Rocklin Tesla store.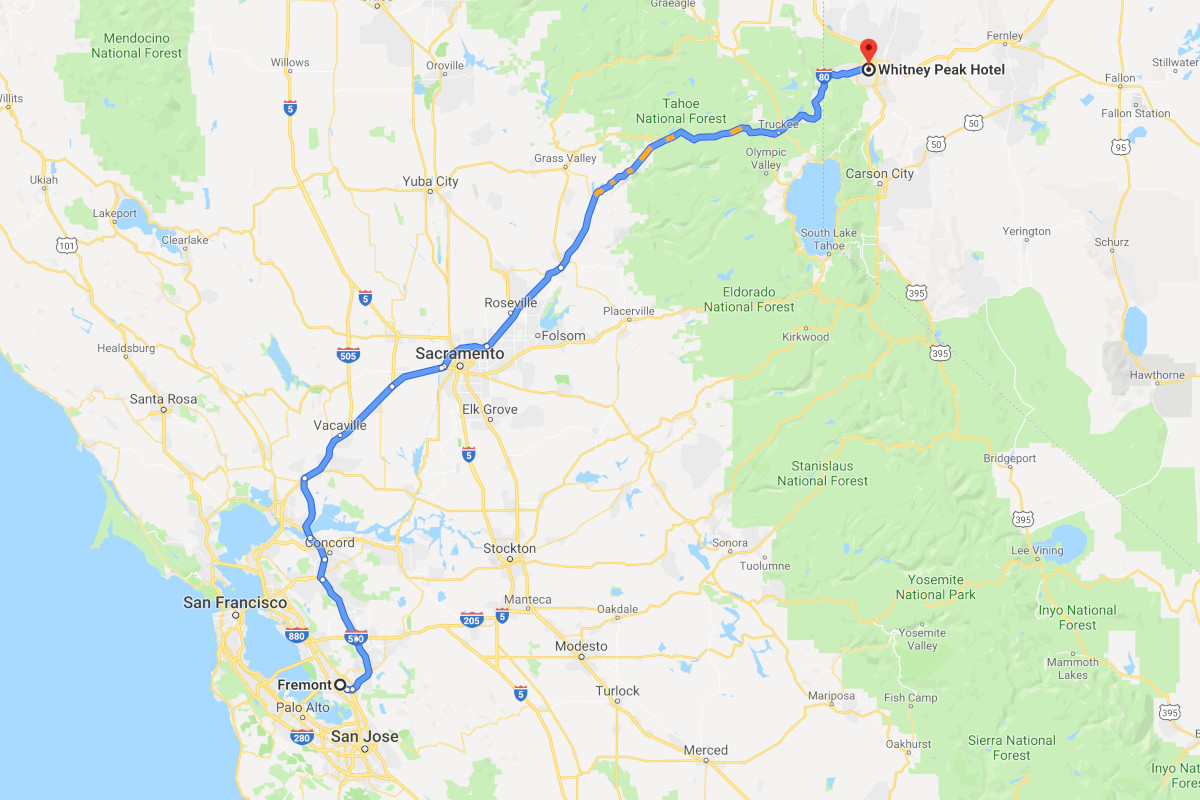 I don't get around to the Sacramento area very often so Rocklin was a new experience for me. I didn't see the store at first and went past it thinking the Superchargers were in the shopping area parking lot next door.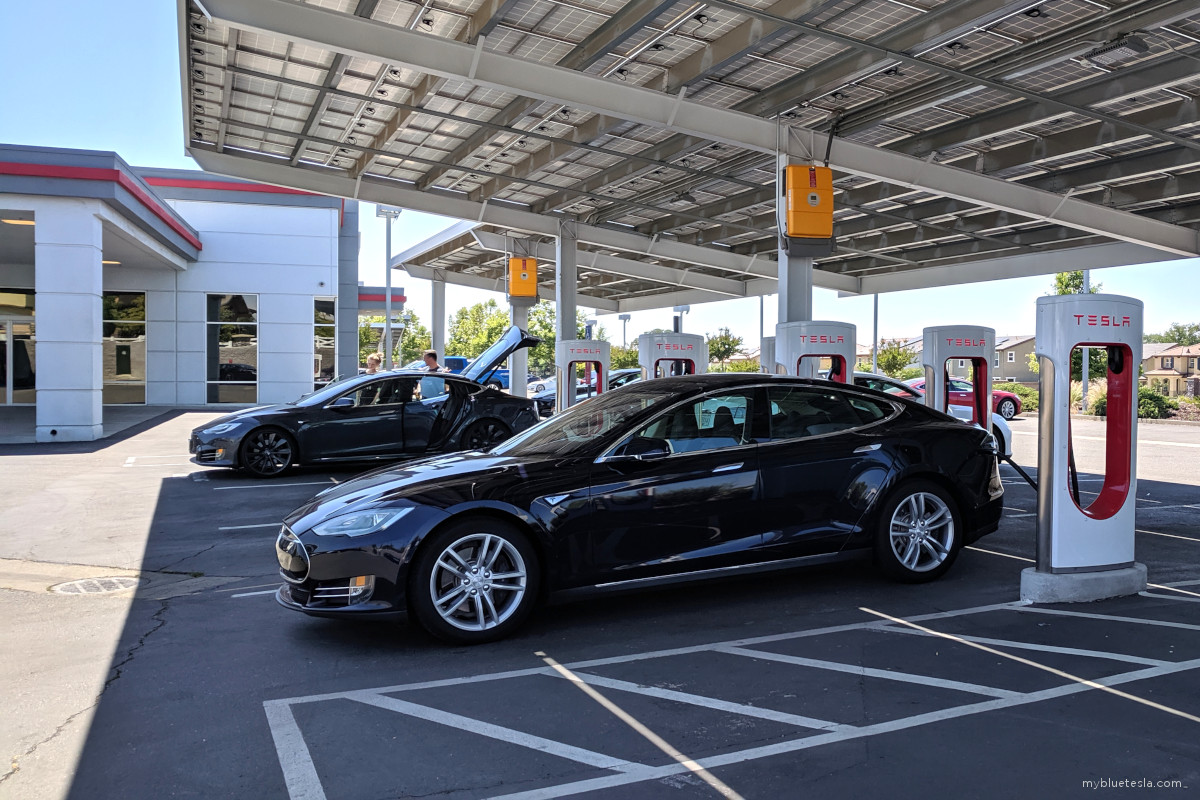 By the time I crossed into Nevada and arrived at the Whitney Peak, the front of the car was littered with bug debris. It's the nature of traveling through the Lake Tahoe area.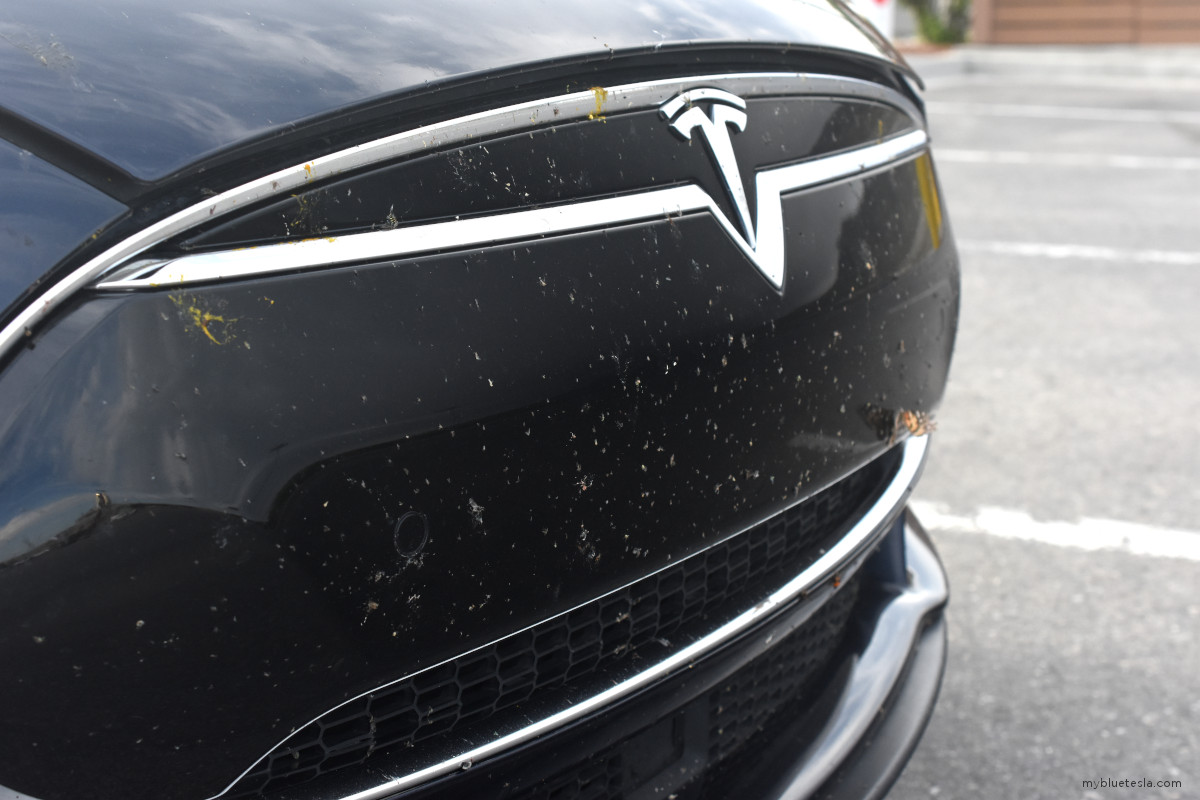 The Whitney Peak is located directly next to the big Reno entrance sign (the hotel isn't shown in the picture below).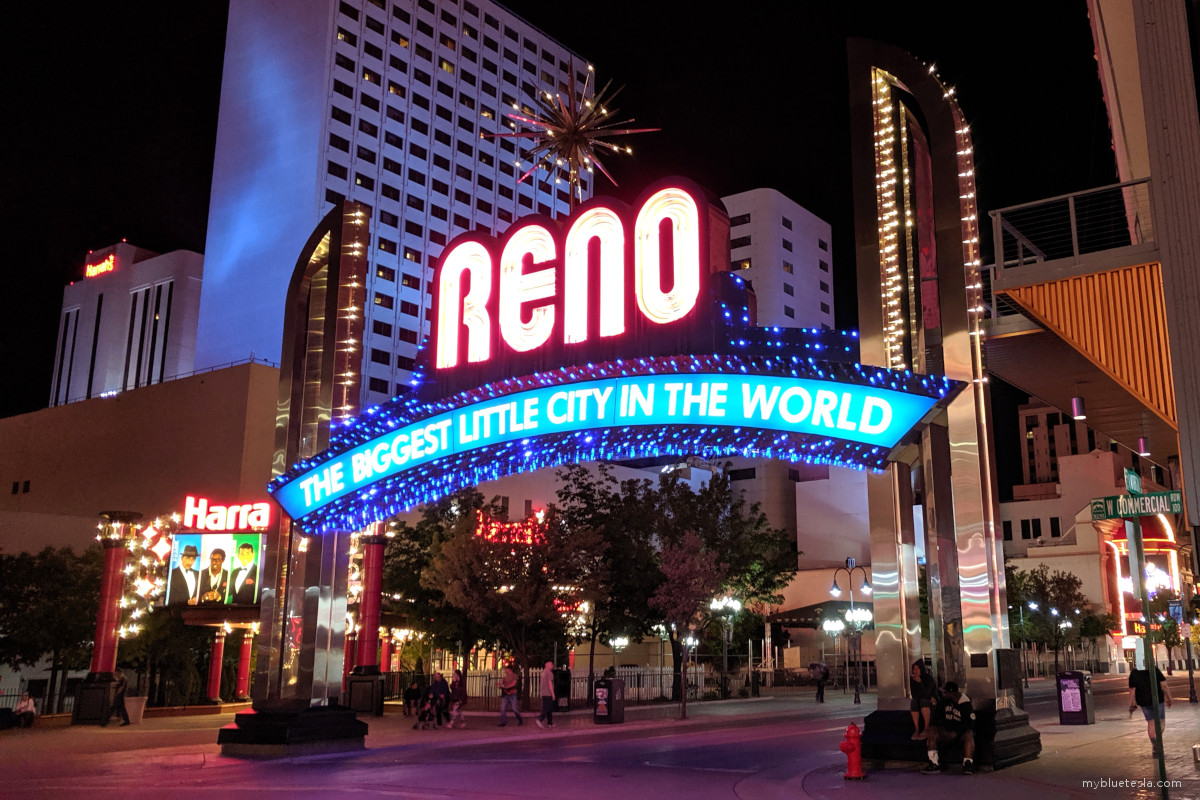 Tesla (and generic EV) charging spots are in a garage structure across the street (diagonally) from the hotel, second floor.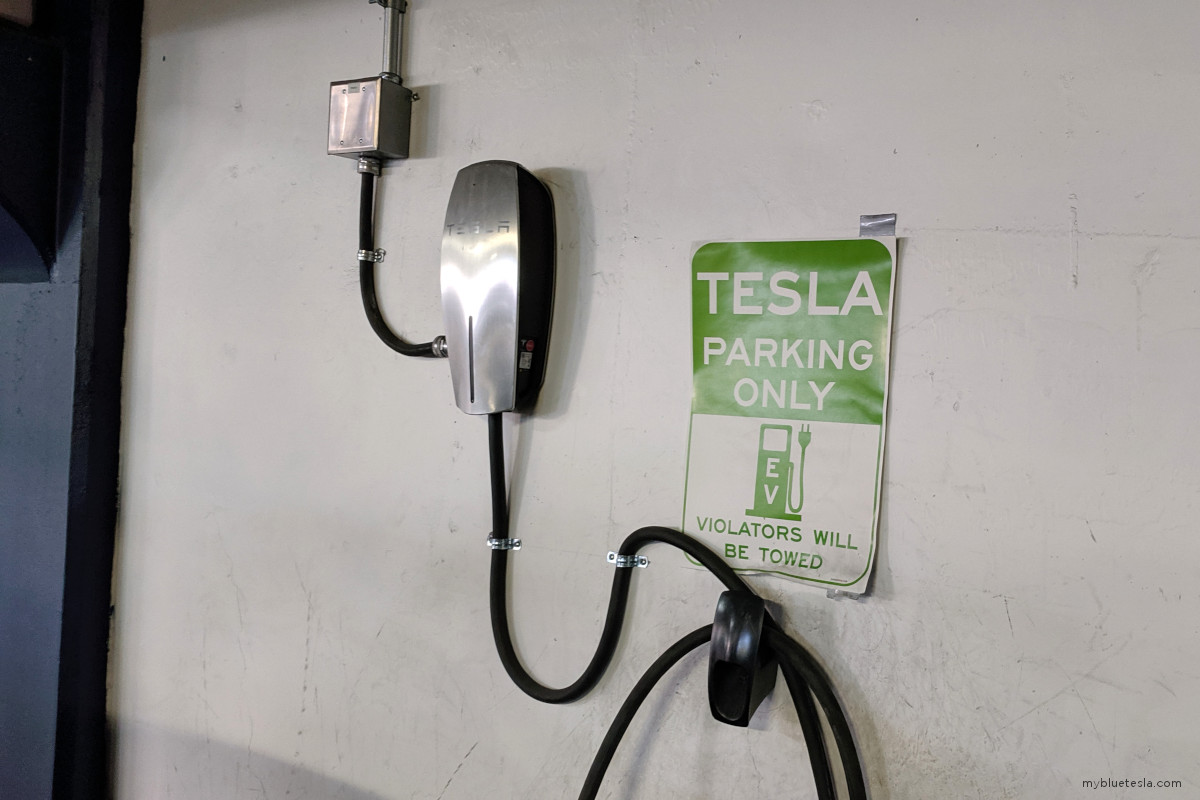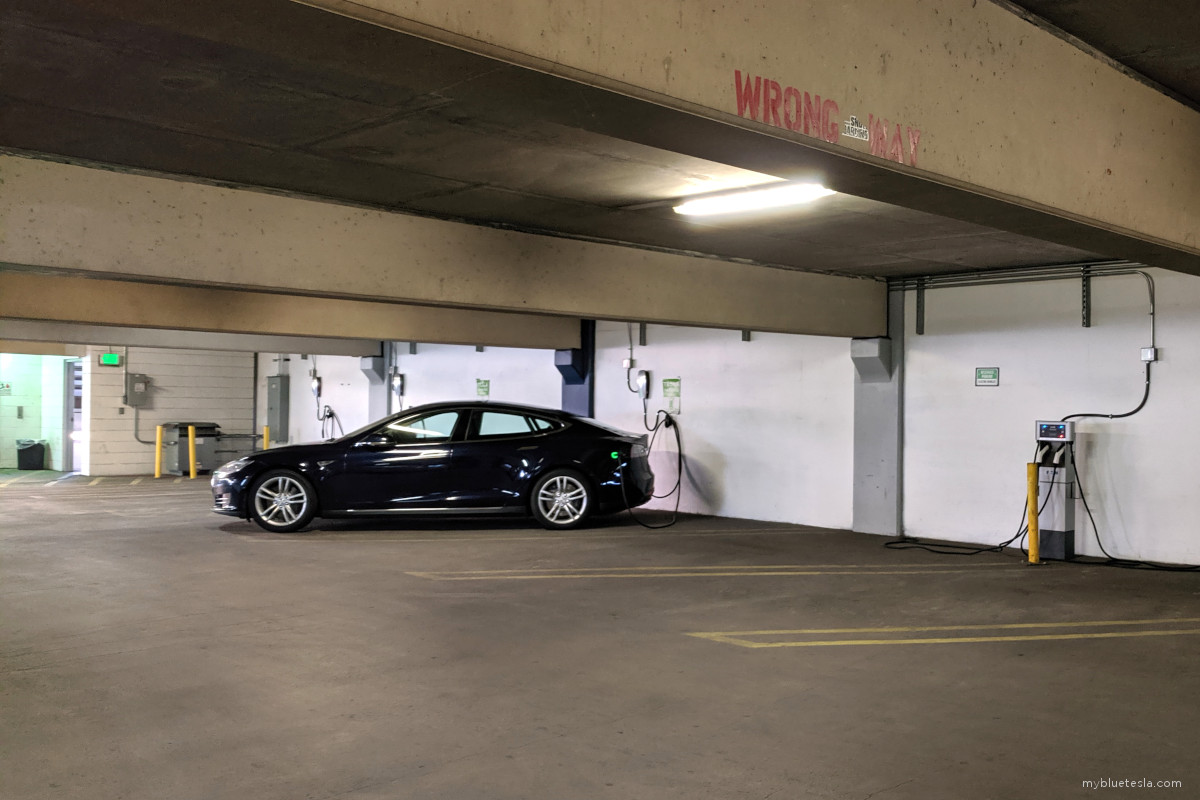 Meme'd door cards. A sign of the times.
At Roundabout Grill downstairs there was a sign set aside in a corner for a Tesla and Panasonic employee buffet. Those Gigafactory workers deserve a treat from time to time.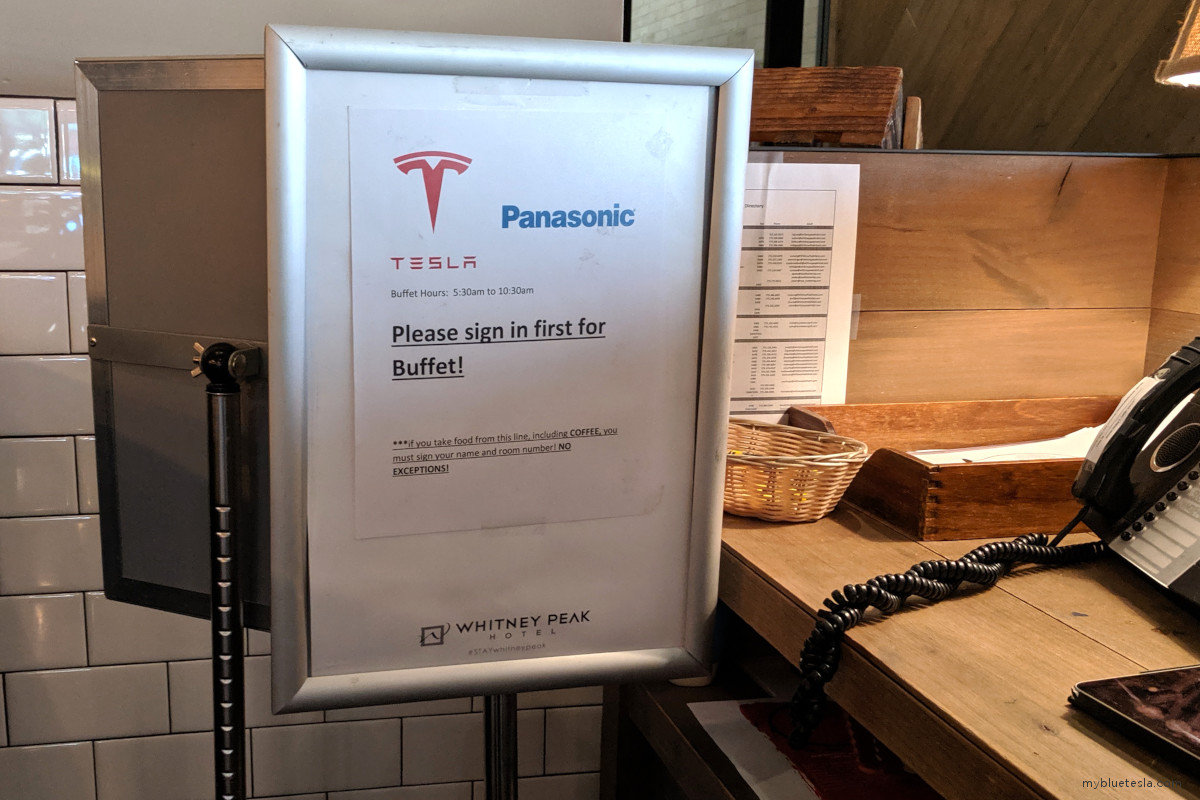 I didn't have any specific ambitions for Reno itself except to get a glimpse of the Gigafactory, but that could wait until the next day.
05/13 (Salt Lake City, UT)
Destination charging really helps cut travel times as it means you can skip Supercharging at the beginning of the day to get to the next stop. On the way to Utah I stopped by Sparks (exit 32, USA Parkway) where the Gigafactory lives (Electric Avenue ... of course) and got as far as the factory entry checkpoint where I had to turn around since the GF is not open to the public. That said, I got a quick look at part of it and it really is a large, ginormous facility in the distance that could seemingly house a Godzilla doomsday weapon. Either that or Elon's building a secret massive shipyard for SpaceX ... a first iteration of the Utopia Planitia Fleet Yards.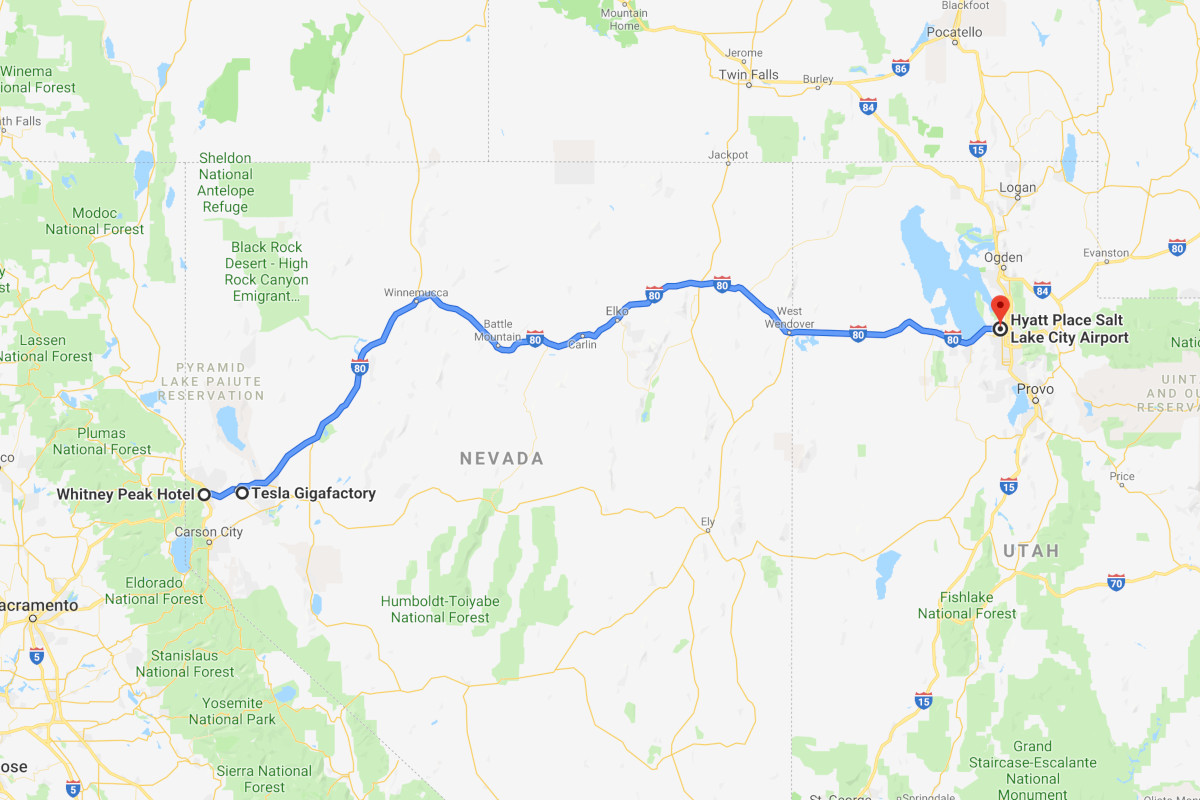 It was then onward to Salt Lake City.
It's a long drive through Nevada where the majority of stretches have 80mph speed limits which reduces energy efficiency, but the navigation estimates always seem to work out for battery SoC upon arrival at the next Supercharger. If the initial estimated SoC when arriving at the next charger is 17%, I usually ended up with a bit more when going the posted speed limits.
Winnemucca was my first Supercharger stop for the day, a small setup next to a Chevron and not too much exciting around. Pete's Gambling Hall casino is next door with a Dos Amigos Mexican restaurant inside, but I didn't partake in a meal here.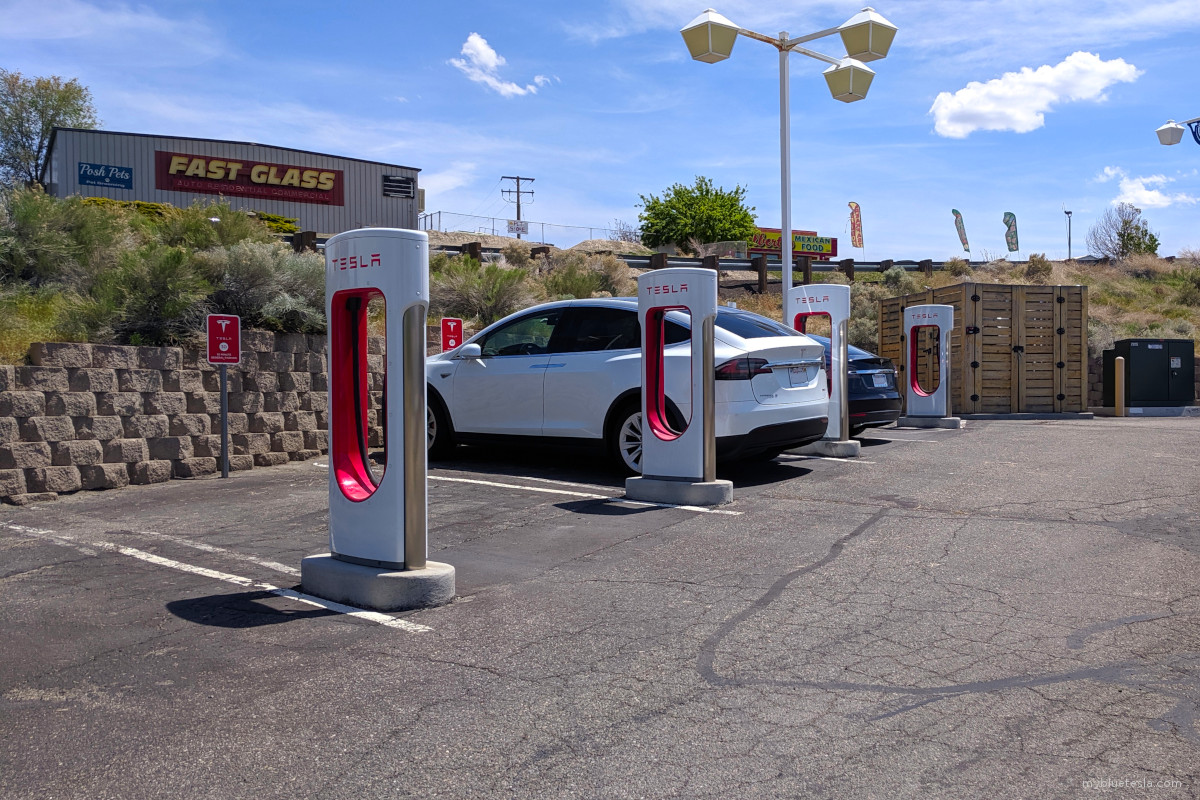 It was here that my front passenger-side door handle began having problems. With the car unlocked and the handle extended outwards, tugging on it didn't open the door most of the times. Fortunately I didn't have any passengers on this trip. Currently on version 12.1.1, but I doubt the software has anything to do with it. This particular handle has never been replaced and since I'm way out of warranty, it's time to consider whether I want to attempt a DIY fix or just pay for a Tesla technician's time.
Along the drive through Nevada on Interstate 80 it was nice to see the occasional flock of cows on hills here and there without noticeable confinement. I usually don't see cows roaming freely like that in California. The more east I drove, the more green the Nevada landscape became.
The Elko Supercharger is located between a Denny's and a Shilo Inn. Not too many immediate dining options except for chain restaurants, although the Matties Taphouse and Grill seemed interesting at first glance. There didn't seem to be any customers when I peeked inside so I decided to pass. As a Tesla traveler, the quality of life varies greatly at different Supercharger locations based on nearby amenities.
Later on I made it to the West Wendover Supercharger as my last charging stop for the day, right outside of the Utah state line. I met a couple of other Tesla owners who happened to be Facebook employees in the Bay Area ... and live relatively close to me in Fremont. Small world. If I recall, one had a blue Model S P90D and the other a white Model 3 Performance.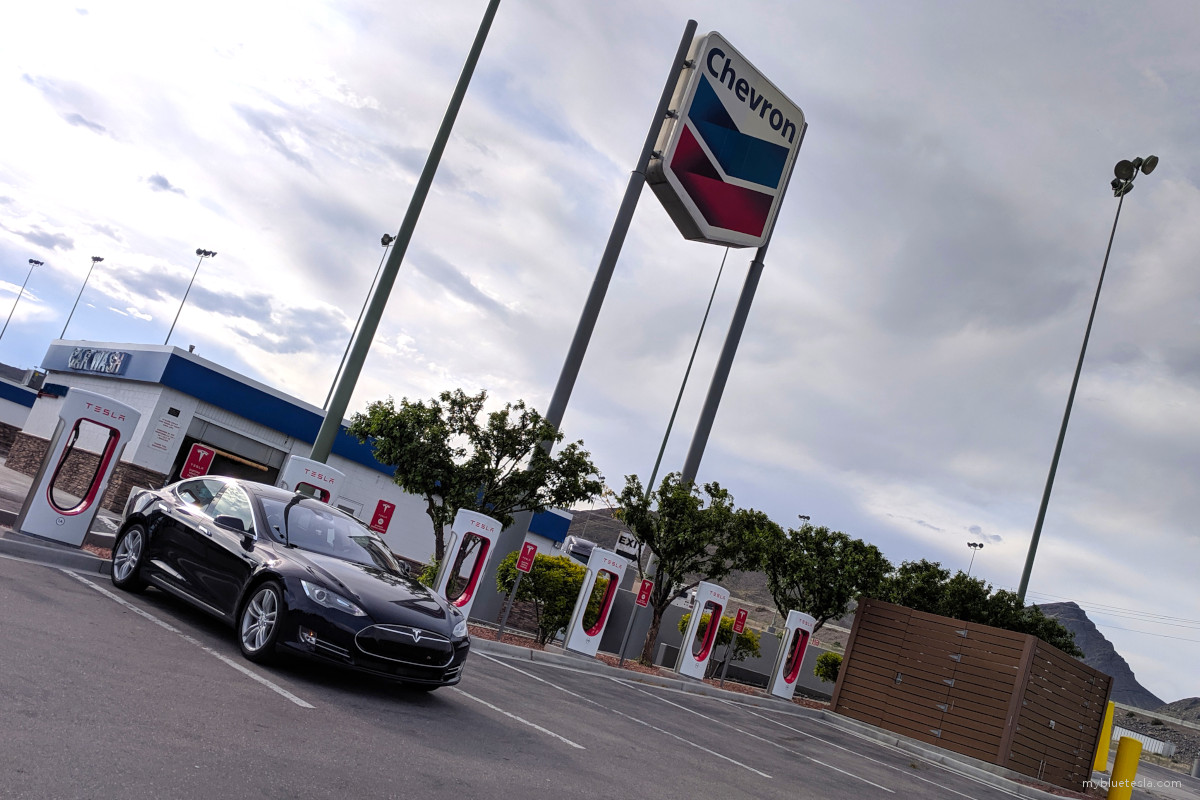 The Bonneville Salt Flats just west of Salt Lake City are almost unreal to look at as you're passing by. I wanted to stop to take pictures which were more carefully composed, but I was near the end of a long drive from Reno and a comfortable hotel room and hot shower were about an hour away. When you've been sitting in a moving vehicle all day, there are priorities.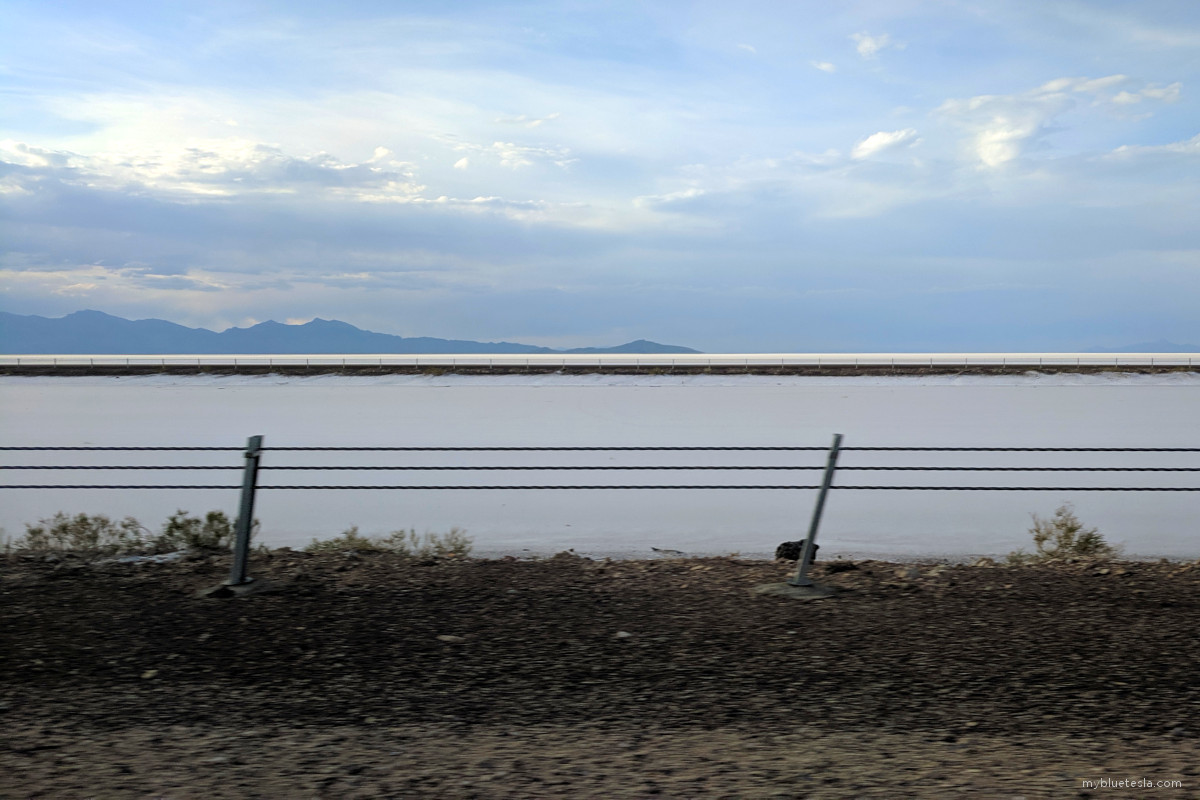 It's wise to bring a spray bottle of soap/cleaner (or at least water) to clean off road bug slaughter before the sun bakes the acidic chemicals within the bug guts into the clearcoat. Tesla's Bioweapon Defense Mode should be expanded to include frontal protection against these insectoid Tie Fighters. Using laser beams. Or a Not A Flamethrower with long reach and sniper precision. I hope you're listening, Elon. Unfortunately my car is too old to have BDM to begin with.
Otherwise the inevitable collision course ensues.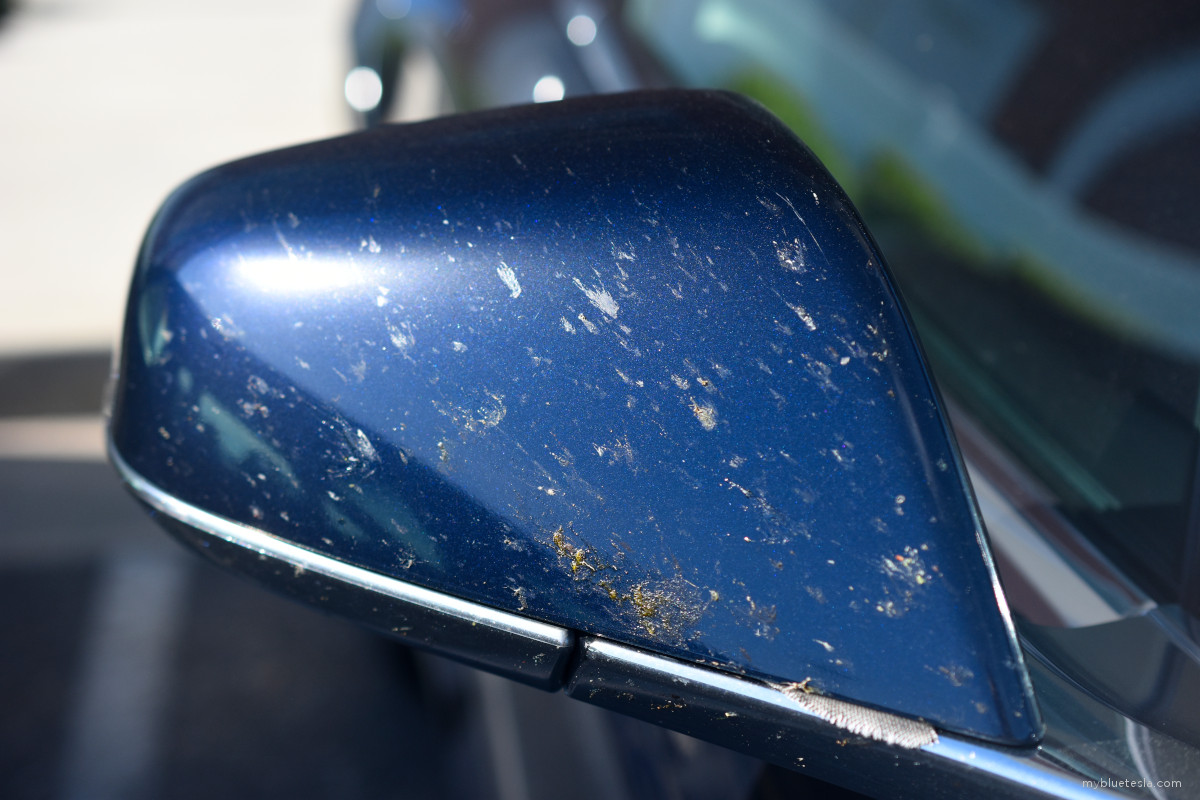 I finally made it to the Hyatt Place Salt Lake City Airport rather late in the evening (there's a timezone change going into Utah) after a 9 hour drive. The destination chargers were in the back along with other EV charging spots. After getting dinner at a Holiday Inn nearby (since Hyatt's on-site offering was already closed for the evening), I plugged in and proceeded to recharge myself in the hotel room.
The next day would be a drive to Aspen, Colorado ... a place I haven't seen since the 1980s.
Next: Salt Lake City -> Aspen -> Lone Tree -> Colorado Springs.