Salt Lake City -> Aspen -> Lone Tree -> Colorado Springs.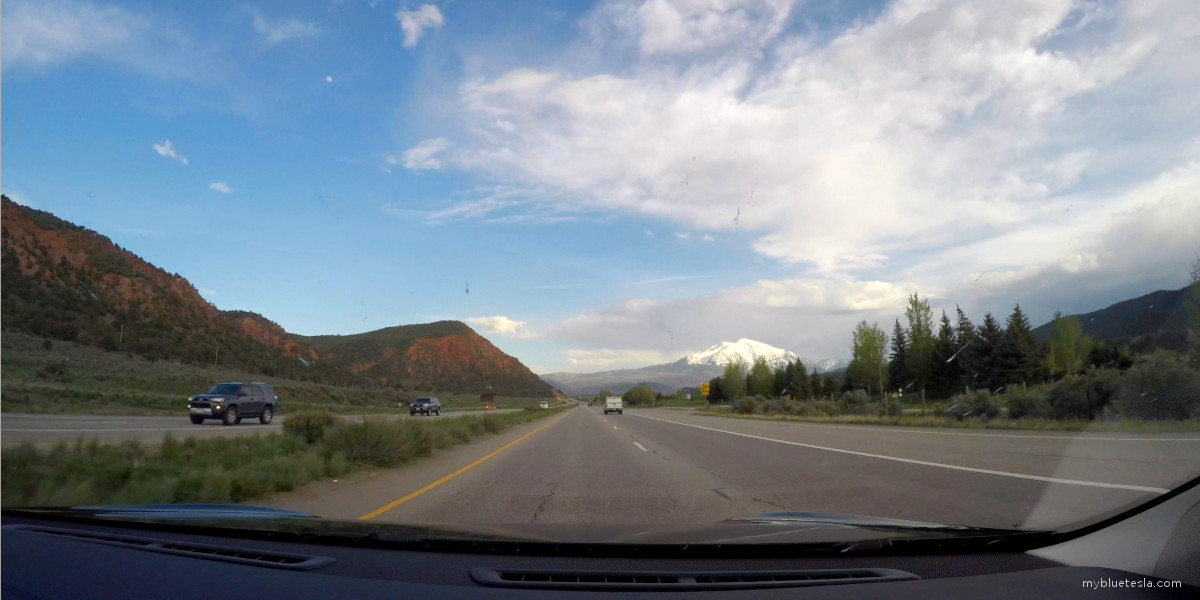 5/14 (Aspen, CO)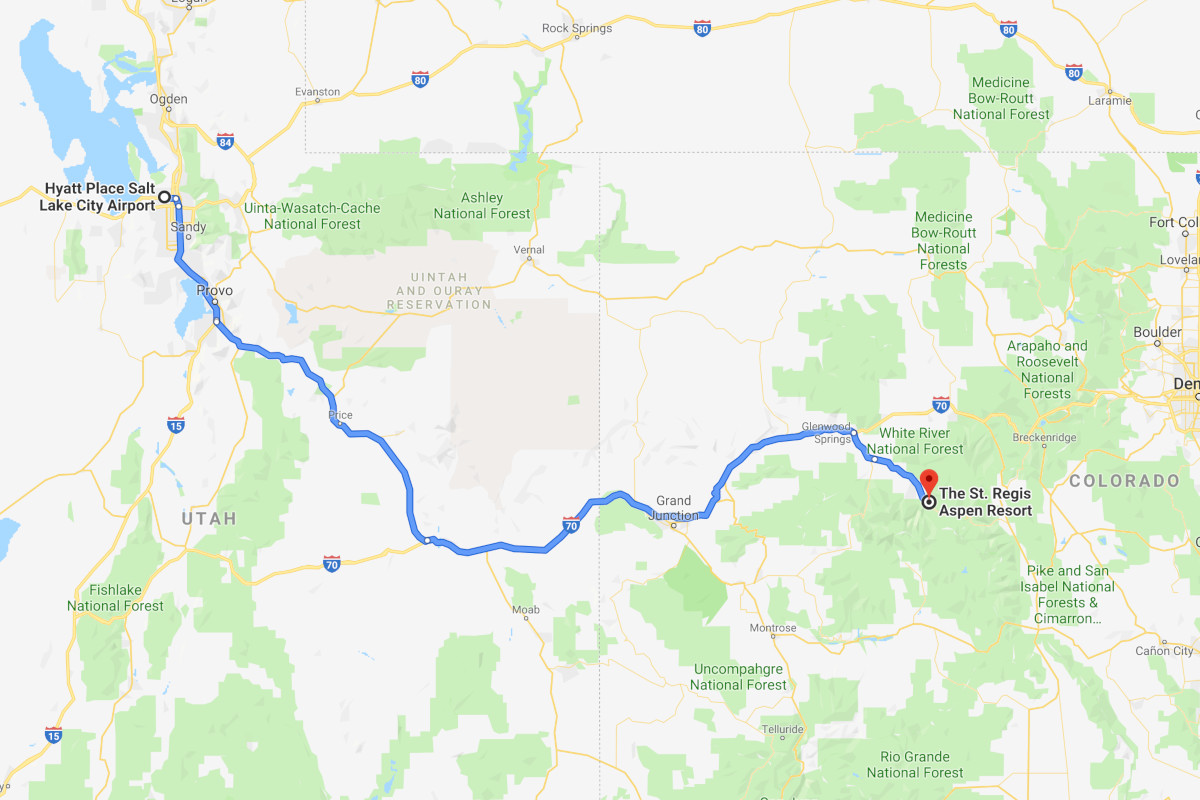 While driving out of Salt Lake City, I had a phantom braking event. These are extremely rare for me, but it happened with no car ahead in the lane that I could see. There weren't many cars close by and the alarm came out of nowhere. It caused the driver behind me to noticeably brake as well, although I pushed the accelerator to minimize the panic-braking effect.
Utah has photogenic views virtually everywhere while on the road with occasional snow on mountain peaks this time of the year. It's a lot of natural beauty to admire and makes the lengthy driving time worthwhile. Alas, there was no time to stop and take pictures and given what I've heard about Colorado weather even during May where snowfall could still be a thing, I didn't want to take chances and brought snow chains. Thankfully, they weren't needed.
The first charging stop for the day was at Green River, several hours out from Salt Lake City. This is sort of a lonely outpost located in the parking lot of the John Wesley Powell River History Museum.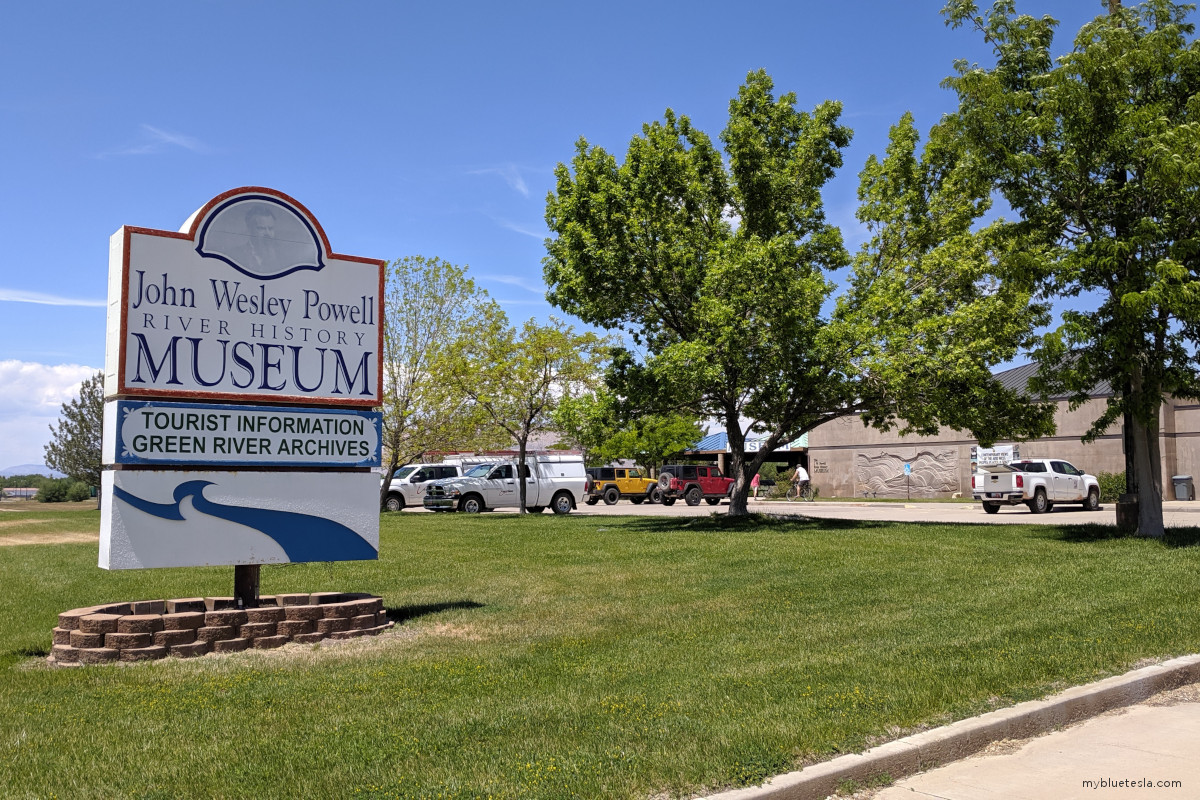 The setup here is a small 4-stall arrangement. At first it wasn't charging and I didn't catch this for almost half an hour after I plugged in, but it worked fine after reseating the connector. The day's trip time got extended because of this and it's a lesson learned to always check that charging has begun before walking off to do other things. Across the street is the Tamarisk Restaurant which I found to be okay (my order seemed like reheated frozen food). I'm sure they get a lot Tesla owners there as it's the only option within immediate across-the-street walking distance. The Green River itself was quite brownish when I stopped by.
As the extremely-scenic drive from Utah into Colorado progressed, the landscape became more lush with green. There's a certain tranquility as you speed past the troves of trees. If you enjoy watching car review videos where the drivers are amidst beautiful, wide-open mountains and curved roads, this is a good place to be.
My second and last Supercharger stop for the day was in Grand Junction, Colorado. It was somewhat difficult to find the charging stalls since they're located in the parking lot of a mall but hidden behind the wooden generator shed. This was one of several occasions where I really wished the onboard navigation would be more specific, like "Hey - it's behind Taco Bell facing the mall!" I wasn't the only person who arrived at this Supercharger and mentioned the exact same thing.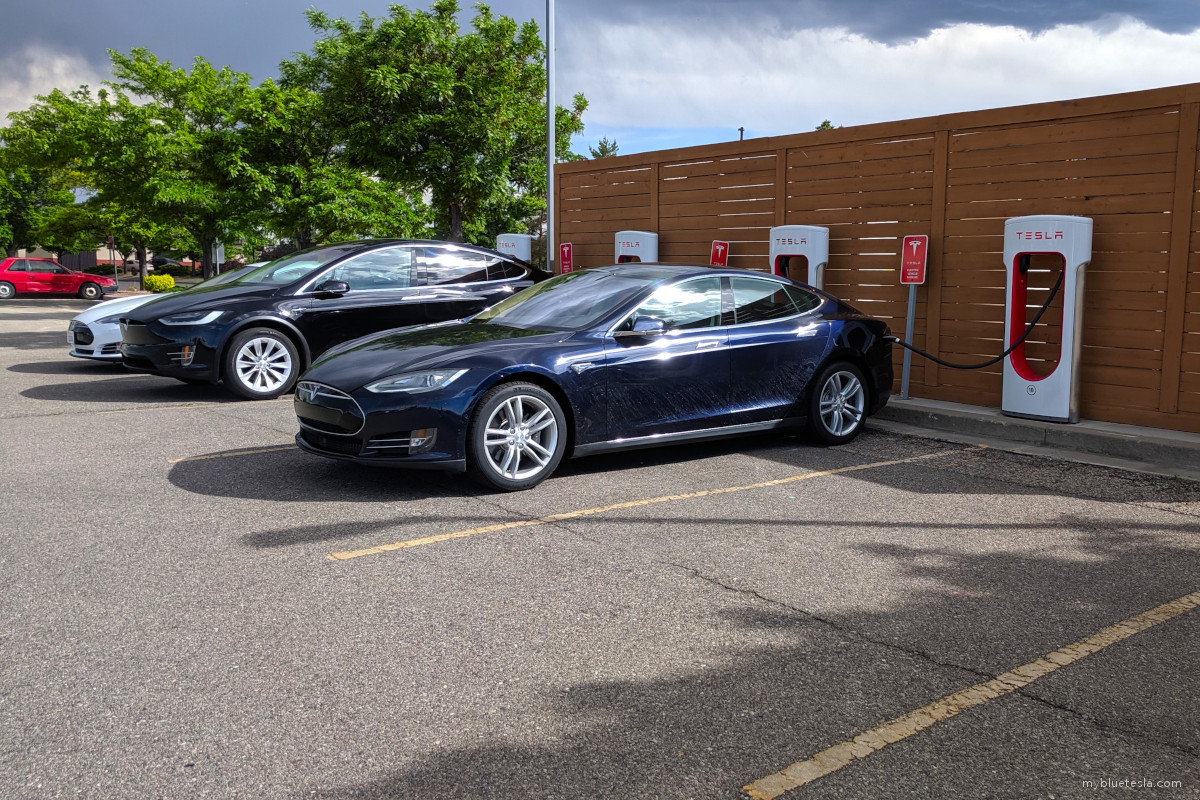 There were some issues at this location. Stalls 3A, 1B, 2B, and 3B were non-functioning and these seemingly minor problems can hinder travel times, especially if it starts getting busy with other Tesla owners lining up. I met a new Model 3 owner (who used to live in East Palo Alto, California as a child but currently lives in Denver; interesting coincidence since I grew up in Denver but ended up across the Bay from East Palo Alto) and had a nice long chat about Tesla ownership. I also met an older couple from Carlsbad, California (near San Diego) who were driving to Colordo Springs which is actually on my road trip agenda as well. They had a white Autopilot V1 Model S with the solid color roof option (which Tesla discontinued quite a long time ago).
A couple of hours later I finally arrived in Aspen. The small airport in Aspen has a Supercharger next to it but I was booked at the St. Regis about 10 minutes away towards the downtown area, one of the few destination charging locations around. I haven't visited Aspen since the 80s and it's interesting to note that it's pretty dead this time of the year since ski season is over. Many shops are closed and the concierge can make recommendations based on what's open.
On a side note, Aspen seems to be a place where there are more Range Rovers and Jeeps than Teslas. Your Model X probably won't impress anyone here, even though it sports zero emissions which seems quite compatible with the large assortment of Aspen trees everywhere.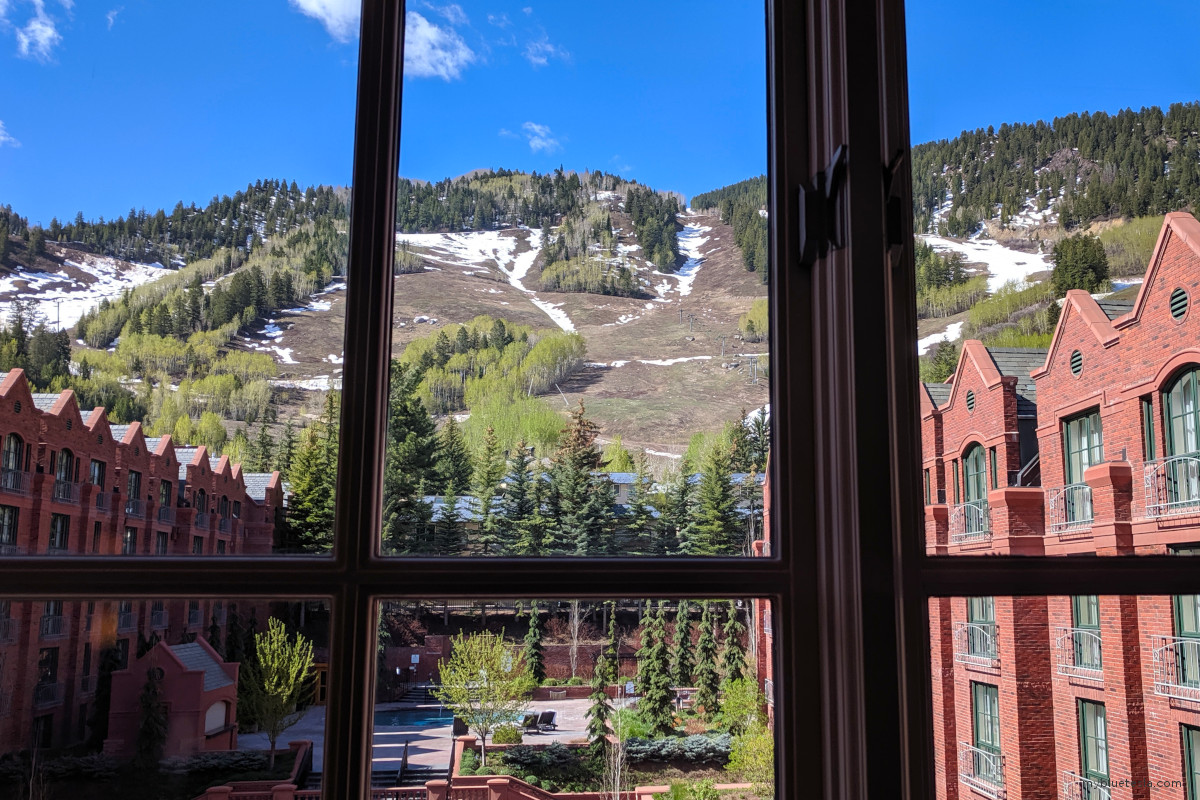 St. Regis is an upscale, expensive accommodation, not for the budget-conscious traveler looking for $100 - $200/night. While the service is impeccably attentive and polite, there's a $50 valet service fee. Although I'm not a fan of valet in general, space can be limited in a place like Aspen so it's understandable. Interestingly, the valet folks mentioned they had never seen a Tesla before which is rather surprising considering they have a Wall Connector here. Either the staff is new or the Range Rover prestige badge is the gold standard in a place like this. And yes, I did enable Valet Mode. I'd say that aesthetically, the St. Regis is like old money with modern touches, reminding me of the Mercedes S Class.
And since I was in Aspen, I decided to try Steakhouse No. 316 down the street, recommended by the concierge (Acquolina was the other option if I wanted Italian). Pricey, but very good. Sometimes it's okay to treat yourself and worry about the sticker shock later.
5/15 (Lone Tree, CO)
After a simple breakfast at Poppycocks Cafe, I wandered around Aspen for a short while to joggle old childhood memories, then decided it was time to move on.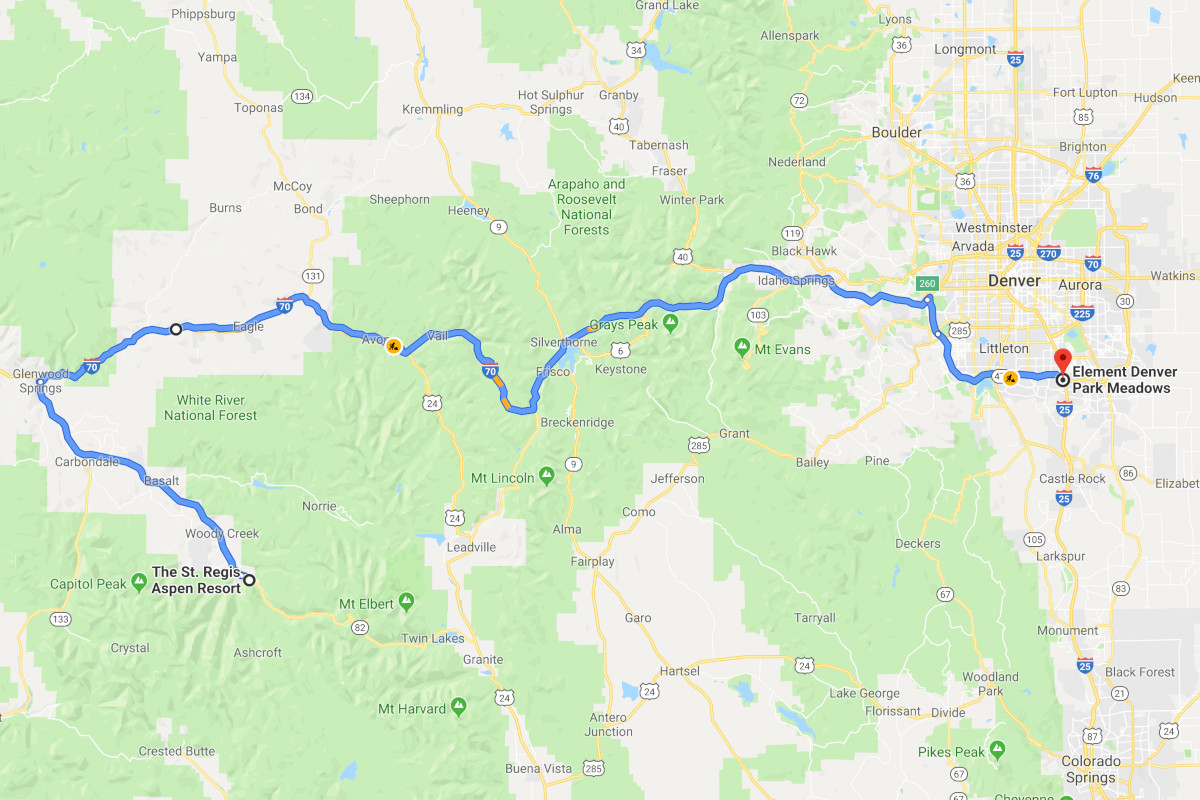 Driving from Aspen to Lone Tree (next to Denver) on a single charge is easily done if you start with around 85 - 95%. Charging at St. Regis topped me to 95% overnight (the max level I had it set to). That's 3.5 hours driving north from Aspen, turning onto Interstate 70 at Glenwood Springs, and onward over the mountains to Denver.
Similar to Utah, the Colorado Rockies provide larger-than-life, breath-taking scenery in its own unique way. At this time of the year there are still some snow-covered peaks although the white starts fading as you get closer to Denver. A variety of towns are visible next to the freeway ranging from pretty-aged to newly-developed.
The destination for the day was Element by Westin and this was one of the relatively shorter drives of the road trip between point A and B. Having been a Denver-area resident decades ago, Lone Tree wasn't a place I was familiar with. It's a pretty happening place from what I can tell with lots of shopping areas and nice housing development. There are 3 Tesla Wall Connectors behind Element along with an EnviroSpark station for non-Tesla EVs.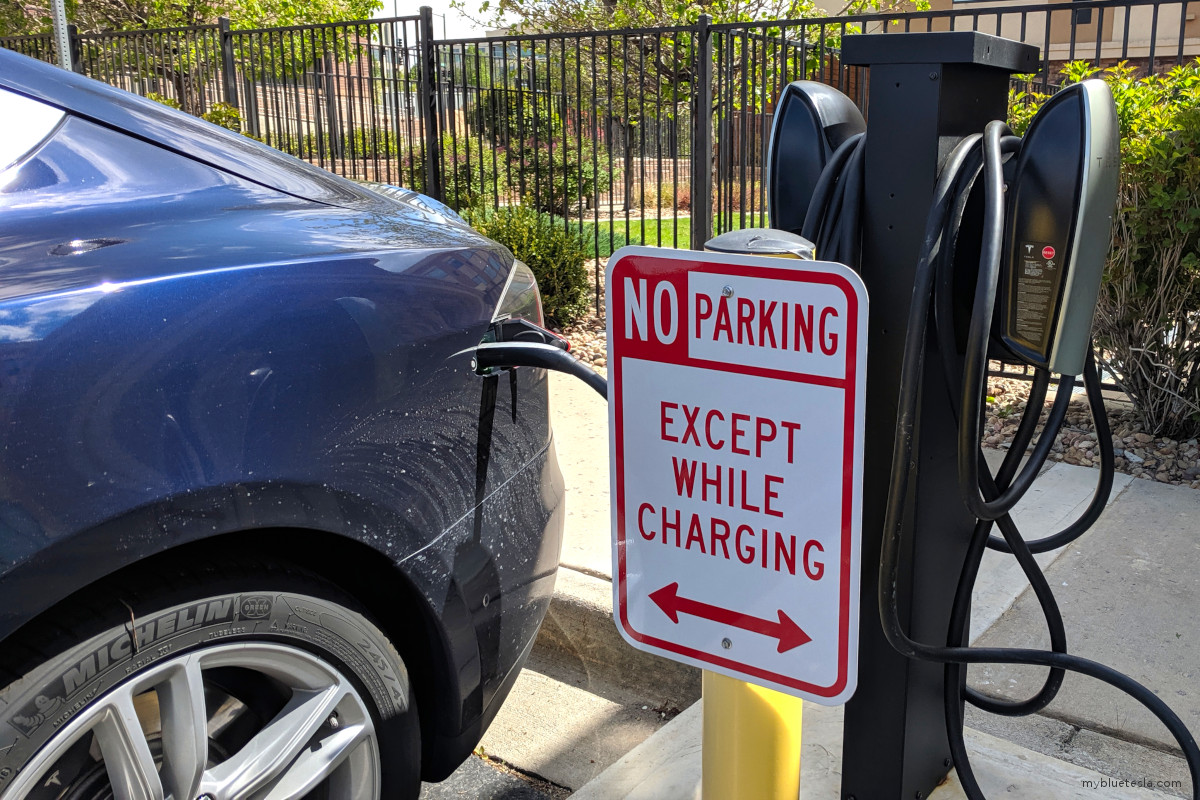 If the St. Regis was a Mercedes S Class, then Element feels like a Model S due to its modern vibe, meant less for upscale/classiness and more tech-centric.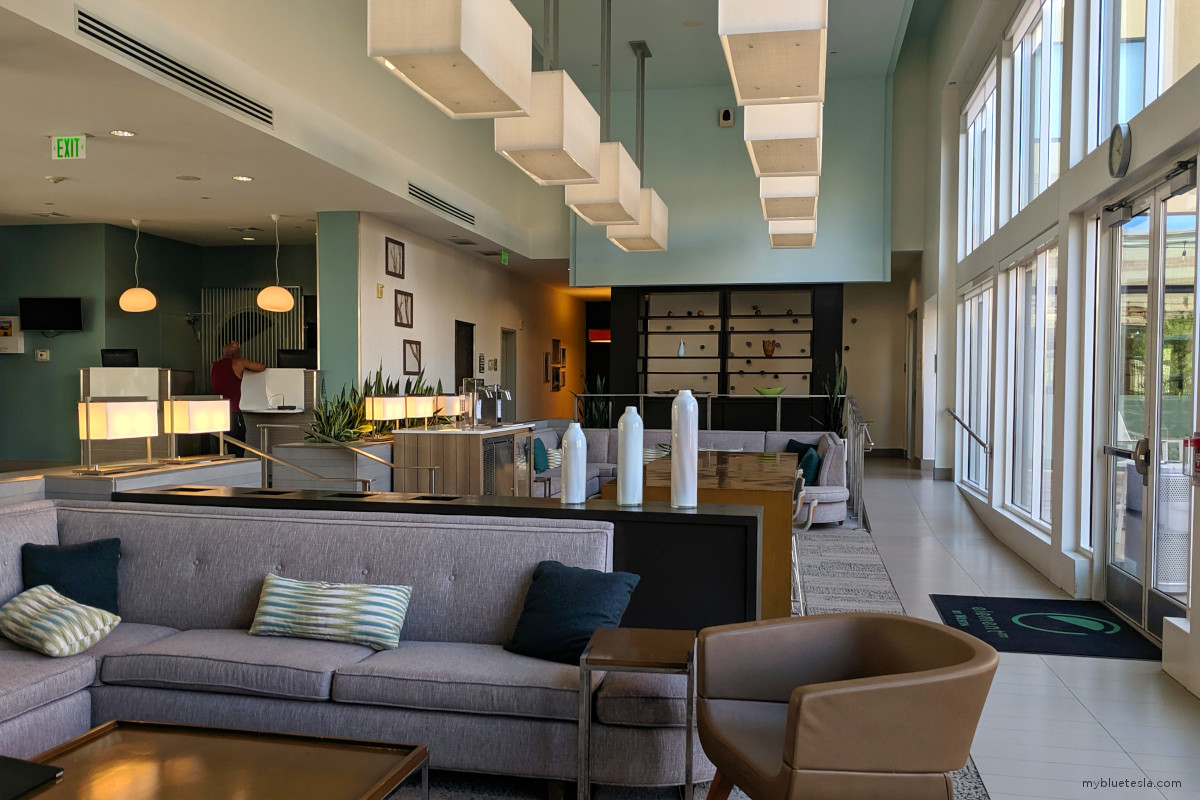 I took the opportunity to find a local self-service wash bay (County Line Car Wash) and hosed down the bug slaughter on the front end of the car. Even though there are more insects to slay down the road, it's not good to have this stuff sticking to the paint for too long under the hot sun. I decided to spend the evening resting and catching up on sleep. Driving fatigue can take its toll.
5/16 (Colorado Springs, CO)
One of my objectives for this trip was to visit my old childhood neighborhood in Arvada, Colorado. I took a short drive north and found the house that I grew up in. While many areas have changed quite a bit in recent decades, my old block looks nearly identical to my old photos.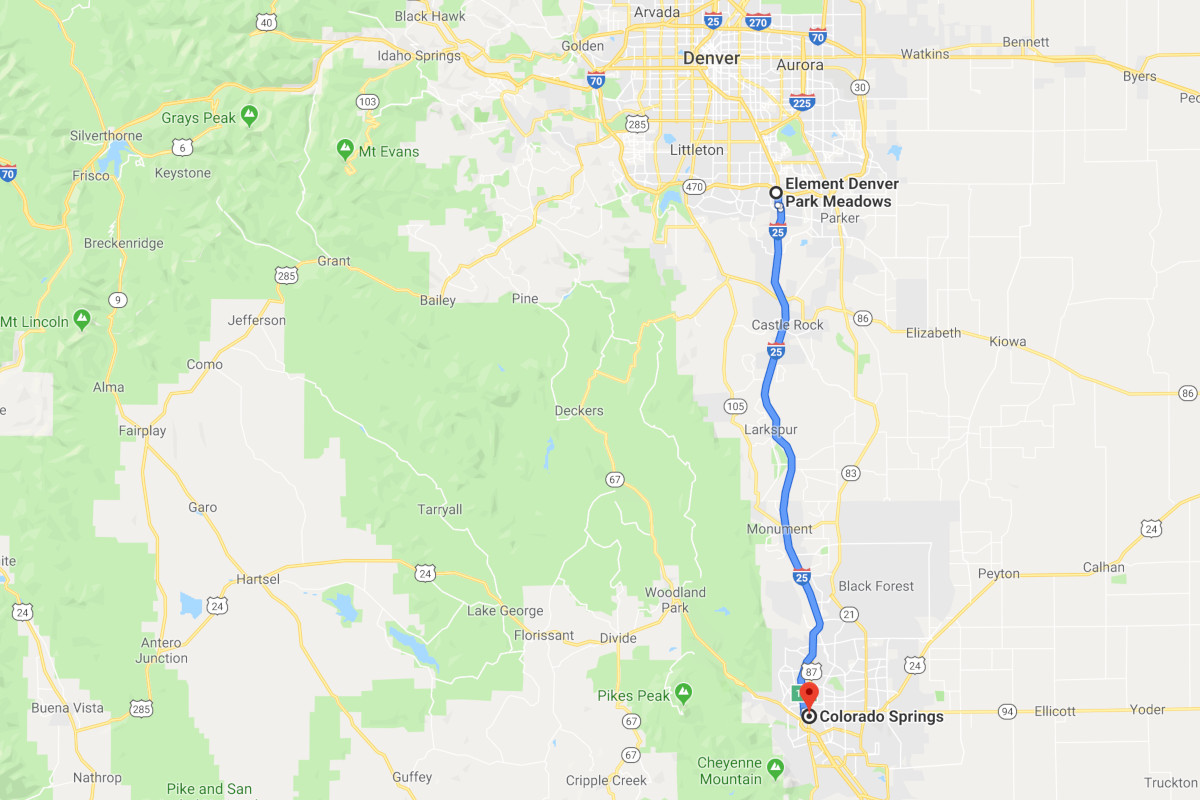 My next stop was the Colorado Springs area an hour south of Denver. I stayed at a friend's house who I hadn't seen in years. Interestingly, the Colorado Springs Supercharger is in a parking garage right next to his office. It costs $1/hour to enter the garage, so charging isn't completely free here. I somewhat wish I could have planned this trip to stay an extra day so I could hang out with him, but another important (and big) destination awaited ahead: Texas.
But in order to get there, I would have to brave Tornado Alley.
Next: Colorado Springs -> Wichita -> Dallas -> Houston -> Austin.