It's only been 72 months since taking delivery.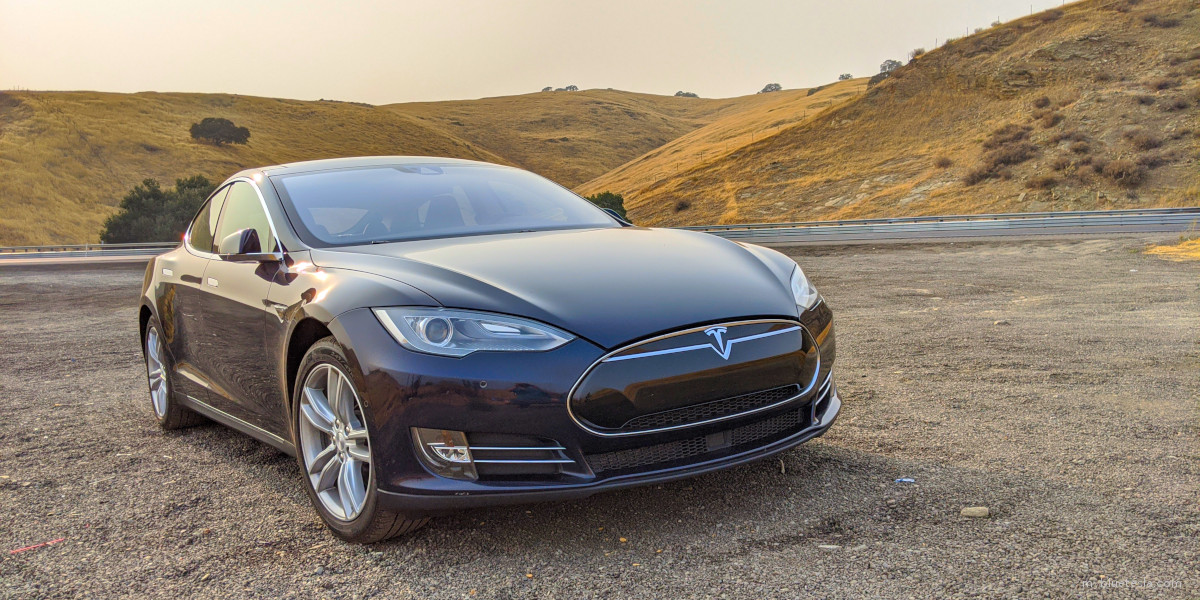 The future remains bright at 122,181 miles, even when the California wildfires cast hazy skies and create an unreal pink orb hovering on the horizon.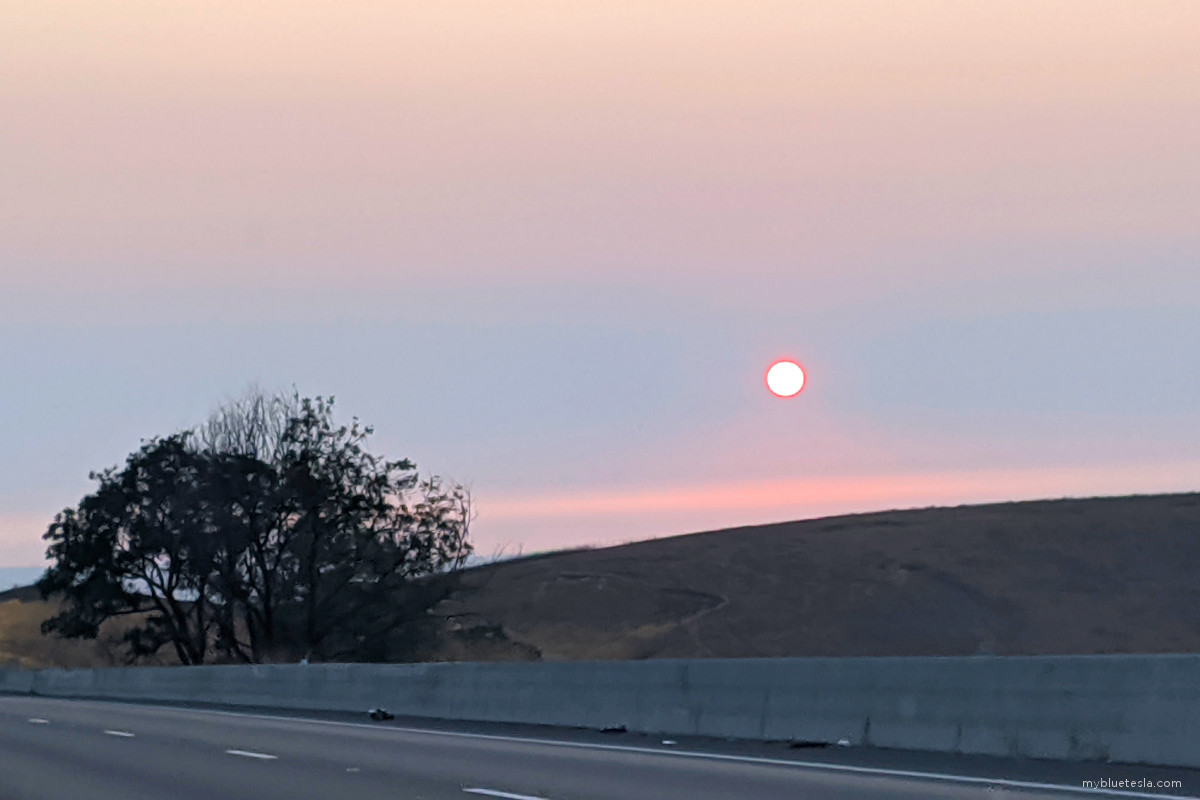 It's hard to believe that 6 years ago I took delivery of a Car of The Future, yet my enthusiasm and joy continues. While the new car smell has long faded, the ownership journey remains a highlight with evolving software, ever-expanding Supercharger network, and the increasing assurance that Tesla as a company won't be out of business anytime soon (especially given the strong appreciation in TSLA in recent months). 2020 has been expensive with repair costs, however.
The worldwide pandemic has reduced my driving habits for now, but on the other hand there's less wear and tear attributed to commuting that makes up for it. Road trips have been limited to short-range, around-my-region affairs. Not exactly driving adventures but maintaining shelter-in-place bears a psychological toll and I'll take a trip around the (regional) block as a consolation. Better than nothing.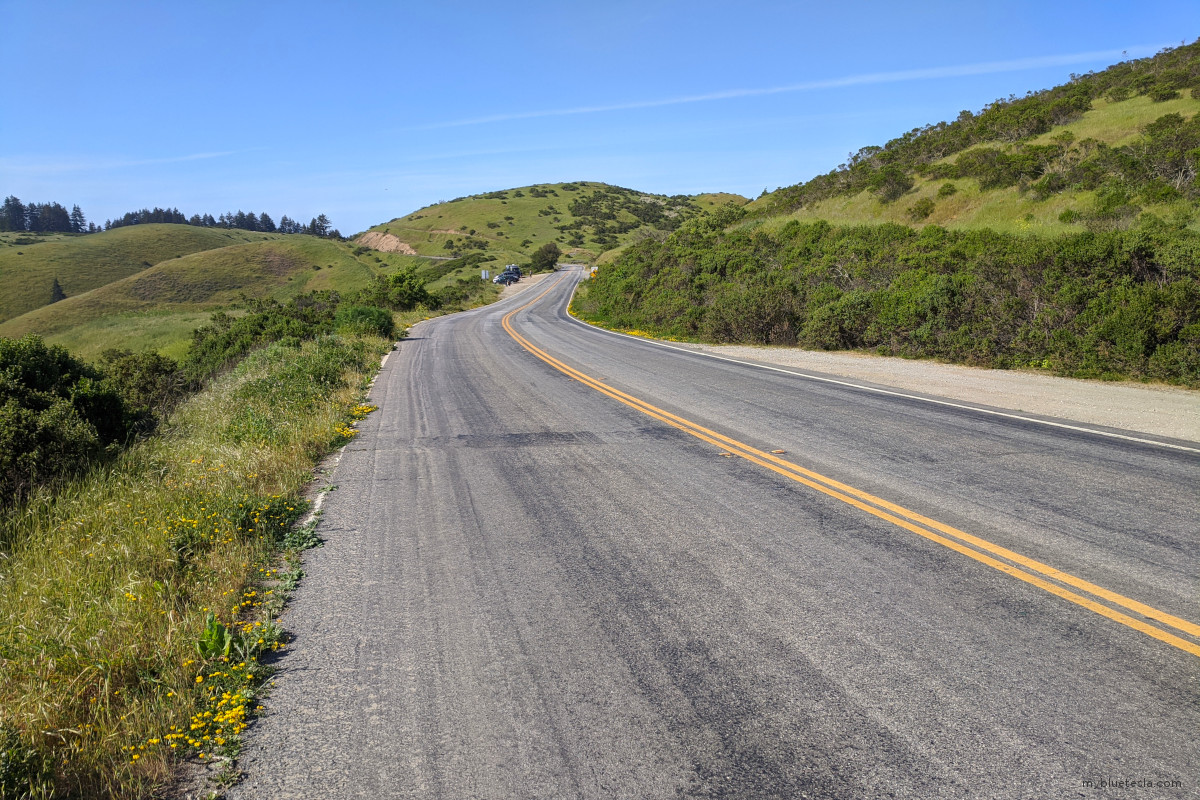 A scene on the way back from Pinnacles National Park back in July before the California fire season started.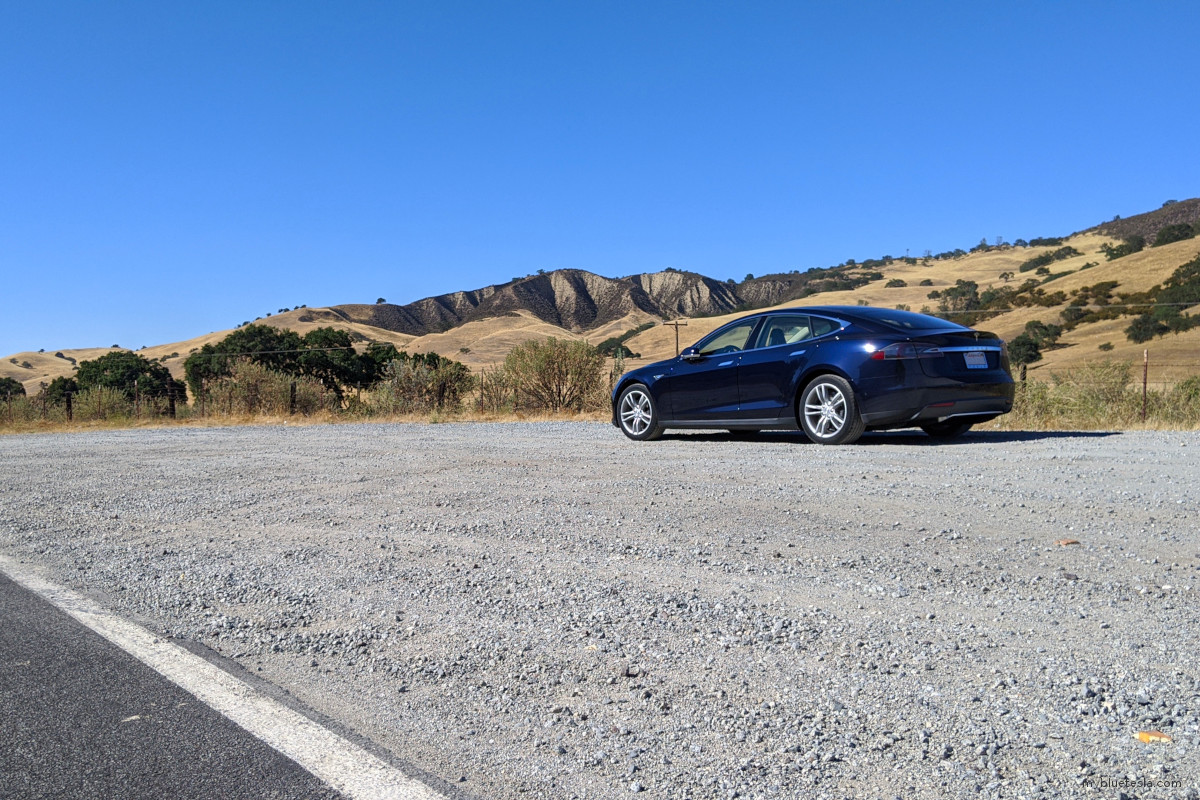 With the introduction of the Model 3 and Y, I've been watching on the sidelines with envy as more of these populate the roads. They've become extremely common in my area of Fremont. As they pass by I'm conscious of the fact that every one of these is a cheaper vehicle ... yet they accelerate quicker, are much more energy-efficient, 250 kW Supercharging-capable, able to utilize their array of cameras to do things my AP1 hardware can only dream of, and on and on. There have been more than several occasions where I've entertained the idea of "upgrading."
Yet I still look at my S85 and all of its shortcomings with fondness. I took a chance on Tesla when they weren't exactly a household name and the lingering question of whether they'd go bankrupt was still spoken daily. When I confirmed my order back in July of 2014, TSLA was trading around $44 (this is pre-split). If I could only go back in time and convince my younger self to buy a ton of shares. The original blue metallic option is long gone, practically every Tesla sold now is dual-motor, and in a decade my car will no doubt be a relic of its days when all new vehicles will have 1200 HP and 1000 miles of range on a single 5-minute charge.
But I hope to still be driving it ... unless Elon comes out with a VTOL (like the kind sitting on the flight deck of the USS Midway in San Diego) in which case maybe I'll update my commuter.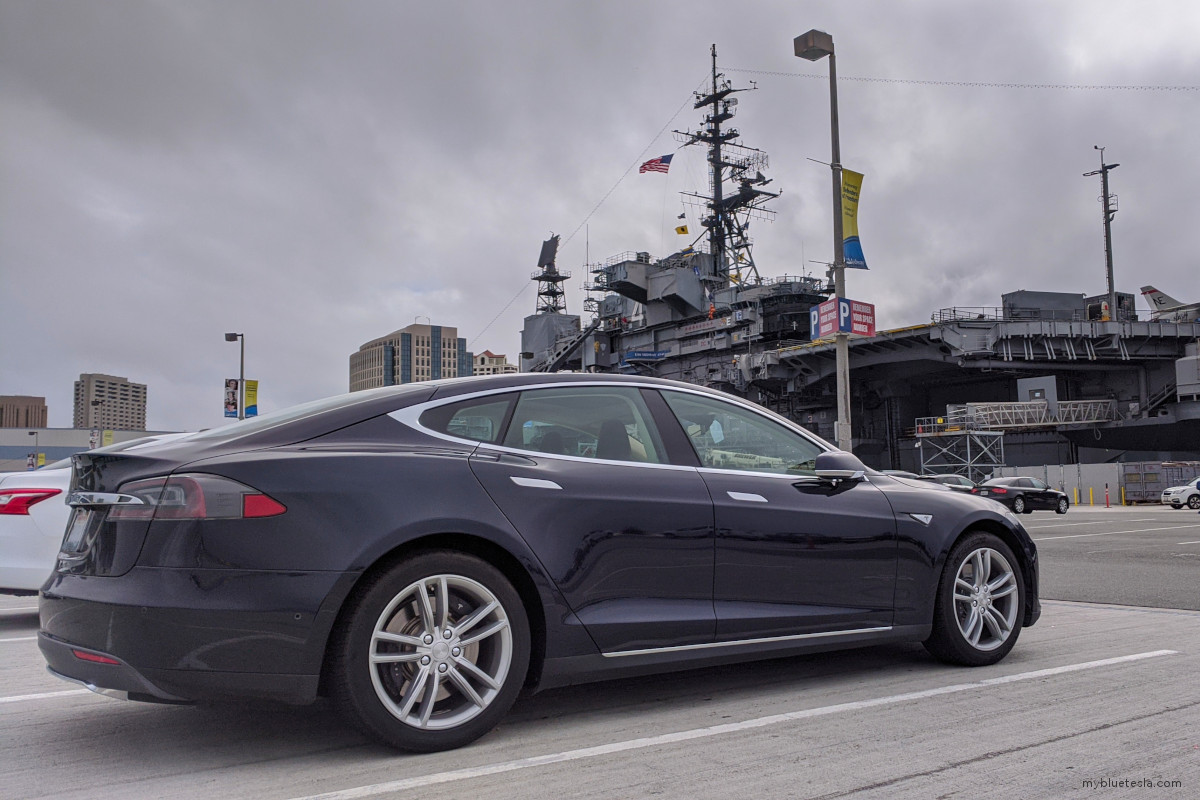 A few of these would come in handy during commutes. Should be easy to lock onto heat signatures on the freeway. I believe the frunk has space to accommodate a launching platform.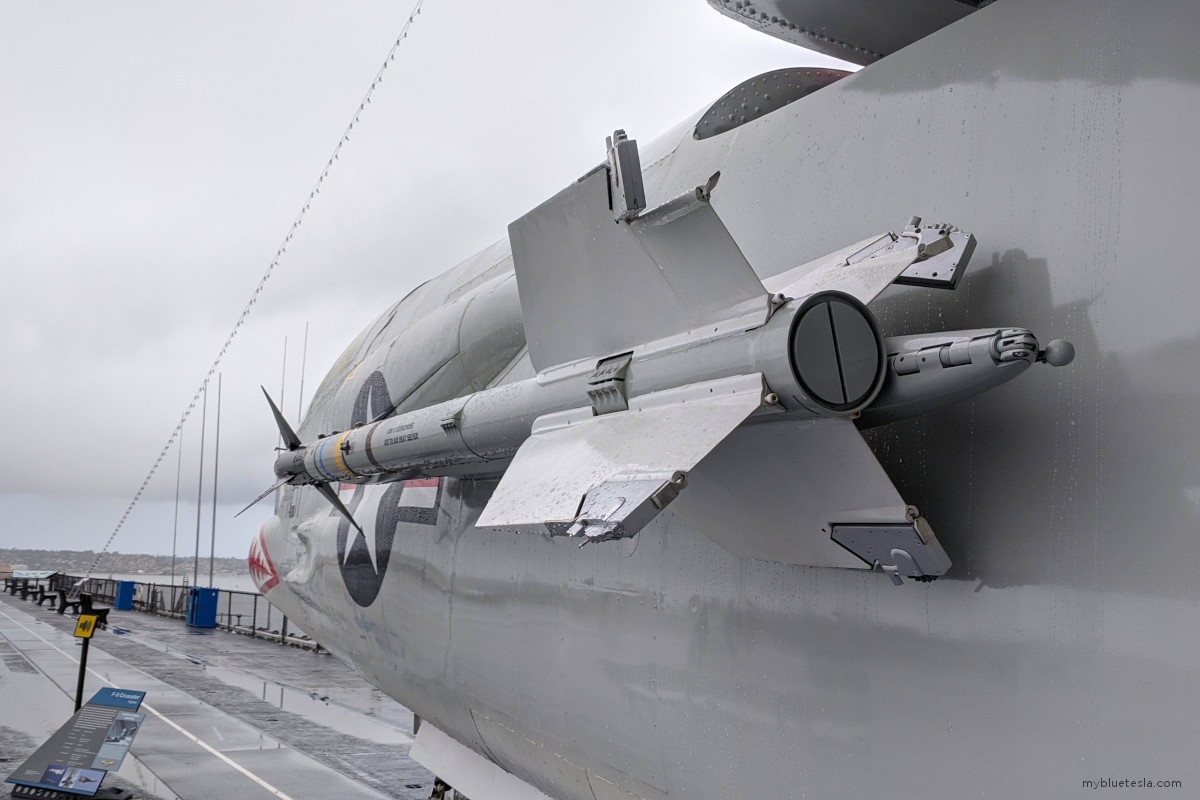 Where are the other compelling EVs from other manufacturers? Well, they're "trying," I guess. VW, Porsche, Audi, Chevy, Polestar, Jaguar, etc. have started their game but are way behind, stuck in the narrow mindset of building "cars" rather than future ecosystems. It seems doubtful they can really catch-up in the next couple of years.
I've had two relatively pricey repairs in the last year. First, the front rotors got replaced along with a coil spring assembly. It's important to point out that regen braking doesn't imply that you'll never need to replace brake parts because a heavy car will grind through them even if you're a chill driver like myself (most of the time, anyway). Brembo parts aren't cheap. In addition my MCU failed, like many others', and opting for the MCU2 upgrade started closing in on that $3000 territory with tax. The 12V battery was yet another addition to this year's maintenance expense total, although relatively minor in cost.
Software updates have been relatively sparse in the last few years. All the focus nowadays is on leveraging the hardware and capabilities inherent in AP2/3 so I understand why there's only so much major improvement one can make to first-generation Autopilot vehicles. I still occasionally get something useful and as minor and incremental as they are, it's much appreciated keeping me strung along with the overall fleet evolution.
Battery health-wise it seems a 90% charge at this point equates to less than 220 miles, roughly 9% pack degradation. This is based on a single test where I ran the pack down to 5% and then charged it to 90% at an urban Supercharger, so I didn't perform this multiple times for any "rebalancing" effect. While this doesn't worry me for lengthy road trips for now, it does make me wonder whether Tesla will provide pack upgrades in the future for older generation cars as I'd love to keep running with this for another decade. I paid over $90k as a relative early-adopter and would prefer to maximize the utility out of it.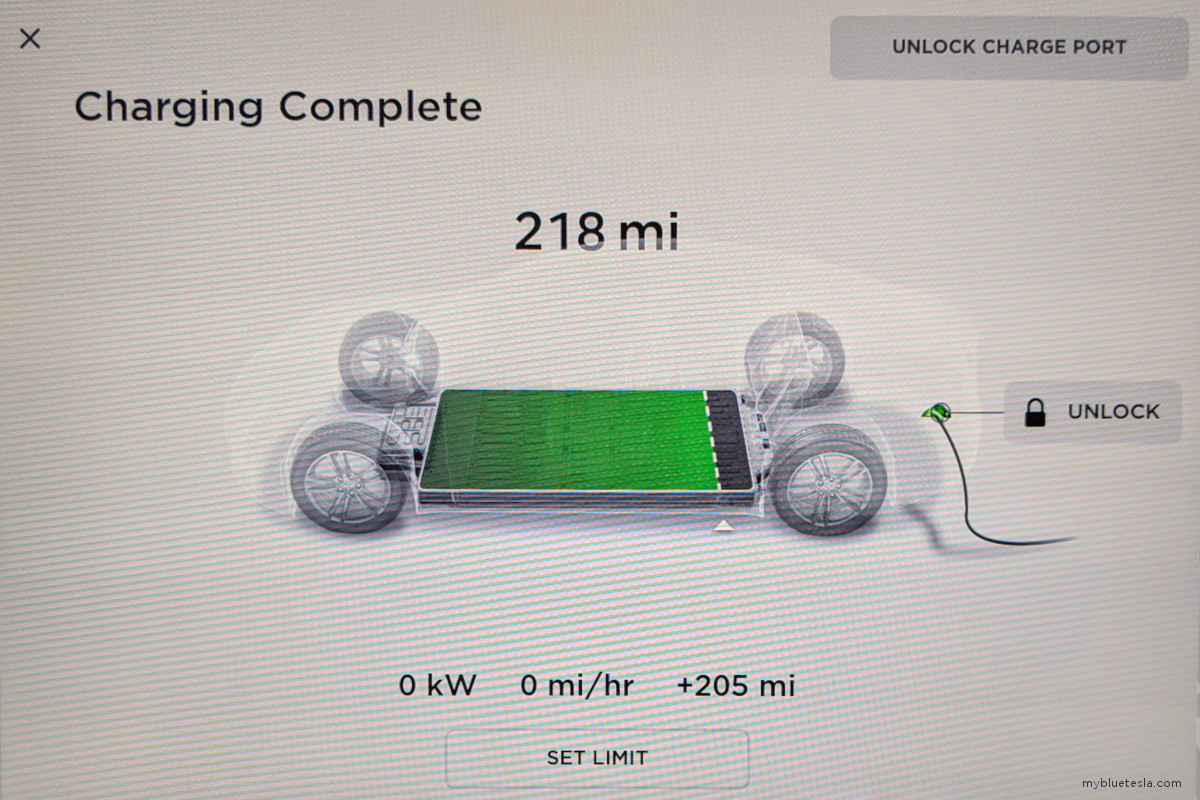 Battery Day a week ago was full of interesting announcements, but I wonder if this ultimately translates to any benefits for this car. Would a pack swap to the newer technology with an 800-mile range be possible in the distant future?
But as compelling the newer models are (more faster! better computer! efficient! go farther! more cameras!), they're not that much better compared to what else is on the market. Considering the depreciation on a 6-year old S85 with 122k miles, I'd rather keep driving what I have and make better use of my money elsewhere. I drove my previous car (which I still own) for 14 years before I ordered by S85 so I'm not exactly someone who cycles into a new vehicle every 5 years.
In the last year I felt the need to investigate the network activity of the devices around me, including the Model S. The first look was at the telemetry of the car's operating system as it phones home to various Tesla cloud services to gain insight on the Internet chatter while the car sits in the garage. I may do some more write-ups in this area because the behavior that makes up the ownership magic should be closely examined and scrutinized. I also took a look at the Tesla app to see what the communication patterns are. Today's car ownership is becoming less about knowing what's under the hood and more on endpoint communications and data management.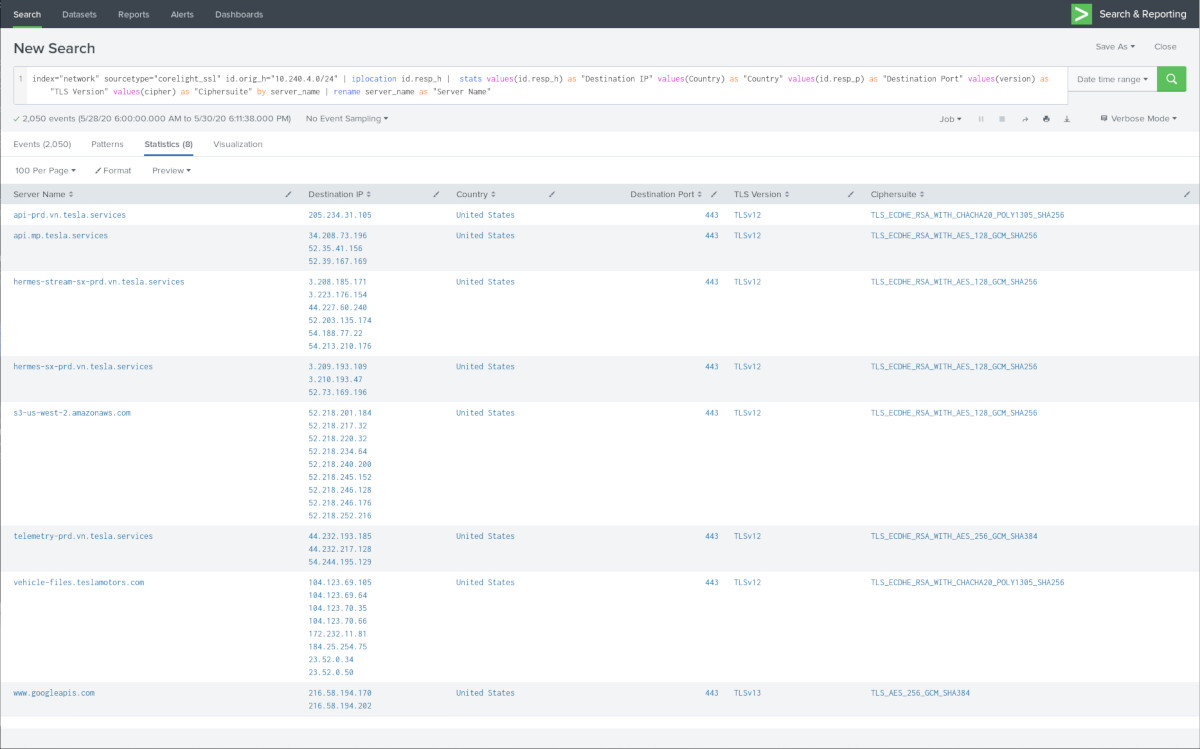 The original blue metallic paint is still in pristine condition after all these years and virtually scuff-free thanks to the PPF installed in the original month post-delivery, although I'll eventually need to get it replaced as it's not intended to stay on forever. So far I've been able to maintain and upkeep the factory crispness where practical. The unpainted plastic trim pieces don't age as gracefully, but otherwise the number of scuffs and scratches on the exterior and interior have been kept to a minimum. I don't think there's any damage to the actual factory clear coat anywhere.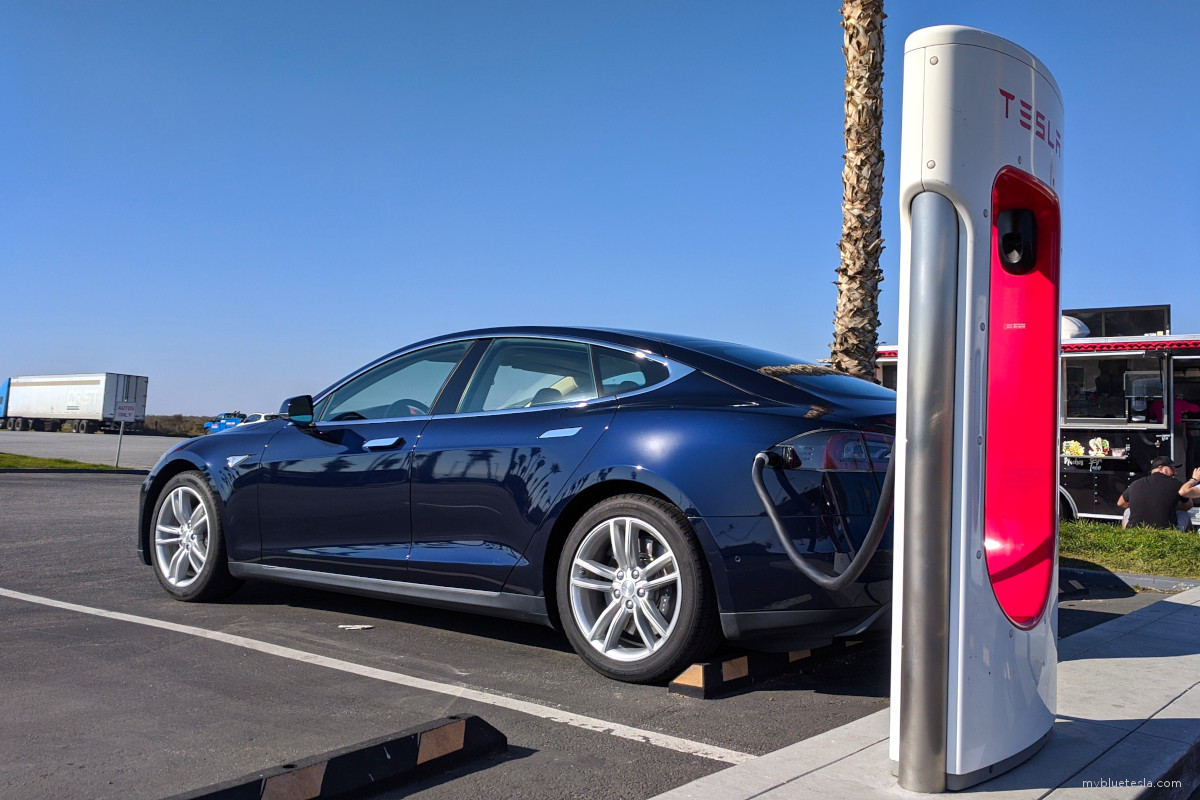 These self-healing automotive "Saran Wraps" sure do help keep the paint surface blemish-free and make cleaning easy.
Last year I saw a new Model 3 whose owner I can only assume was doing whatever was possible to prevent rock chips prior to PPF installation. This is exactly what I would've done if I couldn't drive straight from delivery to the film installer.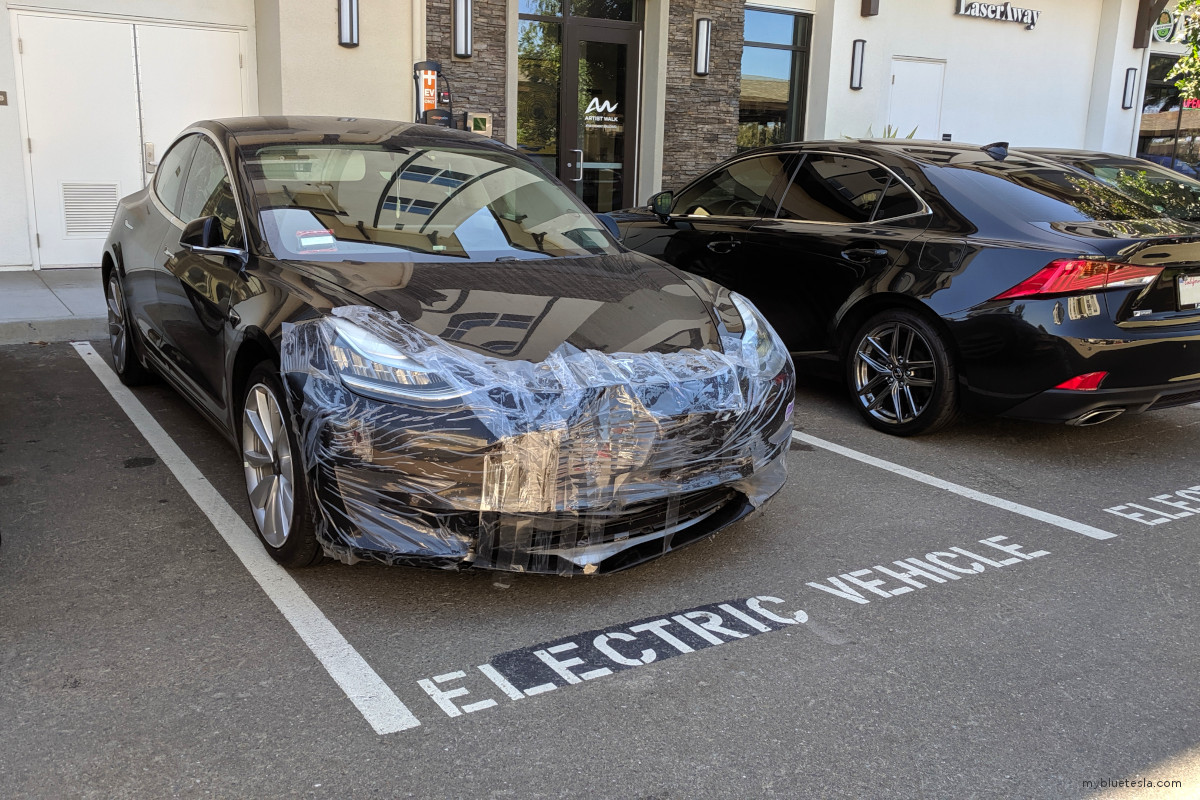 There are a few areas where I'm jealous with regards to the newer Tesla models for which I wish there was an upgrade option for older vehicles. The seats in the current generation Model S, for example, fit me very well when I drove a 75D loaner a while back. In fact, the textile version looked really nice and I'd love to be able to trade for those. I'd also love to be able to continue my journey along the Autopilot evolution with features like Navigate on Autopilot, traffic light recognition, etc. as well as Sentry Mode. The only practical way for me to have these would be to buy a completely new car, and that's not going to happen.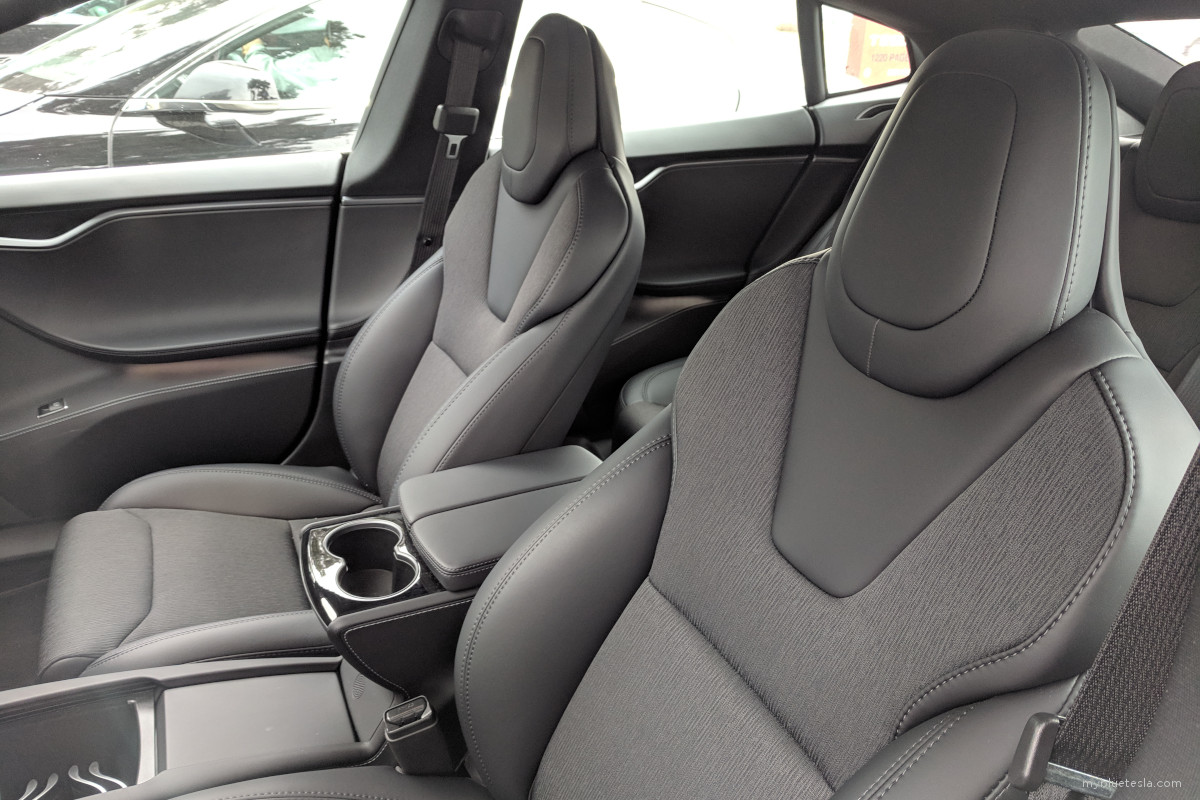 And considering that my S85 is now one of the slowest Teslas ever, it'd be nice to be able to keep up with the Model 3 and Y owners with a P85-equivalent upgrade (if such a thing were possible). But that said, that sort of driving is an extremely rare occasion for me. It's nice to have for bragging rights, but otherwise serves little purpose.
But at least I have a sunroof. New Telsas today don't even have that option. I rarely use it but it's still nice to have when I want an open-top experience or air out the car quickly.
A less-than-ideal scenic view at the San Luis Reservoir during the September fire season. I don't have Bioweapon Defense Mode, another point of envy towards the newer Model S.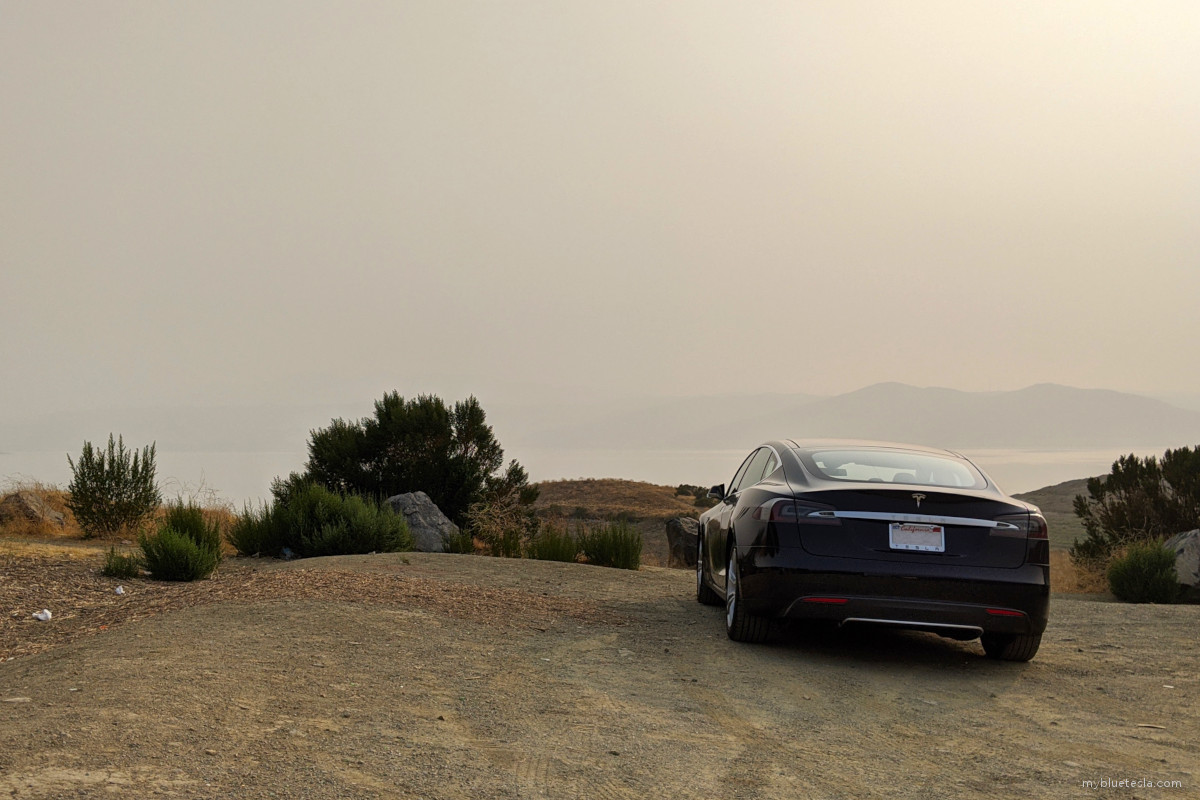 The two sets of Turbines sitting in my garage ... I've yet to use them this year. I may postpone a swap until next year. Riding on the higher sidewalls with the smaller wheels makes for a comfortable cruise. Although I really enjoy the look and handling of the larger wheels and performance tires, there's an immediate noticeable tradeoff which relegates them as a special occasion/summer-only fashion accessory. Part of me wishes I had opted for the air suspension option when I placed my order, but it wasn't in the cards at the time.
The last time my gray Turbines were installed was about a year and a half back. I miss this look.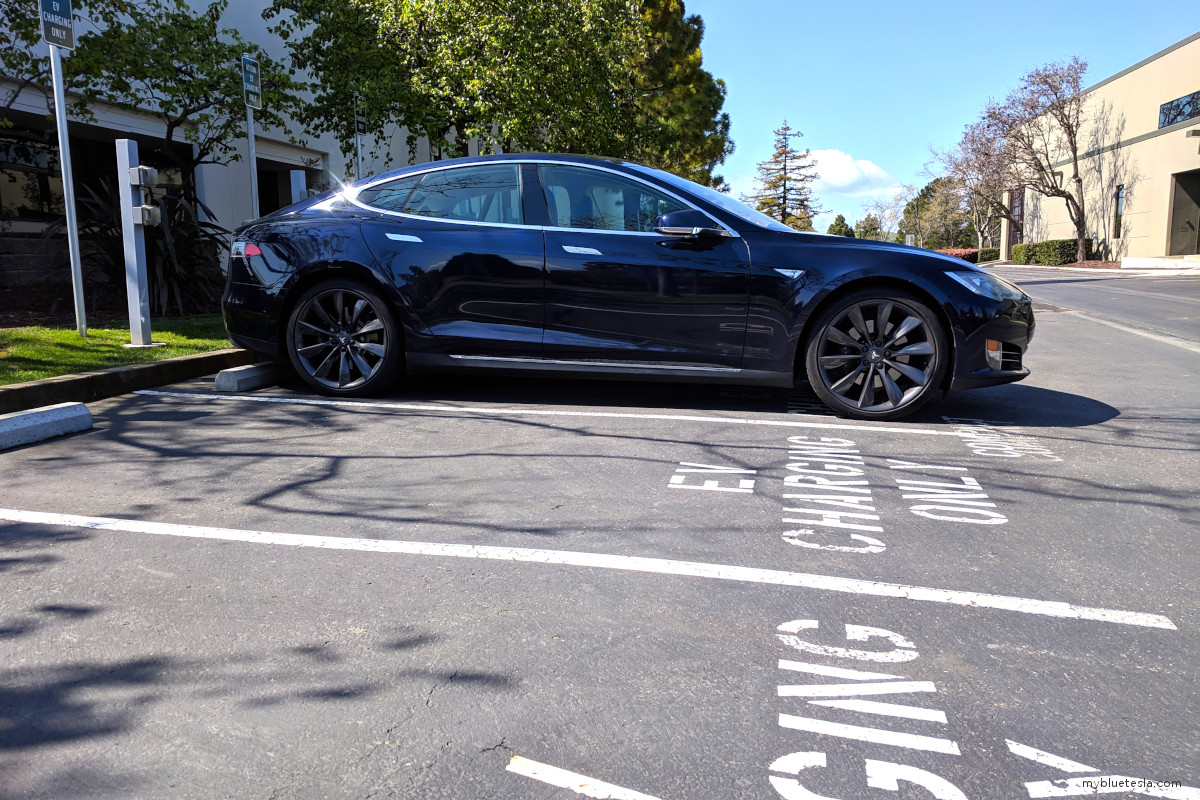 As soon as this pandemic is over (perhaps sometime next year), it's time to road trip again. I'd like to check out Mono Lake for some night sky photography, venture into Oregon somewhere, or maybe even head all the way to Washington state and into Canada. It'll be interesting to see when the odometer crosses the 200k mile mark.
At least outdoor dining has become an option again. Godfather's Burger Lounge in Belmont (my favorite Bay Area burger joint) allows some indulgent relief in these trying times.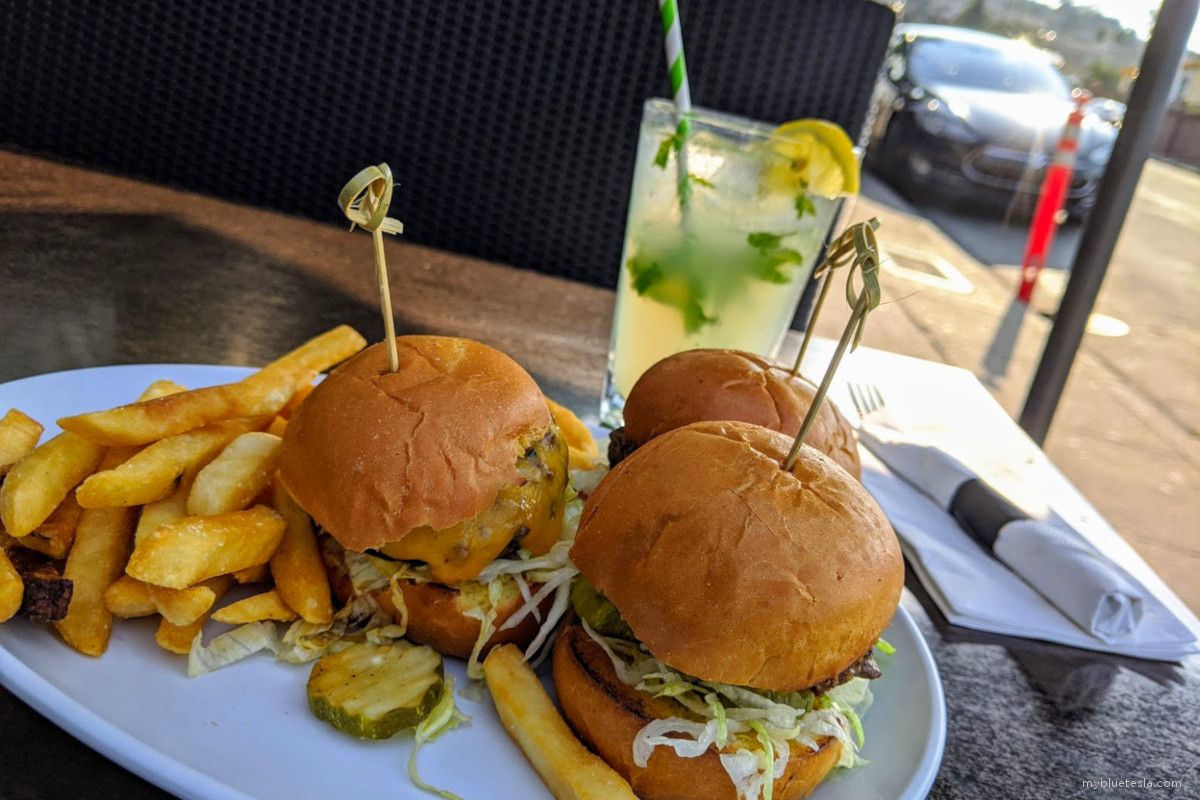 Otherwise 6 years on things are still looking up. Here's to hoping that 2021 will be more productive on the road considering I've only added about 11k miles in the last year, about half my usual average.